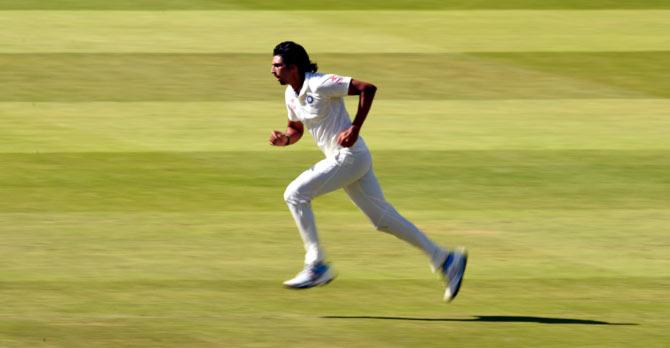 India fast bowler Ishant Sharma. Photograph: Stu Forster/Getty Images
Impressed with the camaraderie India's pacers share among themselves, bowling coach Bharat Arun said that the attack is not only closely knit but can also clock high speeds consistently.

Having been part of the Indian team since the middle of the England tour when the former pacer was inducted as the bowling coach in place of Joe Dawes in mid August, Arun is enjoying the experience.

"First is of course that we have four bowlers who can clock high speeds constantly. Another thing I love about this attack is how closely knit they are. There is a very healthy competition among them but they also genuinely enjoy one another's success," Arun told bcci.tv ahead of the second Test, starting in Gabba, on Wednesday.

"When one bowler is down, the others pull him up. They spend a lot of time together, in the nets, in the gym and also in the evenings. It is very heartening to see," he added.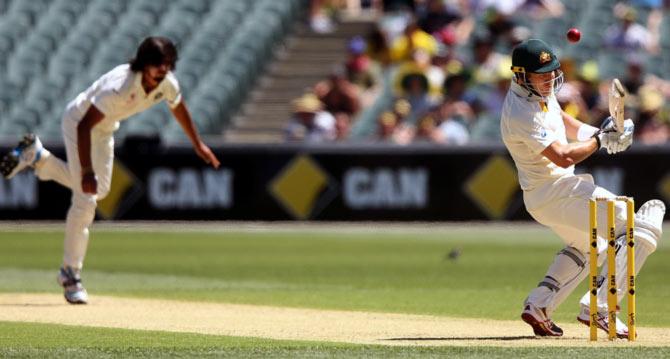 Shane Watson ducks under a bouncer from Ishant Sharma. Photograph: Michael Dodge/Getty Images
Experienced pacer Ishant Sharma might have been employed as first change in recent matches but Arun firmly believes that the lanky pacer is the leader of the pack comprising Mohammed Shami, Varun Aaron and Umesh Yadav.

"Absolutely. Ishant is the leader of this attack. The bowlers look up to Ishant and sometimes, when he comes up with an idea and talks directly to the younger guys, it creates much more impact than the coach saying it. It is smart to get the senior bowler speak to his colleagues directly about what he did right and the lessons he learnt," he said.

Having himself played two Tests and four ODIs for India between 1986-87, the former Tamil Nadu medium-pacer understands the psyche of a fast bowler and admits that some players need to be handled differently.

"Ishant has already played 60-odd Test matches. He is very smart and knows what he is doing. My task is to add a new dimension to his bowling. I have discussions with him and try to learn things from him. Using that information, we come across a few things that we can do to add something to his bowling and make him more efficient," he said.

"With someone who is new, you use the experience of Ishant and package it to him in a way that would suit his style. You find out who is the bowler the youngster looks up to and why he admires him. Then you pick aspects of the role model's game and use them to improve the youngster," he added.

Arun, 52, did not forget the importance of spinners in the team and he had a special mention of praise for the experienced Ravichandran Ashwin.

"With Ashwin my role is more of a guiding hand. He is a very intelligent bowler and sometimes, when you have a lot of variety, you don't know what to use and when. I just give him feedback regarding that,

"Ashwin is a phenomenally skilled bowler and we just need to ensure he is much closer to the basics in order to use his skills more appropriately," he said.

India lost the Adelaide Test by 48 runs but the Virat Kohli-led side did show a lot of intent in chasing down the 364-run target and Arun said the 'lambs abroad' tag no longer exists.

"Since the early 2000s the Indian team has dispelled the fact that we don't win overseas. We have won considerable number of Test matches and have come very close to winning the series on many occasions. So, the trend has definitely changed. One major factor is that now there is a lot of foreign exposure for our players," he said.
© Copyright 2022 PTI. All rights reserved. Republication or redistribution of PTI content, including by framing or similar means, is expressly prohibited without the prior written consent.