Former champions South Zone progressed to the semi-final of the Duleep Trophy cricket tournament by pipping West Zone by virtue of a 313-run first innings lead after their four-day quarter-final ended in a draw in Chennai on Sunday.
South Zone will now play Central Zone in the last four game at the M A Chdambaram Stadium from October 10-13.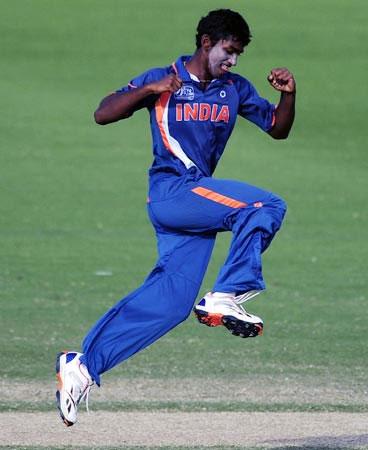 South Zone's Malolan Rangarajan (5-101) wrecked havoc, dismissing five West Zone batsmen, while spinners Abhinav Mukund (2-8) and R Aushik Srinivas (2-52) shared four wickets between them.
West Zone's top-order batsman Aknit Bawne's chanceless unbeaten 115 (377b, 7x4s, 1x6s) was the highlight of the day.
Baba Aparajith was rightly adjudged man-of-the-match for his all-round display.
Overnight unbeaten batsmen, Rakesh Dhruv, who survived a run-out when on 36, made a valuable 53 before being caught at mid-on by Rohan Prem of Srinivas as West Zone were bowled out for 287 in reply to South Zone's mammoth first innings total of 600 declared for the loss of nine wickets.
South made 44 runs in their second essay for the loss one wicket in 22.5 overs before both the captains agreed for a draw.
Scoreboard
South Zone (1st innings): 600 for 9 declared
West Zone (1st innings) (overnight 156/6 in 76 overs)
Wasim Jaffer c Vinay Kumar b Rangarajan 11
Aditya Waghmode c Vinay Kumar b Mukund 57
Ankit Bawne not out 115
Manpreet Juneja b Mukund 0
Yusuf Pathan c Prem b Aushik Srinivas 1
Hiken Shah lbw b Rangarajan 15
Rohit Motwani lbw b Rangarajan 0
Rakesh Dhurv c Prem b Aushik Srinivas 53
Murtuja Vahora b Rangarajan 1
Jaydev Unadkat c Reddy b Rangarajan 19
Akshay Darekar st Gautam b Aparajith 3
Extras: (B-3, LB-2, W-1, NB-1, Pen 5) 12
Total: (all out for 133 overs) 287
Fall of wickets: 1-32, 2-114, 3-114, 4-115, 5-155, 6-155, 7-248, 8-249, 9-279, 10-287.
Bowling: R Vinay Kumar 7-4-10-0; Abhimanyu Mithun 12-2-26-0; R Aushik Srinivas 40-19-52-2; Manish Pandey 6-1-15-0; Malolan Rangarajan 39-9-101-5; Baba Aparajith 17-1-53-1; Rohan Prem 7-2-9-0; Abhinav Mukund 4-0-8-2; Lokesh Rahul 1-0-3-0.
South Zone (2nd innings)
Lokesh Rahul b Dhurv 9
Akshath Reddy not out 25
Baba Aparajith not out 5
Extras: (B-5) 5
Total: (for one wicket dec. in 22.5 overs) 44
Fall of wickets: 1-26.
Bowling: Rakesh Dhurv 10-4-14-1; Yusuf Pathan 3-0-13-0; Akshay Darekar 8-5-9-0; Manpreet Juneja 1-0-3-0; Jaydev Unadkat 0.5-0-0-0.
© Copyright 2023 PTI. All rights reserved. Republication or redistribution of PTI content, including by framing or similar means, is expressly prohibited without the prior written consent.