Teams penalised for not selecting enough black players
Dream of unified 'Rainbow Nation' still distant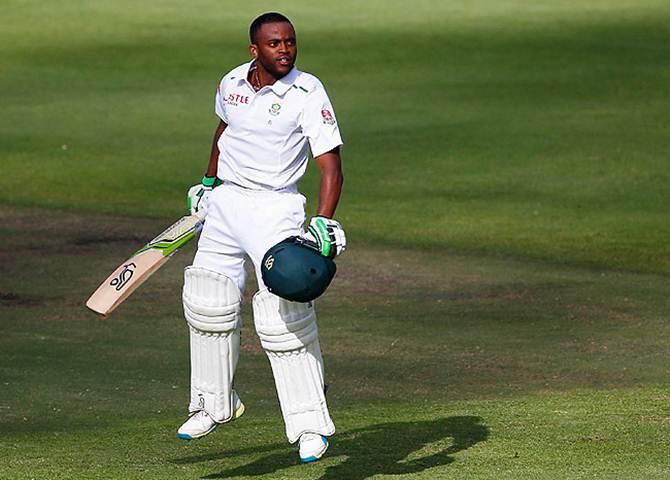 IMAGE: South Africa's Temba Bavuma celebrates scoring his maiden century during the second Test against England in Cape Town on Tuesday, January 5, 2016. He is the first black South African cricketer to hit a Test ton. Photograph: Julian Finney/Getty Images
When Temba Bavuma became the first black cricketer to score a century for South Africa at this year's Cape Town Test, a jubilant crowd erupted in celebration and commentators swiftly hailed it as a symbolic bridging of the racial divide.
Bavuma's achievement was even more significant because his selection in the January game against England had provoked accusations from critics that some black sportsmen and women are picked due to affirmative action and not purely on ability.
Any hopes that the issue of race in sport was fading were damaged this week when the government banned its national cricket, rugby, athletics and netball federations from bidding for international tournaments due to a failure to increase their number of black players.
The ban was a blow to South Africa's hopes of hosting the 2023 rugby World Cup.
It also reopened old wounds and highlighted the inequality between blacks and whites that persists 22 years after Nelson Mandela's African National Congress (ANC) swept to power on a wave of optimism at the end of apartheid.
Mandela, a keen amateur boxer, believed that sport could be a great unifier, encapsulated in his handing the 1995 Rugby World Cup trophy to victorious captain Francois Pienaar on home soil in front of an overwhelmingly white crowd.
Yet two decades later the national rugby and cricket sides remain dominated by whites, who make up just 10 percent of the population.
"Most of the time in South Africa it is white people in the forefront. Where are the black people?" said security guard Ntombizodwa Mvelase. "As black people we also want to see ourselves succeeding, not seeing white people succeeding all the time."
South Africans in favour of affirmative action believe long-term change must begin with national teams showcasing black players who will inspire future generations of non-white school children.
"Transformation is a very painful process. Let us start acting now. We have been talking for too long," one caller on Johannesburg's Talk Radio 702 said. "It will be painful today but tomorrow we will celebrate."
Those in the opposing camp say racial quotas can dilute the achievement of playing for South Africa and undermine the ability of its teams to compete internationally.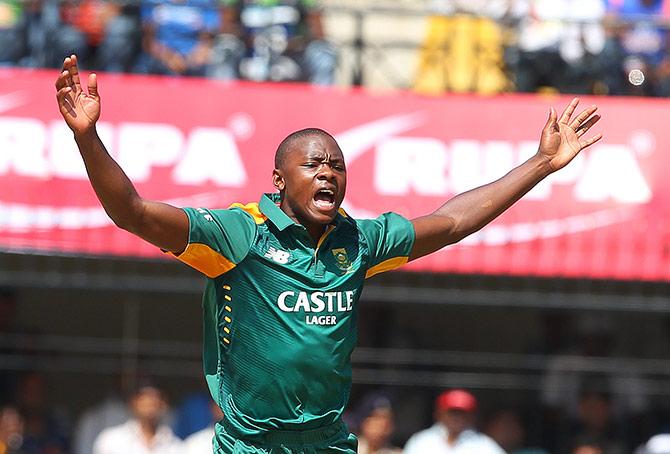 IMAGE: South Africa's Kagiso Rabada celebrates after taking an Indian wicket during the ODI series in India in 2015. Photograph: BCCI
South Africa's cricket team, the Proteas, and its rugby team, the Springboks, are among the world's best. Successful national teams encourage young people to take up sport.
"When the Springboks run onto the field I want to see our best team. The same with the Proteas," businessman Shaun Walters told Reuters in Johannesburg's affluent Sandton business district.
"You compete to win. It's not about whether you have enough black people or enough white people. It's about winning."
The issue of race in sport in what is a sports-mad nation runs deep, and draws in high-profile opinions.
"So sad that I find myself embarrassed to call myself a South African so often these days #no place for politics in sport," Jacques Kallis, one of South Africa's greatest cricketers, said in a tweet on Monday.
According to the South African Rugby Union's 'Strategic Transformation Plan', published on the website of broadcaster Supersport, rugby is aiming for 50 percent black participation in its domestic leagues and international sides by 2019.
In last year's World Cup, the 31-man squad had eight non-white players, compared with one in 1995.
This month, Allister Coetzee, a coloured or mixed-race South African, became the second non-white to be appointed national rugby coach. His backline coach, Mzwandile Stick, is black.
The cricket side's guidelines say at least four non-whites should be in the team of 11, a quota it normally meets although most of the non-whites are of Indian descent - as in former captain Hashim Amla - or mixed-race.
Few are black African, like Bavuma, or new fast-bowling sensation Kagiso Rabada.
The inclusion in particular of athletics in the ban delivered by Sports Minister Fikile Mbalula this week also sparked accusations that the ANC was playing politics with race and sport ahead of important local elections in August.
Many of South Africa's top track hopes at the Rio Olympics are black, including 2012 Olympic 800m women's silver medallist Caster Semenya, 2008 Olympic long-jump silver medallist Khotso Mokoena and 400m world champion Wayde van Niekerk.
The opposition Democratic Alliance said the ban was merely a smokescreen to hide the ANC's failure to develop sport in state schools. "If every child is provided with an equal opportunity & if structural racialised inequality is addressed, every team would reflect SA," it said on its Twitter feed.