South Africa Test captain Graeme Smith has strongly denied recent suggestions that he or his team deliberately provoked England batsman Kevin Pietersen into sending "provocative" text messages to the Proteas players during the recent Test series between the sides.
England and Wales Cricket Board (ECB) chief executive David Collier said in a radio interview on Sunday that there had been a "deliberate policy" to entrap Pietersen.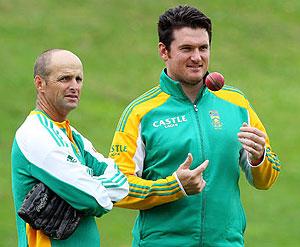 "In the Proteas we pride ourselves on being a sporting and ethical team," Smith said in a statement released by the SA Cricketers' Association on Tuesday.
"We talk a lot about values and our approach to the game. We play hard but we play fair and any suggestions that we did this as a tactic is totally unwarranted and unnecessary."
SACA chief executive Tony Irish confirmed that both he and the national players are expecting an apology from Collier for his comments.
"Our players are angered by David Collier's claims that they employed unfair and unsporting tactics against Kevin," said Irish.
"By his own admission Mr Collier never saw any text messages, or correspondence, and we know that Kevin himself has never suggested that he was provoked, so where is the evidence for this claim?
"In international cricket if a player makes an inflammatory comment or accusation he gets punished," said Irish.
"Look what happened to Kevin Pietersen himself. The players believe that the same should apply to administrators especially when this is done publicly. Our players are awaiting an apology."
Photograph: Hagen Hopkins/Getty Images