'The seamers have done the business for us around the world and I expect them to play a big part under these conditions as well'
'We are fortunate that a lot of our players have played in Indian conditions before'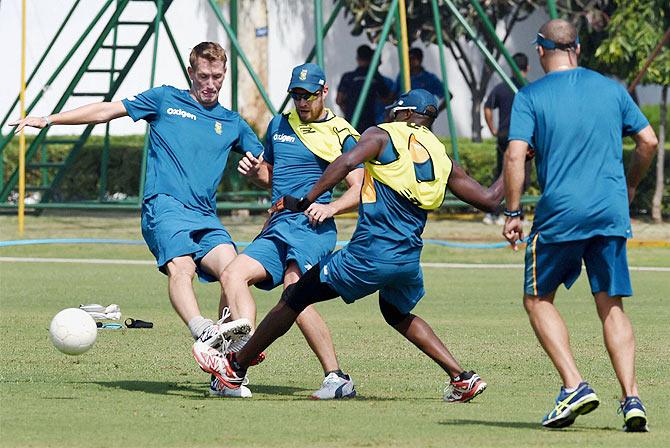 IMAGE: South Africa's players play football during a practice session ahead of Tuesday's T20 match against India 'A' at the Palam Cricket Ground, in New Delhi, on Monday. Photograph: Atul Yadav/PTI
South Africa coach Russell Domingo says the Proteas will rely on their pace battery to rattle India's formidable batting in the upcoming series, which kicks-off with a Twenty20 warm-up match against an India 'A' team in Delhi on Tuesday.
South Africa have spinners in Imran Tahir, Dane Piedt and Simon Harmer but the experience of speedsters like Dale Steyn and Morne Morkel has always held them in good stead.
"Indians are very good players of spin, we know that. Our fast bowlers have always been successful whenever South Africa has toured India. Although spin is going to be a very big factor in this series, it's important that our seamers start going for us," said Domingo during a media interaction on Monday.
"We have got very good spinners in the experienced Imran Tahir and two young spinners in Dane Piedt and Simon Harmer. It would be a great experience for them to play against these (Indian) players under these conditions in high pressure environment. But, like I said, the seamers have done the business for us around the world and I expect them to play a big part under these conditions as well," he added.
Steyn and Morkel are not part of the T20 squad but Domingo insisted the two players are in the scheme of things in the shortest format with the World T20 slated to be held in India next year.
"Yes, they (Styen and Morkel) are very much in the plans. It being a very long tour, we had to decide how best to manage our bowlers. Dale or Morne, for them to be here for 75 days is going to be a tough ask, practicing day in and day out, expected to play the one-dayers, expected to play the Test matches," Domingo said.
"It also does allow us an opportunity to develop the next battery of fast bowlers, guys like Khaya Zondo or Kyle Abbott, the Chris Morrises, the Marchant de Langes. So it's a bit of a win-win situation for us although the World T20 is important for us. It does allow us to keep those other options and keep those guys fresh as possible for the Test and the One-dayers," he added.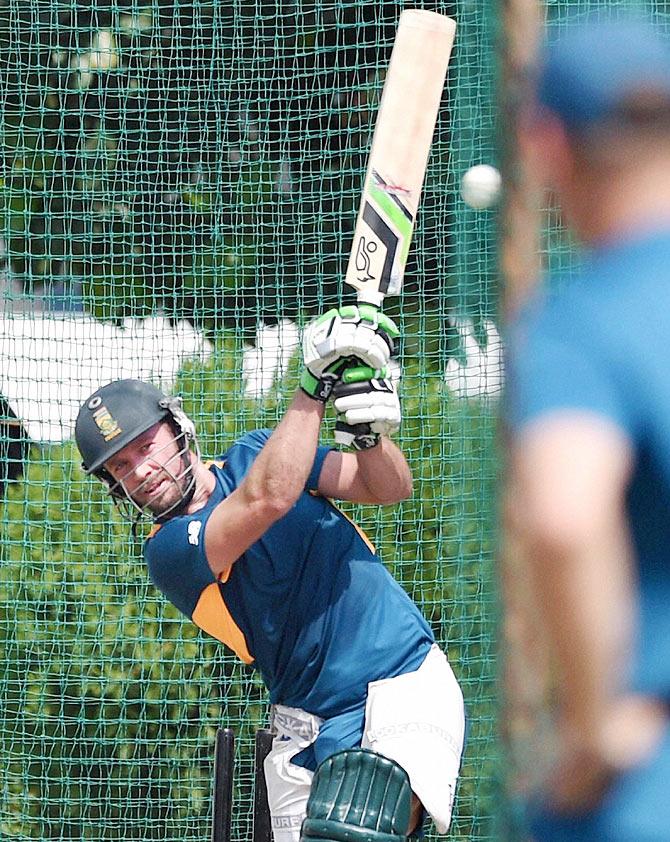 IMAGE: South Africa's AB de Villiers during a practice session ahead of Tuesday's T20 match against India 'A' at the Palam Cricket Ground, in New Delhi, on Monday. Photograph: Atul Yadav/PTI
With a lot of South African players being part of the Indian Premier League, Domingo is happy that many players in the side are familiar with Indian conditions.
"I think we are fortunate that a lot of our players have played in Indian conditions before. Lot of players who have played the IPL are familiar with the conditions. I suppose we do understand what is required to do well in these conditions because of the vast number of experienced players we have got in our squad," Domingo said.
He was also of the view that many Test sides, including India, are in the transitional phase, but insisted the hosts can never be taken lightly in their den.
"I think a lot of sides are in a bit of a transitional phase. Lot of Test sides like Australia, with few guys retiring, Indian players have also moved on; South African side also has a few players who are no longer there. So I think quite a few of the top Test sides are going through the process at the moment.
"We know India are going to be tough under their conditions. They have got some new young players and they are very good. They have match-winners in their side and we know that they are going to be a tough challenge."
The 41-year-old South African had more admiration for the home team.
"They have got some new leadership, new coaches, new captains appointed, they toured South Africa and they were very tough for us to beat in that series. They played a very competitive a series in Australia so they obviously have put focus on working away from from home.
"Lot has been spoken about their performances away from home and I am sure that is something that they will try and improve. But they have some world class players and some individuals within their team, senior players and team management. So haven't really focussed on their travelling, just putting focus on how to go about our business."
Lauding the new-found aggression of the Virat Kohli-led side, Domingo said both the teams have enough fiery characters to keep the series alive.
"I think both sides play pretty aggressively. I think in the leadership of Virat Kohli to play that brand of cricket we saw lot of that in Sri Lanka and we saw that in the World Cup. Their body language and the way they bowled was of aggressive nature. Full credit to them, they have definitely taken their game forward.
"But, look, if both sides play in the limits of the game it would be definitely tough, hard uncompromising cricket we expect from India and they can expect same from us. So I think we are both pretty laid back teams but we both have some fiery characters. Guys like, Dale, Kohli, Ishant Sharma, who has been banned, he has obviously been leading that brigade for India at this moment. But I expect the series to be played in a good spirit," he said.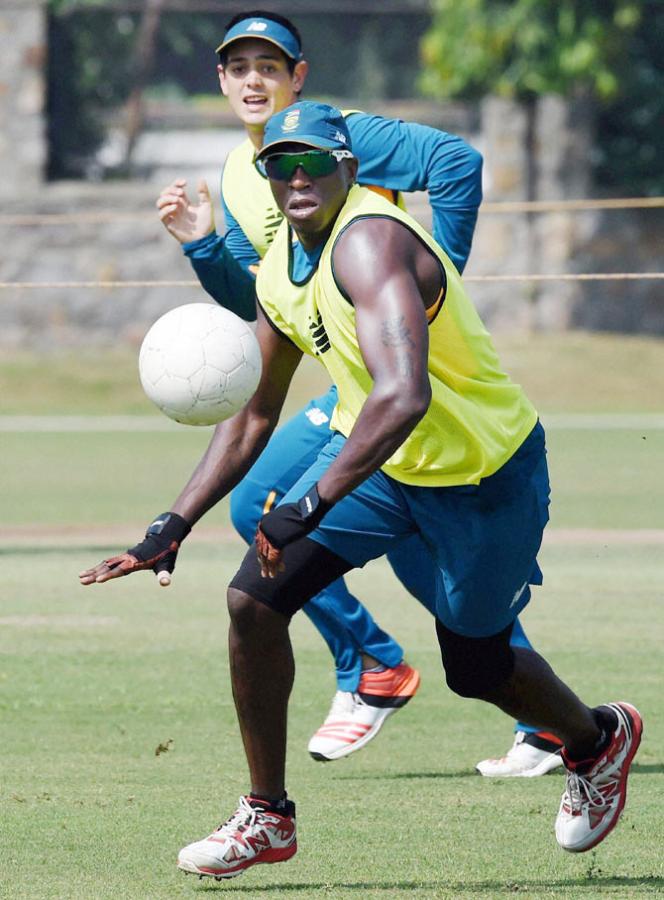 IMAGE: South Africa batsman Quinton de Kock (rear) and Khaya Zondo during Monday's practice session at the Palam Cricket Ground, in New Delhi. Photograph: Atul Yadav/PTI
With South Africa gearing up for three T20s, five ODIs and four Test matches on the 75-day tour, Domingo weighed up the challenges of a long away series.
"The advantages of a long tour is that people always say that it's too much cricket that is being played, players are burnt out, so we can't say we are burnt out. We have had a pretty easy schedule in terms of work load after the World Cup. The disadvantage is that we come here having not played Test match cricket.
"The last Test match we played was in the West Indies in New Year, so we have not played too much of Test cricket. The advantage of that would be that players would be hungry to do well in that format. They still see Tests as the pinnacle of cricket. This year unfortunately we haven't played much Test cricket, next year is going to be different.
"So when we do get time to play Tests we take it really seriously and we know that we are the number one Test side in the world and we would like to hang on to that spot for a long period of time."
Domingo also asserted that South Africa is a good travelling unit with players enjoying each others company.
"I think the players enjoy each other's company for starters. I think there is a big camaraderie in the group, they enjoy each other's company. I suppose being from Africa we are used to being in tough places. Africa is not for sissy's, Africa is a tough place.
"So for us to travel to different places is a challenge for us. We really enjoy that. Seeing different cultures, meeting different people. We have got a good nucleus of senior players who are really good people, that mixes easily with different cultures and different people and I think that's the strength of our side," he said.
Also read:
- Amla to miss warm-up game vs India 'A'; Albie yet to get visa
- South Africa keen to start off well against India's T20 hopefuls in warm-up tie
© Copyright 2022 PTI. All rights reserved. Republication or redistribution of PTI content, including by framing or similar means, is expressly prohibited without the prior written consent.