Proteas eyeing second spot in ODI series against Aussies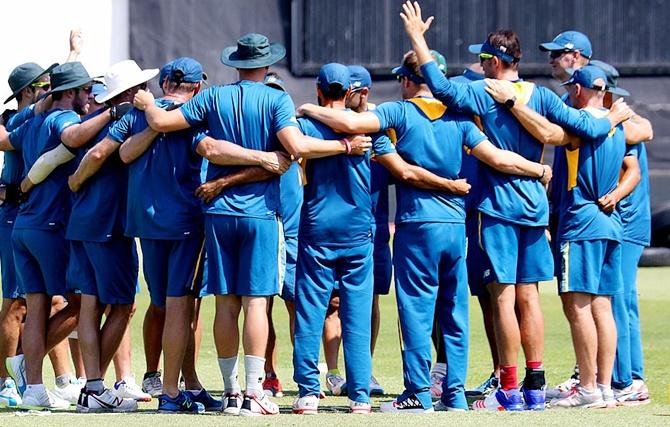 IMAGE: General views during the South African national cricket team training session. Photograph: Anesh Debiky/Gallo Images/Getty Images.
Fourth-ranked South Africa will aim to climb up to second position in the International Cricket Council One day International Team Rankings when they host world champions Australia in the five-match series from September 30.
A busy limited-overs cricket period, which starts on September 25 with the Bangladesh versus Afghanistan ODI in Mirpur and the one-off South Africa versus Ireland ODI in Benoni and culminates with the third ODI between Bangladesh and England in Mirpur and fifth ODI between South Africa and Australia in Cape Town on October 12, will see 16 matches being played between eight teams on the ICC ODI rankings with a year to go before the determination of which seven highest-ranked sides along with England will qualify automatically for the ICC Cricket World Cup 2019.
While Australia and South Africa will aim to consolidate their current positions, Bangladesh, West Indies and Pakistan will target to improve their rankings.
The string of matches start on Sunday with the first of three-match ODI series between Bangladesh and Afghanistan in Mirpur and a one-off ODI between South Africa and Ireland in Benoni. Ireland also gets a match against Australia in Benoni on September 27, while Pakistan and West Indies will play a three-match series in the United Arab Emirates from September 30 to October 5. Bangladesh will host England for three ODIs from October 7 to October 12.
World champion Australia is currently on 124 points and without an immediate threat to its top ranking with New Zealand second on 113 points.
But a series win for South Africa, which is fraction of a point behind India, against Australia could help it move ahead of the reigning ICC Champions Trophy winner. A 3-2 series win will put South Africa in third position on 112 points, while a 4-1 series win will lift it to second position on 114 points.
For Australia, a 3-2 series win will maintain its current 124 points with a maximum drop to 118 points in the case of a 5-0 series whitewash. Even if it also loses its preceding one-off match to Ireland and gets blanked by South Africa, Australia will retain number-one position at 116 points with South Africa behind it on decimal points.