Former India captain Sourav Ganguly has laughed off Shahid Afridi's remarks that Sachin Tendulkar was uncomfortable against Shoaib Akhtar's pace, a claim which the Pakistani speedster had made in his autobiography Controversially Yours.
"Afridi is out of his mind," Ganguly quipped, reacting to the former Pakistani skipper's claim that he has seen Tendulkar "tremble" while facing Shoaib.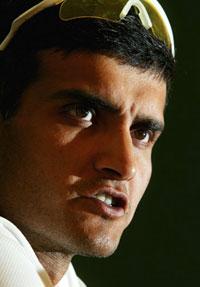 Ganguly is not surprised at off-spinner Harbhajan Singh's omission from the upcoming first two ODIs against England.
He is confident that the off-spinner's return for India's year-end tour of Australia for a four-Test series.
"He might have been dropped for loss of form. But I am confident that India cannot do without him in the Australia series."
The star off-spinner had a disappointing first Test against England and a stomach injury in the second Test ruled him out of the remainder of the series.
Ganguly also ruled out the possibility of him being the captain of Pune Warriors in next year's Indian Premier League T20 tournament.
"My role will be that of a mentor-cum-player," Ganguly said about Pune Warriors who will not get the services of former coach Geoff Marsh.
The former Aussie batsman has been appointed Sri Lankan head coach.