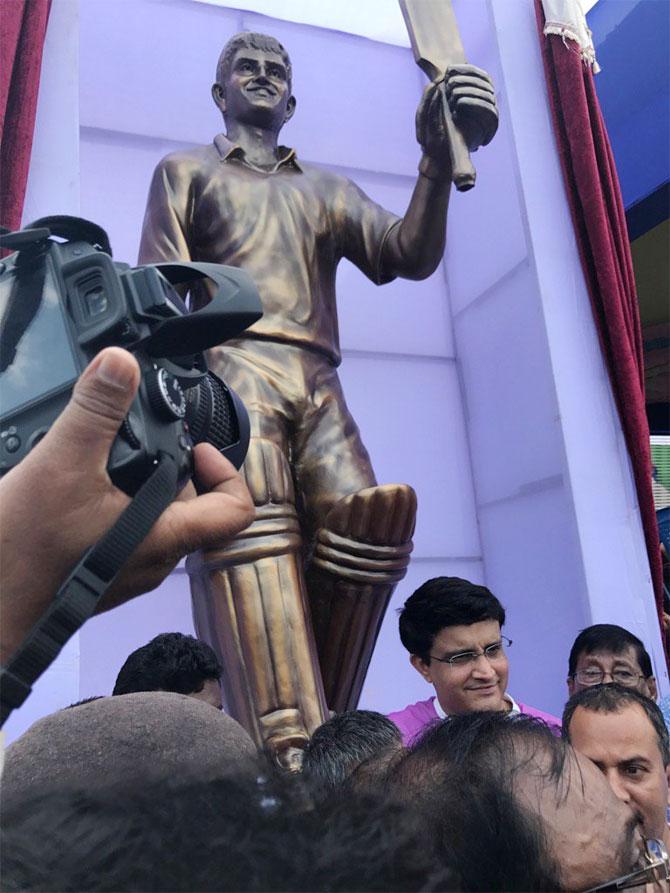 IMAGE: Sourav Ganguly (in purple) is surrounded by fans as he unveils his bronze statue in Balurghat in West Bengal on Saturday. Photograph: Sourav Ganguly/Twitter
Former India captain Sourav Ganguly on Saturday unveiled an eight-foot tall bronze statue of himself at Balurghat in West Bengal.
"I travelled in train once after 2001. It's been almost after 15 years," Ganguly said as he alighted from the Padatik Express in Malda this morning.
He headed to Bikash Maidan in Balurghat where he was greeted by thousands of fans.
"At Dakshin Dinajpur, just human heads," the former southpaw tweeted.
He also posted a photo of him alongside the statue with a tweet: "Looks like me..."
The statue was of a young Ganguly raising his bat to acknowledge his Test century, his first against Australia, in the 2003 Brisbane Test.