'It is also a proud moment for all to see him lead a side with such passion. I want Kohli to do better than me as a skipper'
'The advantage for South Africa is that most of their players play IPL and know the conditions very well'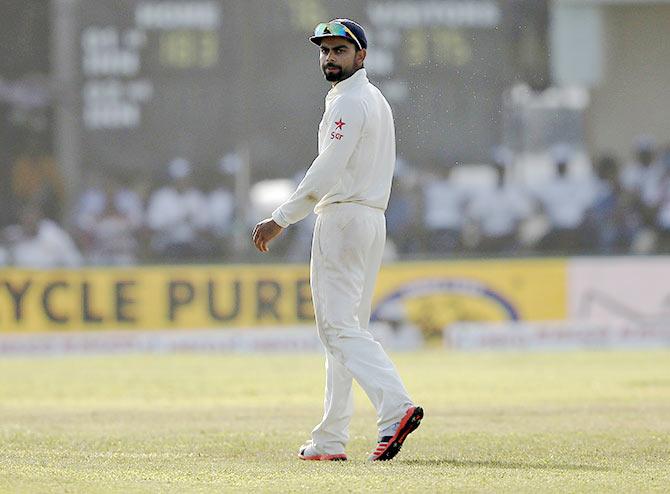 IMAGE: India's Test captain Virat Kohli. Photograph: Dinuka Liyanawatte/Reuters
Former India captain Sourav Ganguly lavished praise on Virat Kohli, saying he wants the Test skipper to do better than what he had done for his country.
"I am a big fan of Virat Kohli. He is a captain who always wants to win matches on the field and I love that passion in him. I love the attitude and aggression in Kohli. He might lose sometimes and win sometimes, but you know that he is playing to win it," Ganguly told reporters.
The 43-year-old, who is set to become president of the Cricket Association of Bengal following the demise of Board of Control for Cricket in India president Jagmohan Dalmiya, believes Kohli's true skills will be tested overseas.
"It is also a proud moment for all to see him lead a side with such passion. I want Kohli to do better than me as a skipper. But his main challenge will be when India will tour abroad. Australia, England, South Africa will test his captaincy," he added.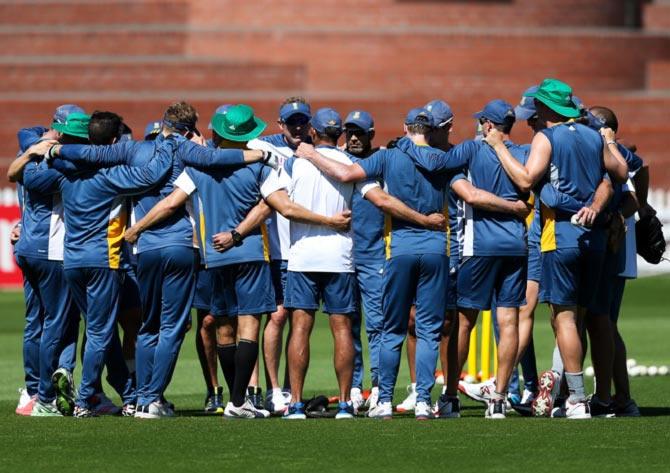 IMAGE: South Africa's players in a huddle during their nets session. Photograph: Hagen Hopkins/Getty Images
India will play three-match T20 International series against South Africa, starting October 2 at Dharamsala, before locking horns in a five-match ODI and four-Test series.
"South Africa series will be a competitive series. They have a good team and India has recently played well in Sri Lanka. It is a long series. I always say that at home India is always a strong side. South Africa has bowling quality to take 20 wickets; India too has quality bowlers along with spinners in these spinning tracks. It will be a challenge for South Africa to hold on to their form for such a long tour," he said.
He believes the South African players' experience in the Indian Premier League will come handy, but pointed out that holding on to their form in such a long tour will be the key for the Proteas.
- Du Plessis banking on 'CSK Model' to beat Dhoni and Co
"The advantage for South Africa is that most of their players play IPL and know the conditions very well. But to hold on to the form right through the whole tour will be a thing to watch out for."
Also read:
- South Africa coach backing his pacers to deliver in India
- Amla to miss warm-up game vs India 'A'; Albie yet to get visa
- South Africa keen to start off well against India's T20 hopefuls in warm-up tie