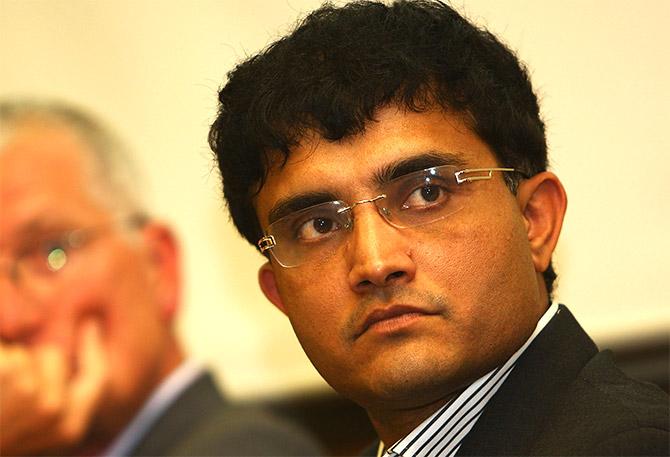 IMAGE: Sourav Ganguly pictured during the ICC Centenary History Conference at St Antonys College in Oxford. Photograph: Matthew Lewis/Getty Images for The ICC
Board of Control for Cricket in India president Shashank Manohar said on Tuesday there is no 'conflict of interest' as far as former India captain Sourav Ganguly is concerned.
After industrialist Sanjeev Goenka's company, New Rising, successfully bid for the Pune Indian Premier League team, questions on potential conflict of interest were raised since Ganguly is a Governing Council member as well as co-owner of Indian Super League football team Atletico de Kolkata, of which Goenka is one of its owners.
"As far as I understand, Sourav Ganguly has no Conflict of Interest. If he would have been involved with any (IPL)team, then it would have been a different case. But I think a lot of people are not understanding what conflict of interest means," Manohar said.
"Suppose I am lawyer and I have a client. If that client later, at some point, gets associated with the BCCI, how is it a conflict of interest. It can only be a conflict of interest if someone in his position shows bias. I think this is now being taken to an absurd level," Manohar added.
However, he said now that the BCCI has appointed an independent ombudsman (Retd Justice AP Shah), he will decide on what are the potential cases of conflict of interest.
He also said he spoke to Maharashtra Chief Minister Devendra Fadnavis regarding the issue of having a tie-up with the police, as "they have the powers to intercept calls and arrest if necessary from any part of the country".
"If required we are ready to pay an amount," Manohar said.
Maharashtra Cricket Association supremo Ajay Shirke, another Governing Council member, was asked questions whether his presence would be looked as conflict of interest.
"I don't think so. Please explain where is the conflict of interest. Yes, tomorrow if I write to the BCCI president asking Pune franchise to continue beyond two years that could be a case of conflict of interest in my capacity as Maharashtra Cricket Association president," Shirke said.