'Whatever has happened is unfortunate but the right decision has been taken to uphold the integrity of the game. Winning is important but the way you win is more important.'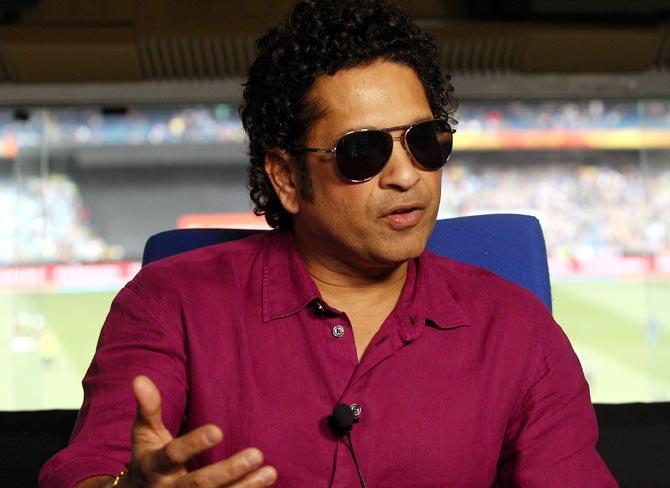 IMAGE: Former India batsman Sachin Tendulkar. Photograph: Quinn Rooney/Getty Images
Sachin Tendulkar said that Cricket Australia has taken the 'right decision' in banning captain Steve Smith and his deputy David Warner for one year after being found guilty of ball-tampering against South Africa during the Cape Town.

Smith and Warner have also been barred from playing in the upcoming Indian Premier League while young opener Cameron Bancroft has been suspended for nine months.
Earlier, the International Cricket Council had banned Smith for one Test match and fined his full match fee.

"Cricket has been known as a gentleman's game. It's a game that I believe should be played in the purest form. Whatever has happened is unfortunate but the right decision has been taken to uphold the integrity of the game. Winning is important but the way you win is more important," Tendulkar tweeted on Wednesday.

While Tendulkar feels that the ban is the right decision, his longtime on-field competitor Shane Warne feels that the quantum of punishment doesn't match the crime.

"Let's take the emotion out of it. We are all feeling angry and embarrassed. But you need a level head and you shouldn't destroy someone unless they deserve to be destroyed. Their actions were indefendable, and they need to be severely punished. But I don't think a one-year ban is the answer," Warne said in his latest post on his Facebook page.

Incidentally, Tendulkar was accused of ball-tampering in 2001 during the South Africa series when match referee Mike Denness felt that he was trying to scruff up the seam of the ball during the second Test at Port Elizabeth.

Tendulkar always maintained that he was trying to clean the dirt which had accumulated on the seam. The Board of Control for Cricket in India was firmly behind its icon player and Denness was removed by the South African Cricket Board when the late president Jagmohan Dalmiya threatened to call off the series.

The final Test match at the Centurion was declared 'unofficial' by the ICC after its match-referee Denness was sent back home.