'Winning away from home is a big goal of mine and the team.'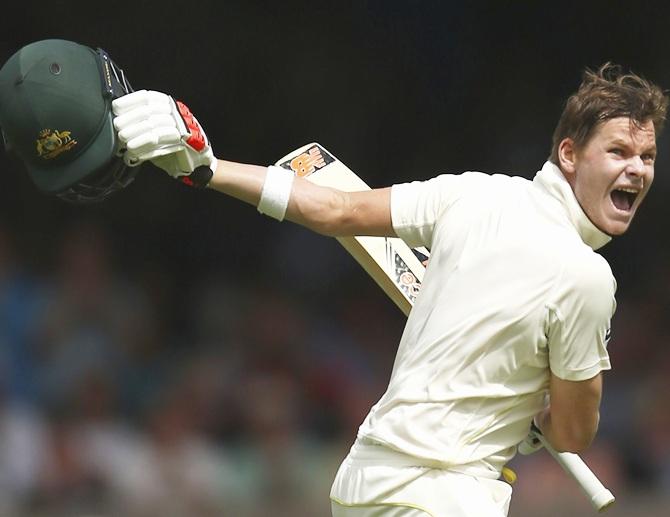 IMAGE: Australian captain Steve Smith. Photograph: Ryan Pierse/Getty Images
Australia have achieved what Steve Smith set out to do when he assumed the captaincy last year by climbing to the top of the test rankings after beating New Zealand on Wednesday with the batsman admitting the trick now "was to stay there".
The seven-wicket victory coming just after lunch on the final day at Hagley Oval sealed a 2-0 series win against Brendon McCullum's side and confirmed Australia's ascendancy to the pinnacle of test cricket for the first time since July 2014.
"It's a good start for us. We want to win every series we play and winning away from home is a big goal of mine and the team's," Smith told reporters.
"We came here at the start of the series wanting to win 2-0 and we knew if we did that we would be number one in the world.
"I guess the challenge for this group now is to extend that gap and try and play some very good cricket home and away."
Smith, who first captained the side for three tests against India in Michael Clarke's absence at the end of 2014, assumed the role in a full time capacity after his predecessor retired following the Ashes series loss to England last year.
Five others joined Clarke in international retirement as a result of that tour and Smith has inherited a side that is rebuilding, though they have won six of their eight matches since with their top-five batsmen all scoring heavily.
"I was confident with the guys coming in that they would do the job," Smith added. "Big hundreds are what put your team in a good position.
"I've been really pleased with the way the guys have been able to get through tough periods and be willing to bat for long periods of time... which is the most pleasing thing."
Australia's pace bowling stocks have also been weakened with Mitchell Johnson and Ryan Harris retiring, while Mitchell Starc remains out with a long-term ankle injury.
Josh Hazlewood has assumed the pace spearhead role, while James Pattinson produced a fiery performance in Christchurch after battling shin soreness and Jackson Bird took his first five-wicket haul after returning from a lengthy absence.
"I thought our bowlers put the ball in the right areas (and) put the New Zealand batters under a lot of pressure," Smith said. "I'm pleased with the way the team is gelling."