'Dhoni played innings of his life in WC final'
Last updated on: April 27, 2011 19:24 IST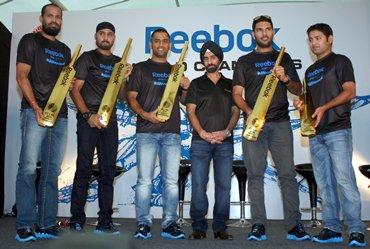 Flamboyant all-rounder Yuvraj Singh, who was named the just-concluded World Cup's man-of-the-tournament, complimented Mahendra Singh Dhoni for his match-winning knock of 91 not out in the final of the mega event, calling it the India skipper's best-ever innings.
- World Cup win at the Wankhede
"It was a dream come true. As MS (Dhoni) said [earlier], I did not know what to do. I wanted to jump on MS and keep jumping on him. He had just played the innings of his life," Yuvraj said about Dhoni's masterly innings, in the latter's presence, in Mumbai on Tuesday.
The Ranchi-born wicketkeeper-batsman promoted himself to No 5, above in-form Yuvraj, and simply took away the game from Sri Lanka, slamming two sixes and eight fours in his 79-ball masterpiece at the Wankhede Stadium on April 2.
'To win the World Cup after 28 years was very special'
Last updated on: April 27, 2011 19:24 IST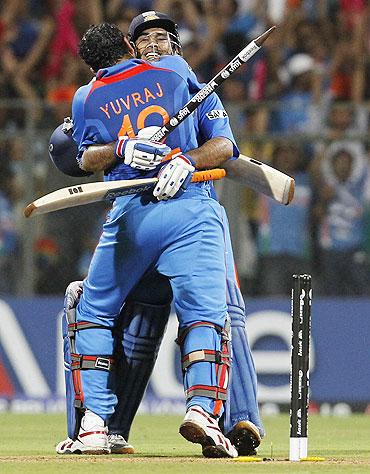 Dhoni, only the second captain after Kapil Dev to lead India to the game's showpiece trophy, put on 109 runs for the fourth wicket with Gautam Gambhir (97) and an unfinished fifth-wicket stand of 46 with Yuvraj, who remained unbeaten on 21.
"It was the highlight of my career. To win the World Cup after 28 years was very special. Can't explain the feelings," said the left-handed batsman, who scored 362 runs in nine matches, averaging 90-plus and also grabbed 15 wickets with his left arm slow bowling.
- 'Eyes were set on World Cup two years ago'
Dhoni, on his part, conceded he had gone blank after hitting the winning shot, a six.
"I was quite blank at that point of time. I didn't know how to celebrate. Then I saw Yuvraj's 6-foot, 2-inch [frame] coming towards me. I thought, he's not going anywhere; let me get to the stumps [souvenirs] first," said Dhoni at the event organised by Reebok to felicitate the triumphant team members.
'I performed at the right time'
Last updated on: April 27, 2011 19:24 IST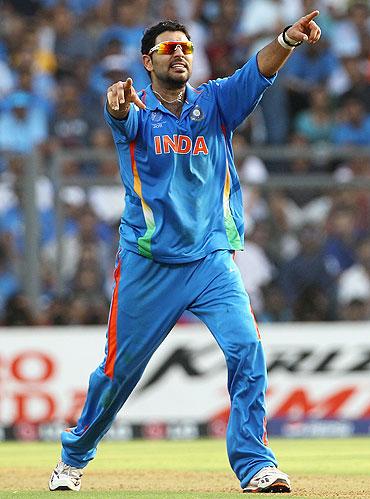 Yuvraj said he worked hard to make a memorable comeback into the Indian squad after being dropped from both the Test and ODI teams last year.
"Last year was not a great one. I suffered a lot of injuries, but I received a lot of support from my teammates and people close to me. I kept on working hard and performed at the right time," he said.
- Dhoni is a leader by example, says Kirsten
Dhoni also talked about the importance of fielding and fitness.
"Of course, we have to put in a 100 per cent effort [to keep fit]. Fielding is an integral part. Twenty overs [games] are said to be demanding but in 50 overs you have to maintain intensity throughout," he said.
'The team comes first'
Last updated on: April 27, 2011 19:24 IST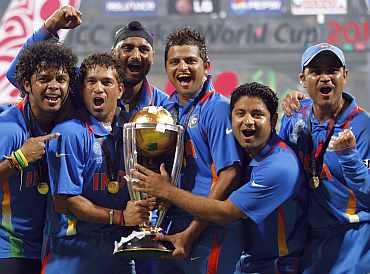 Off-spinner Harbhajan Singh said for him the team always comes first.
"Whenever there is a time to celebrate I celebrate. That's the way I have always been. I am there always for the team, the team comes first," he said.
Leg spinner Piyush Chawla and big-hitting all-rounder Yusuf Pathan also shared their memorable World Cup moments.
- 'Dhoni is India's modern icon'
"I felt very good to take the World Cup in my hand. We played well," said Pathan.
"I don't have words to describe those feelings. It was a dream come true for me. For me it was a special feeling as it was my first home series. That [triumph] is something I will cherish all my life," he said.
All the players were given gold-plated bats as mementos.
© Copyright 2023 PTI. All rights reserved. Republication or redistribution of PTI content, including by framing or similar means, is expressly prohibited without the prior written consent.