21 months later, Rohit Sharma ready to pass the test
Last updated on: November 21, 2011 11:52 IST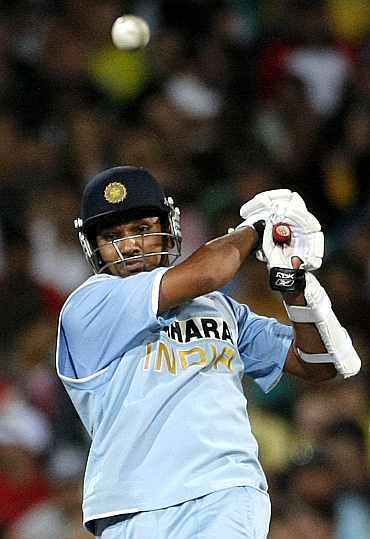 He was poised to make his Test debut last February when fate struck a cruel blow.
A freak injury on the eve of the opening Test against South Africa in Nagpur meant Rohit Sharma was ruled out of the match, thereby ensuring an unexpected debut for Wriddhimaan Saha.
Now 21 months later, the talented batsman has been given a fresh hope with the selectors naming him in the squad, in place of Yuvraj Singh, for the third and final Test against the West Indies starting Tuesday at the Wankhede stadium.
Considering the home team has already pocketed the series, by winning the opening two Tests at Feroz Shah Kotla and Eden Gardens respectively, Rohit's chances of making a debut on his home ground are brighter than ever. The batsman was expectedly elated at the call up, albeit not surprised.
"It was definitely expected. Whenever I go out to play I expect something good will happen," he said.
"I am very happy that the selectors have recognized my performance and have given me this chance," he added.
Rich vein of form
Last updated on: November 21, 2011 11:52 IST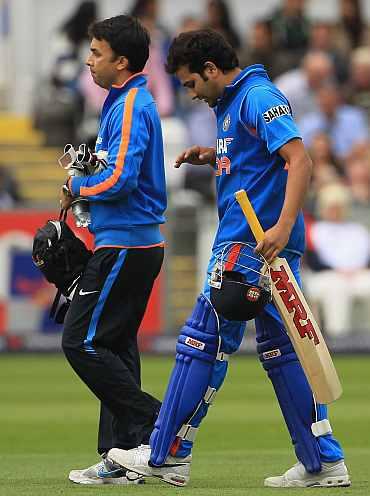 The 24-year-old had suffered a finger fracture in the opening ODI during India's recent tour of England, something that kept him out of that series, the following Champions League T20 as well as the English team's tour of India.
However, he announced his comeback in style with successive centuries in Mumbai's opening two Ranji games -- 175 against Railways in the opener and 100 against holders Rajasthan in the second match, enough to make the selectors take note and hand him another chance.
"These Ranji matches gave me an opportunity. Also I was coming back from injury and so had to prove that I am back in business," said Rohit.
"I am hitting the ball well. There's no problem with the finger now," he added.
'Try to remain injury free'
Last updated on: November 21, 2011 11:52 IST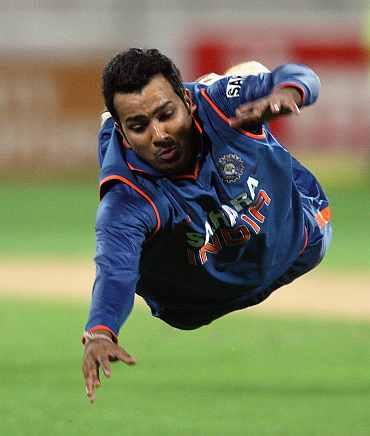 With injuries having hampered the progress of his career, the batsman has resolved to be more careful.
"I will try to remain injury free for the next few years," he vowed, adding, "I have suffered a lot of injuries, and at crucial times at that.
"So I don't want injuries to hamper my chances again."
'A lot of pressure for the no.6 slot'
Last updated on: November 21, 2011 11:52 IST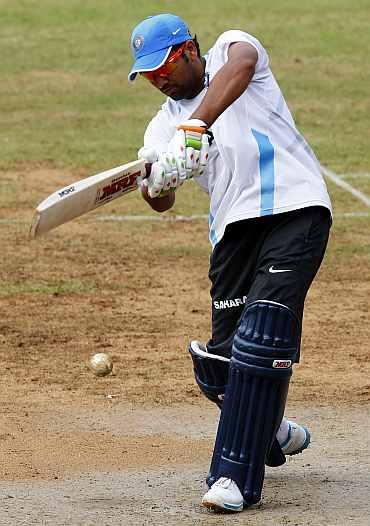 With the no.6 slot still up for grabs, Rohit's aware this might just be his chance. Asked the same his reply was a diplomatic one.
"If I do get an opportunity to play the last Test, I will definitely try and make most of it," he said.
"At the same time I wouldn't like to put any pressure on myself. I know there's a lot of pressure for the no.6 slot but as I have said earlier, if you keep getting runs you are rewarded for that," he added. 
He nevertheless affirmed he would tweak his approach a bit to suit the longer format.
"I would like to play my natural game but at the same time I have to be cautious as well, about what is going around me, who are the bowlers I need to target and all that stuff," he said.
Roller coaster ride
Last updated on: November 21, 2011 11:52 IST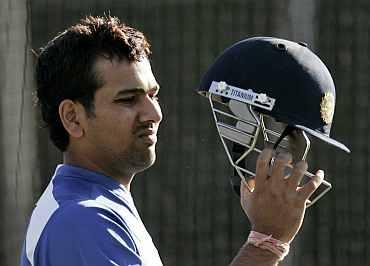 At a time when cricketers of his age play more frequently, Rohit's journey thus far has been a roller-coaster ride. Asked if it had been frustrating, he preferred to look at the positive aspect.
"No, it is not frustrating," explained Rohit.
"This is an age where you need to play more matches but at the same this is also an age when all the good cricketers have been dropped and have made a comeback.
"I am not any different and will try not to make the mistakes that I made earlier. Whatever opportunities I'll be getting from now on will be crucial. So I have to make those opportunities count," he added.