Pressure taking a toll on Tendulkar: Gibson
Last updated on: November 14, 2011 21:12 IST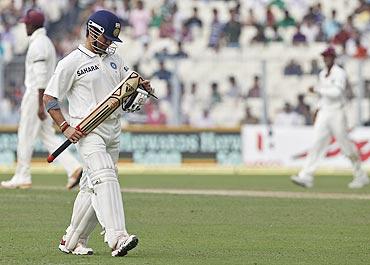 As Sachin Tendulkar missed out on his 100th ton yet again, West Indies coach Ottis Gibson said they were not doing anything special to prevent him from reaching the milestone and maybe it is the heavy load of fans' expectations which is getting the better of Indian batsman.
Tendulkar scored 38, on Monday, in India's first innings and Gibson hoped that the Indian will not get to the magic mark in this series against them."We did not have any special plan but just to bowl line and length.
Looking at Sachin, it makes me feel that the expectancy on Indian people is creating much pressure on him," Gibson said after opening day's play.
"Everytime he walks out people start cheering. For him to cope with the pressure is remarkable. The pressure on him is enormous. We just bowl in right areas and be patient. Something always seems to happen," he added.
I really don't think Sachin is bothered too much: Dravid
Last updated on: November 14, 2011 21:12 IST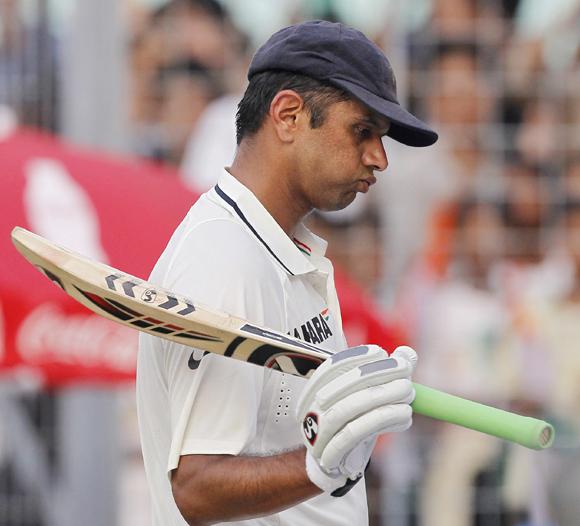 Rahul Dravid, who slammed a century in India's 346-5 in the first day's play, said Tendulkar will surely achieve the feat.
"He is going to do one day. It was just a short ball and he was unfortunate to find a fielder. There was one fielder on the leg side and he found him. He was batting beautifully. He was timing it well.He was really under good pressure. It's really just a matter of time. Sometimes you get out and he is just getting out. But he is batting really well. Sooner or later he will get that mark. I really don't think he is bothered too much about it," Dravid said.
Gibson added that the two quick wickets of Dravid and night watchman Ishant Sharma towards the closing stages, on Monday, gave West Indies something to cheer about in an otherwise uneventful day for the visitors.
"Our guys toiled hard but credit to them. They hung in there and got the five wickets in what was a tough day for us," the West Indies coach said.
We will try to restrict India: Gibson
Last updated on: November 14, 2011 21:12 IST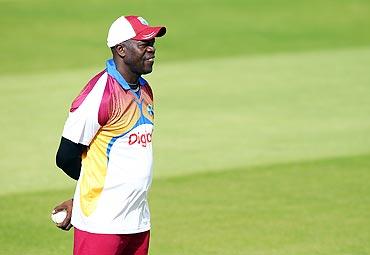 "It's only day one and both the teams are capable of a collapse as we saw in Delhi. We hope to regroup and make sure we recover well. Tomorrow is a new day and anything can happen. We have to go out there with a positive mindset. We will try to restrict them," Gibson added.
Gibson also did not complain about the batting-friendly Eden strip.
Before the start of the match, there were talks that West Indies might opt for an extra spinner in Shane Shillingford in place injured Ravi Rampaul, but Gibson said the tourists chose Roach instead keeping in mind India's weakness for pace.
'Bishoo is picking up key wickets'
Last updated on: November 14, 2011 21:12 IST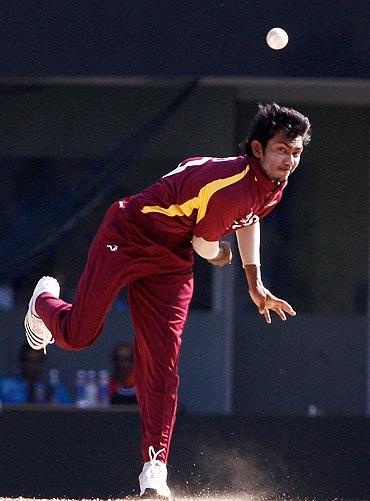 Gibson also justified West Indies decision not to take the new ball, saying, "Dravid was batting well. We thought we can come fresh tomorrow. But without taking a new ball we got a wicket. So it's a good thing for us."
Asked whether young leg-spinner Devendra Bishoo has been finding it tough to manage his workload, Gibson said, "The great Shane Warne came to India and was not that successful here. Bishoo is doing a great job for us, picking up key wickets. We have spoken about the workload on Bishoo. He has been our main spinner for nearly 10 months. But you got to take into account the fact that he is bowling to top quality batsmen."
The coach further added that the Caribbean side was doing well in the recent past with lot of youngsters trying to prove themselves ahead of their series against Australia in March next year. 
© Copyright 2022 PTI. All rights reserved. Republication or redistribution of PTI content, including by framing or similar means, is expressly prohibited without the prior written consent.