Milestone or not, Tendulkar prepares hard: VVS Laxman
Last updated on: November 21, 2011 16:49 IST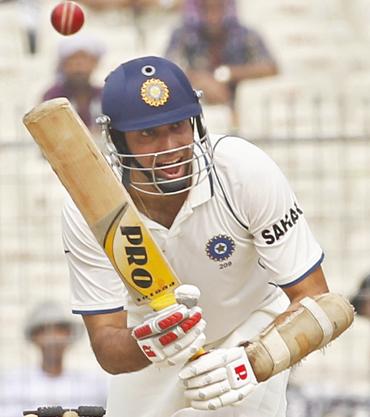 His 176 not out at Eden Gardens not only helped India pocket the series against the West Indies, but also meant an end to a personal drought -- one that spanned 15 months and covered 16 Tests.
VVS Laxman's 17th Test century, his fifth in Kolkata, was his first since he scored 103 not out against Sri Lanka last August. For someone who concentrates on playing only the longer version of the game, it was a considerable gap.
- WI look to bury bad Mumbai memories
To his credit Laxman came out with flying colours. With the third and final Test commencing Tuesday at the Wankhede, the 37-year-old is categorical about his team's target.
"We would definitely like to win the series 3-0 and that will be our target," he said.
'It is very important to play to our potential'
Last updated on: November 21, 2011 16:49 IST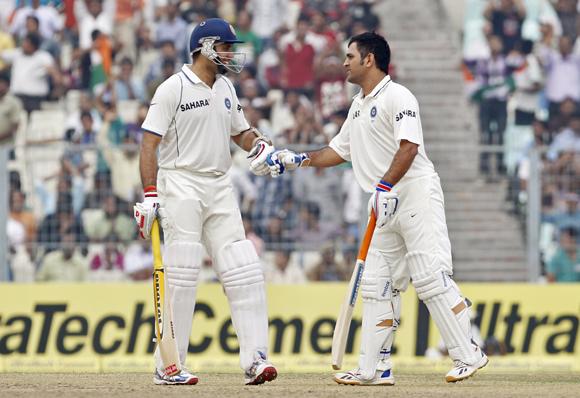 "But it is very important to play to our potential and keep doing the hard work, especially considering the way the West Indies batsman played in the second innings at Kolkata.
So, definitely, we would like to concentrate on the process, and if we end up winning the match it would be great."
That's as far as the team is concerned. However, Laxman, the batsman, is also keen to set a record straight.
The veteran is yet to score a hundred at the Wankhede -- the last time he played at the venue, against Australia in 2004, he notched his highest score (69) there.
- Bounce, turn await India, WI at Wankhede
"Wankhede is a very special place to play; so is Mumbai," explained Laxman, adding, "I have never got a hundred on this ground.
"So if I do get one it will be great."
'Good preparation has been the hallmark of Sachin'
Last updated on: November 21, 2011 16:49 IST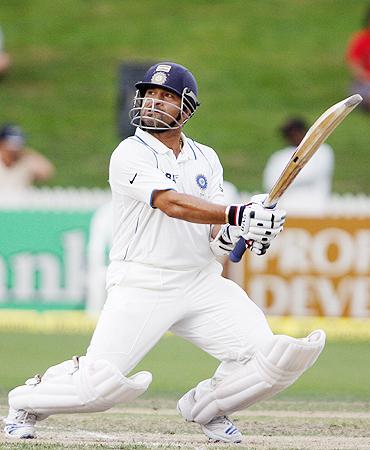 Speaking about hundreds, there is one that is eagerly awaited. In fact, it's been eight months that a whole nation has waited in eager anticipation for Sachin Tendulkar's 100th international ton.
- Windies look to bury bad memories even as Sachin's ton looms
However, if Laxman is to be believed the Master Blaster is totally unperturbed with the rising expectations.
"Right from the first time I saw Sachin, he prepares well for each and every Test match," explained Laxman, before proceeding to elaborate his point.
"Good preparation has been the hallmark of Sachin and the reason why he has done so well," he continued, adding, "He takes each and every practice session seriously and irrespective of the fact that he is reaching any milestone or not he prepares hard, making sure he is mentally and physically ready for a match.
 "That's why he has survived for so long, being a match-winner for the country."
Laxman is full of praises for youngsters
Last updated on: November 21, 2011 16:49 IST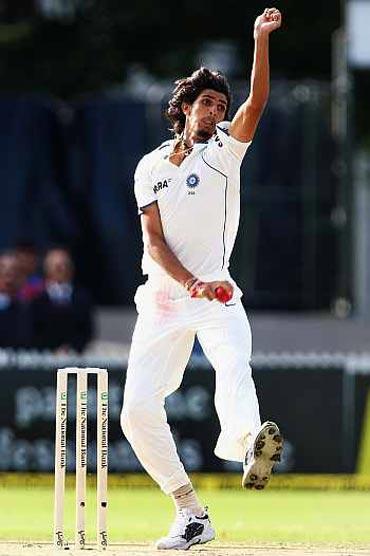 While shrugging off the fact the Tendulkar is under pressure to deliver, Laxman was effusive in his praise of three youngsters in the team -- Ajinkya Rahane, Rohit Sharma and Virat Kohli.
- 21 months later, Rohit Sharma ready to pass the test
"I think all three of them are immensely talented," opined Laxman.
"They have already proved in whatever opportunities they have got in ODIs that they can win matches on their own. I think India is very lucky to have three talented youngsters in the team and I am sure they will have a great future."
The veteran batsman also had a word of approval for Team India's new fast bowling arsenal.
 "I was very impressed with the way Umesh (Yadav) bowled in the last match. Also Ishant (Sharma) got back his rhythm in Kolkata," explained Laxman.
"It is also nice to see the way Varun (Aaron) is bowling. It is great to see such kind of potential is available at the moment, he continued, adding, "And obviously after Zaheer comes back it would be a very formidable pace attack.
- Zaheer expected to make cut in provisional squad for Aus tour
"It is very exciting to see bowlers who are bowling at more than 140kph."