'Confident of getting West Indies out early on Day 4'
Last updated on: November 16, 2011 19:22 IST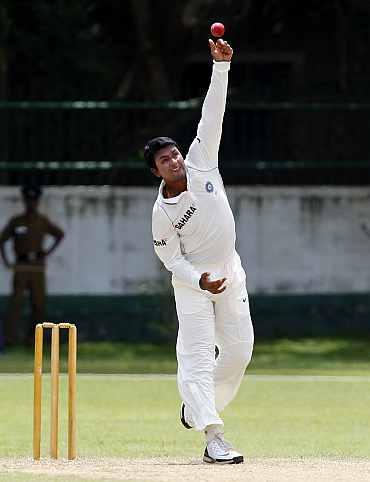 Left-arm spinner Pragyan Ojha, who claimed four wickets in the West Indies' first innings, thanked skipper Mahendra Singh Dhoni for showing confidence in handing him the new ball when play resumed on Wednesday, Day 3 of the second Test, in Kolkata.
In reply to India's huge 631 for seven declared, the West Indies were bundled out for 153, with Ojha claiming four for 64 opening the bowling with the new ball in the morning.
"I thank Dhonibhai, as he has shown a lot of confidence in me and R Ashwin. There was quite a bit of turn on offer today and, hopefully, we will get a bit more turn tomorrow as well," said Ojha, who, in the process, claimed his 50th Test scalp in the form of Kirk Edwards.
Asked how he felt opening the bowling, Ojha replied, "I think the main reason is that there was lot of turn on offer. Yesterday the light was too bad, so we thought of going with spin rather than pace."
'We are in drivers' seat'
Last updated on: November 16, 2011 19:22 IST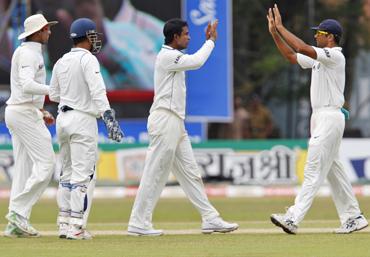 Ojha expressed home that the remaining seven West Indies wickets will be captured early on Day 4 despite the resolute approach of the visitors in the second innings, which saw them finish the day on 195 for three.
"Right now, we are in drivers' seat and things are going pretty well at the moment. In the morning, there was some moisture in the wicket and it was doing a bit for us. We hope the same thing happens tomorrow."
"Our guys are bowling superb, hitting in the right areas. We are confident of getting them out early tomorrow," he said.
He and Ashwin haven't captured a wicket in the Windies' second innings, but Ojha said they are bowling well.
"We got quick wickets and then the pitch got better. At some point of time, it happens when you think that if I had got one more wicket this would have happened...," he said.
Ojha also gave credit to the West Indies batsman for putting up a good fight in the second innings."They also batted well in the second innings. We should give credit to them. Tomorrow we hope to get them out as soon as possible."
'County taught me to handle pressure better'
Last updated on: November 16, 2011 19:22 IST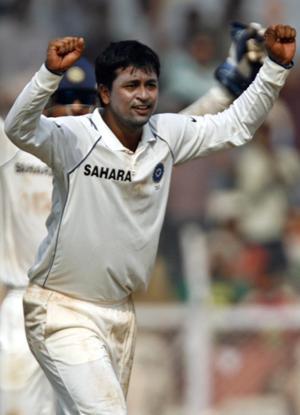 On failing to get a wicket in the second innings so far, Ojha reasoned, "It's quite normal the way we have been bowling. It's just that we could not get a wicket in the last session. But we were quite happy of our bowling and the way we were hitting the right areas."
He refused to say whether the spinners would be able to wrap the proceedings on the fourth day itself.
"It's difficult to say but we hope it will be the last day and we will look forward to Mumbai."
Asked about his county stint with Surrey, Ojha said it taught him to handle pressure better.
"Basically, it's about handling pressure. Once you play county, you are considered as a professional and you are expected to perform and win games for them. You have a lot of responsibility. It teaches you how to overcome pressure and do well," he said.
'Ashwin and I complement each other'
Last updated on: November 16, 2011 19:22 IST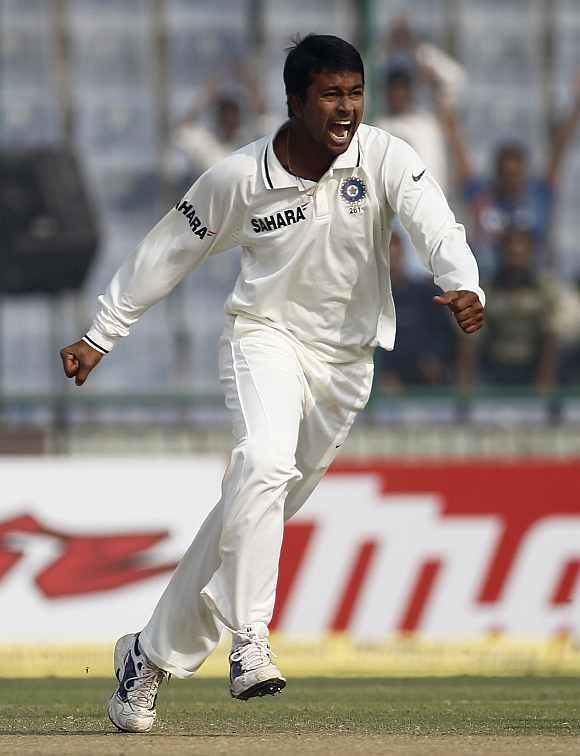 In the absence of an out-of-form Harbhajan Singh, the spin attack is hinged around him and off-spinner Ashwin and he said the two are enjoying each other's company.
"It's great to have Ashwin. We complement each other. I hope we carry on this partnership while bowling and get lot of wickets for India."
The Hyderabad lad also didn't want to look too far ahead on the Australian tour and stressed that his focus is on the current series.
"As I have said previously, I am not focussing on Australia tour at the moment. My aim is to win the Test and look forward to Mumbai [third and final Test]. God willing, if I do well there, I can look forward to the other things."
© Copyright 2022 PTI. All rights reserved. Republication or redistribution of PTI content, including by framing or similar means, is expressly prohibited without the prior written consent.