The loyalties of captain Dhoni
May 07, 2014 08:27 IST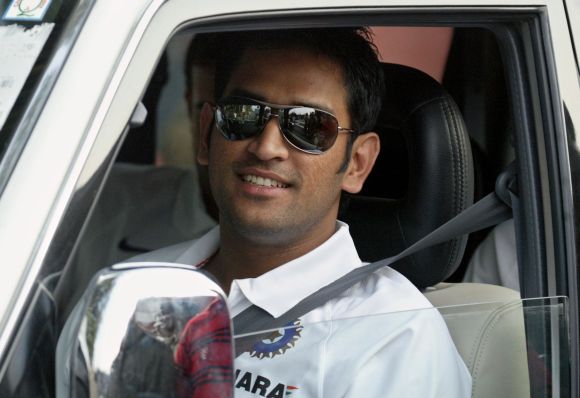 In juggling multiple roles as national captain and a popular brand ambassador, the cricketer depends on the support of some key figures to whom he swears allegiance.
Few in a government guesthouse on the Delhi-Mathura Road are aware it had once hosted a celebrity guest.
At Rs 150 a day, it fitted in perfectly with 18-year-old Mahendra Singh Dhoni's budget and was a few hops away from the National Stadium, where the youngster from Bihar had come to hone his skills for big-league cricket.
Monday to Friday, Dhoni and his roommate, Shashi Ranjan, would slog it out in the afternoons and turn out for clubs during weekend matches. He was a big movie and WWE buff, soaking in all the actions of Bret 'The Hitman' Hart, Hulk Hogan and The Undertaker, though his long hair was inspired not by the wrestling heroes, but by a close friend and former India Under-19 fast bowler, Mihir Diwakar.
He also loved eating. Hot chocolate fudge just edged out chicken in all forms. "Mahi (as Dhoni is popularly called) never flinched about paying up for friends," recalls Ranjan, who played for Bihar later.
"Even if it was the last Rs 100 note in his pocket with a week to go before he got more money, he would flash it out before anyone else. He never cared about what happened to him in the meanwhile."
- Please click NEXT to read more...
'Mahi's way of thinking'
May 07, 2014 08:27 IST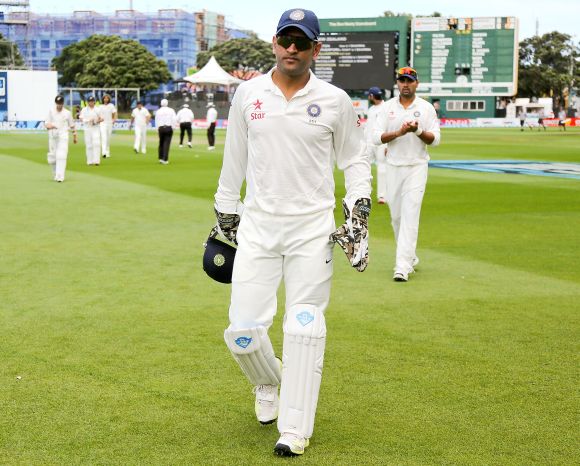 This youthful philosophy of not bothering too much about consequences for the sake of friends or the team would go on to define Dhoni's cricket.
Tariq-ur Rehman, former Bihar skipper, recalls a team meeting before a Ranji match against the Services team where the hot discussion was on how to see off the new ball in overcast conditions.
"Dhoni volunteered to open the innings and do the needful," says Rehman.
"The following day, he stepped out to the first ball of the match and smacked it out of the park. We were aghast. How can one play such a first shot in a four-day Ranji match? But we realised it was the simplest way to damage the new ball. The ball didn't swing after that. That was Mahi's way of thinking."
- Please click NEXT to read more...
Conflict of interest
May 07, 2014 08:27 IST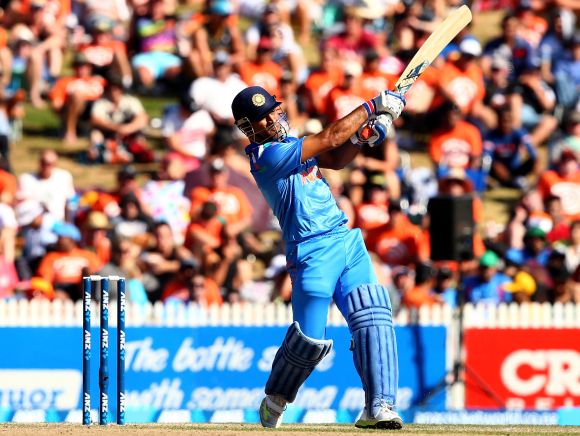 In recent times, Dhoni, 32, seems to have got away with more than just smacking the first ball of a match -- the longest Test series slump overseas, getting players picked and dropped on whim, promoting his 'own set' of players, and in an even more bizarre case, triggering the abrupt exit of national selector Mohinder Amarnath.
And then he got into a spot of bother when it was revealed that the Indian captain held equity in the player management firm Rhiti Sports that was handling his affairs and those of a couple of other national players.
However, the obvious conflict of interest led to no punishment.
An official of the Board of Control for Cricket in India, or BCCI, explains why. "Conflict of interest has become synonymous with BCCI. There are too many skeletons in the board cupboard," he says.
"With some top officials having their own interests to safeguard, it was difficult to take stringent action against one person."
- Please click NEXT to read more...
Proximity with Srinivasan
May 07, 2014 08:27 IST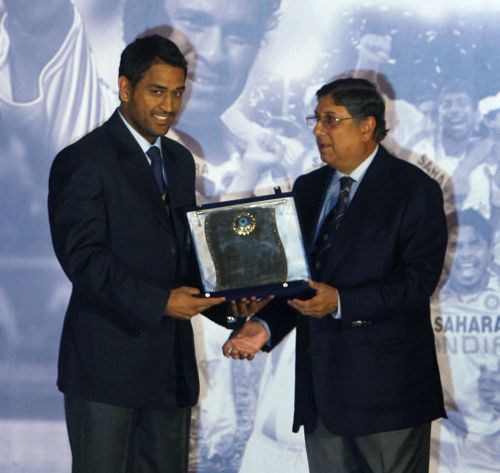 According to insiders, Dhoni is able to sidestep questionable actions largely because of his proximity to BCCI president N Srinivasan.
He is captain of the Chennai Super Kings (CSK) franchise of the Indian Premier League, which is owned by Srinivasan's India Cements, besides being a vice-president in the cement company.
With the Supreme Court looking at the fixing allegations in IPL, this relationship has come in for questioning.
Senior counsel Harish Salve argued in court that the Indian captain had lied about the bona fides of Gurunath Meiyappan, the disgraced former team principal of CSK and Srinivasan's son-in-law. BCCI challenged the insinuation and sought the audio recordings of Dhoni's deposition to the panel to determine the truth.
But the gossip continues -- is his name too on the closed list of players that the Justice Mudgal Committee submitted to the court?
- Please click NEXT to read more...
Man with the Midas touch
May 07, 2014 08:27 IST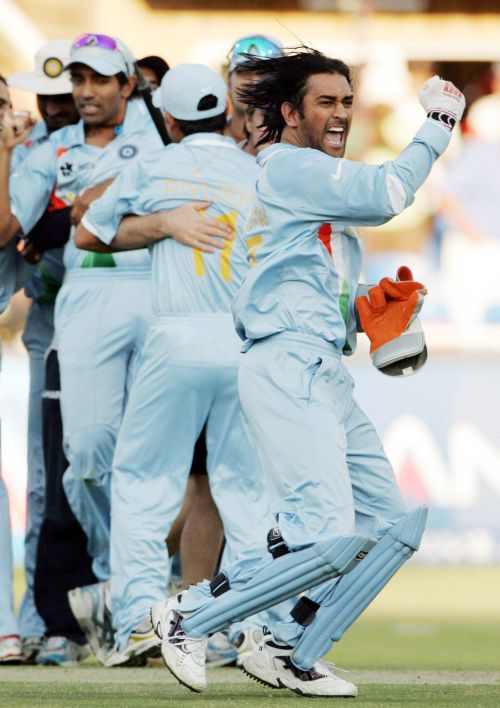 Dhoni had a balmy phase as captain during the tenures of Sharad Pawar and Shashank Manohar. He was the man with the Midas touch, winning the 2007 World T20, 2008 CB series in Australia and, of course, the 2011 World Cup.
He was naturally respected as an ultra successful skipper and bestowed the right to pick his own men, similar to the prerogative enjoyed by Mohammed Azharuddin and Sourav Ganguly.
It was using this clout that he plucked Murali Kartik — an old mate from National Stadium — from the television studio where he commented as an expert and revived his international career as a left-arm spinner.
The second phase of his captaincy saw low points, but it was a period that coincided with the rise of Srinivasan in the board.
When Amarnath objected to Dhoni continuing as skipper, the former India all-rounder was asked to quit.
BCCI insiders say that Srinivasan was firm that the wicketkeeper was the best man to lead India during the transition phase.
He argued that some of the adverse results had come despite the likes of Sachin Tendulkar, Rahul Dravid and VVS Laxman being a part of the team, so it was unfair to blame just one guy.
"Srinivasan believed that one man should decide the course of the team, since that would bring in clarity in the team," says a top BCCI member.
"And he was sure, after having closely watched Dhoni during selection meetings and how he backed new talent, that he was the man till 2015. So where was the harm in giving him the power to pick his players?"
- Please click NEXT to read more...
Strange selections
May 07, 2014 08:27 IST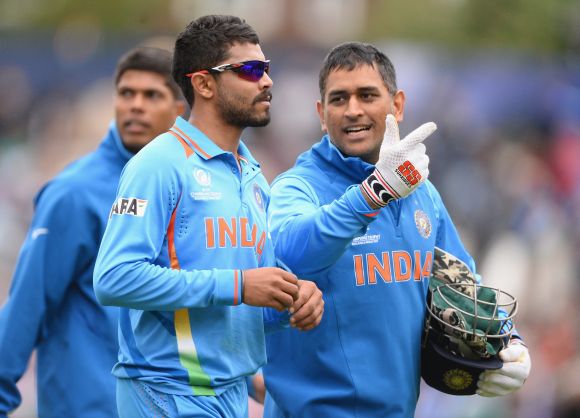 Critics have, of course, differed over this super selector role of Dhoni, citing the curious case of Ashish Nehra, who never played for India after that match-winning spell against Pakistan in the 2011 World Cup semi-final, or the sudden disappearance of fast bowler Praveen Kumar from the scene, or, for that matter, the recall of Dhoni's good friend, pacer RP Singh, for the England tour when he was clearly in no shape to play top-notch cricket.
There have also been questions about his persistence with Suresh Raina and the unabashed backing of Ravindra Jadeja as the all-rounder of the team. And why didn't Yuvraj Singh bowl a single over on spin-friendly wickets in Bangladesh in the recent World T20?
"It's been implied that because some players are with CSK, Dhoni sticks with them in Team India as well," says a franchise official.
"The fact is that Dhoni has complete confidence in them and wants them in both his teams."
He may be right, at least partly. For the Indian captain does not happily give a break to a youngster. But once he does, he backs him strongly.
- Please click NEXT to read more...
Belief in players
May 07, 2014 08:27 IST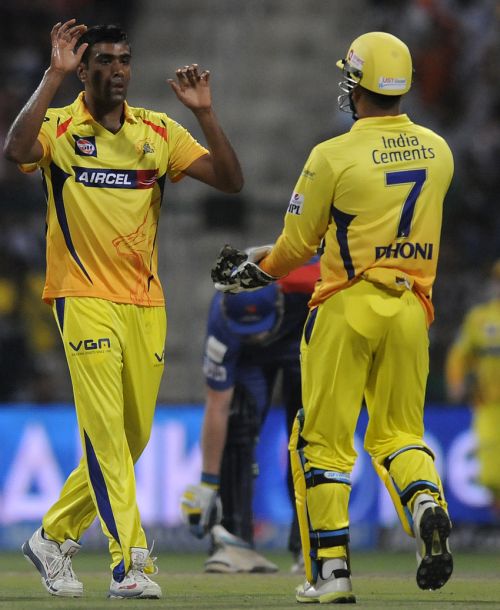 Take Ravichandran Ashwin's example. Dhoni didn't know him well in the CSK set-up in the first season of IPL, and benched him on two tours with the national team. But once convinced about the spinner's capabilities, he has pushed for him in both the teams. Players imposed on him never get a game or are treated shabbily — to send out a clear message to the selectors.
Just as Dhoni used his closeness to Srinivasan to advantage on the field, he has been quick to cash in on his own brand.
Dhoni realised early on that he was a revenue spinner with his looks and unconventional, but big-hitting, abilities and maximised his own share of his marketing. He moved away from his management, Gameplan, to open another agency with friend Yudhajit Dutta, incidentally also the man responsible for Dhoni meeting his wife, Sakshi.
However, he fell out with Dutta and entrusted his investments to Arun Pandey, a close friend in Delhi and owner of Rhiti. Today, he is worth an estimated $150 million.
- Please click NEXT to read more...
'He remembers people who helped him through thick and thin'
May 07, 2014 08:27 IST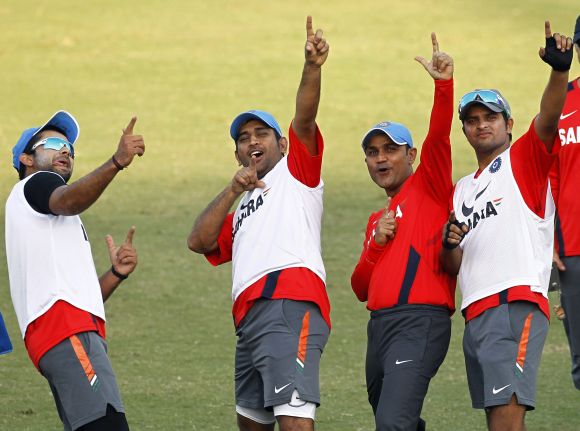 Former Indian fast bowler Amit Bhandari, who formed a great rapport with Dhoni during the Indian 'A' tour to Kenya in 2004, recalls how Dhoni, just 23 then, agreed to start using Reebok-branded kit. Later when he became a super star, it was Reebok he signed up with despite getting higher bids from other sports apparel company.
"He remembers people who helped him through thick and thin, and that tells you a lot about his personality," says Bhandari.
This perhaps also explains why Dhoni shares such a warm relationship with Srinivasan, for the BCCI president stood by him when the chips were down.
Meanwhile, his old National Stadium roommate Ranjan failed to make a lucrative career out of cricket, being a bencher with Delhi Daredevils for just a season.
He makes his living coaching youngsters in Gurgaon, playing club cricket and spending the remaining time hunting for a full-time job.
Sceptical about re-establishing contact with his old friend to seek help, Ranjan made a reluctant effort recently, after having lost direct touch with Dhoni since 2007.
He was left in tears when an angry Dhoni admonished him for not being in touch with him all these years -- and then promised to get him well-settled.
Source: