'I worked hard and then God did the rest for me'
Last updated on: July 8, 2011 12:55 IST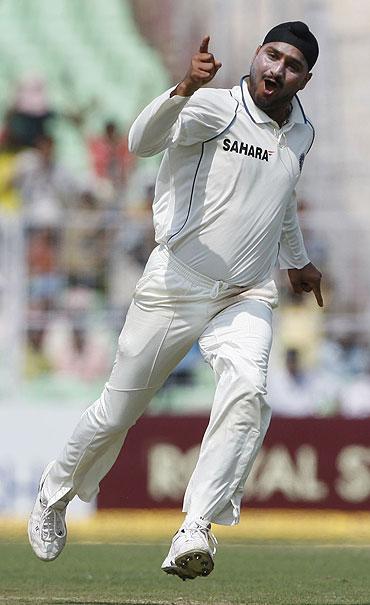 Following Harbhajan Singh's feat of capturing 400 Test wickets, rediff.com looks back on his five best moments in Test cricket.
- Harbhajan bags 400 wkts, congratulate him!
"The best moment in my life was obviously was when I was picked to play for India for the first time," he told Harish Kotian.
"And then there are so many other cherished moments, like every match I have won for India, winning the 2007 Twenty20 World Cup, reaching the 2003 World Cup final, becoming No 1 in Tests so many of them," the ace spinner added.
"If you talk about Test cricket, then it is these five: The Kolkata and Chennai Tests against Australia in 2001; Sri Lanka, 2008; Jamaica 2006 and, of course, this year against South Africa in Kolkata."
Harbhajan's five best in Tests:
- 7-123 and 6-73 against Australia, in Kolkata, March 2001
Harbhajan Singh took 13-196, including a hat-trick, VVS Laxman scored a magical 281 and Rahul Dravid a solid 180, helping India script one of the greatest turnarounds in Test cricket history.
Forced to follow-on, India stunned the all-conquering Australians, registering a 171-run victory to level the series 1-1.
The performance gave the Indians the belief that they could compete with the best. Since then they climbed the Test ladder to the No 1 spot they are currently ranked.
Not many were in favour of Harbhajan being included in the Test squad, but the then captain, Sourav Ganguly, insisted on his inclusion. What followed is history.
After India were bowled out for 171, in reply to Australia's 445, Harbhajan gave India thrust with a hat-trick. The hosts then just carried on the momentum in the rest of the game.
India amassed a huge 657 for seven declared in their second innings after being asked to follow, courtesy the Laxman-Dravid super show with the bat.
Mathew Hayden threatened briefly with a half-century (67), but once he fell, the rest of the batsmen had no answer to Harbhajan's varations and caved in tamely.
"I knew that the pitch had nothing to offer. So I concentrated on bowling line and length with small variations. I worked hard and then God did the rest for me," Harbhajan said after his heroics that left Kolkata spellbound.
'The turning point of my career'
Last updated on: July 8, 2011 12:55 IST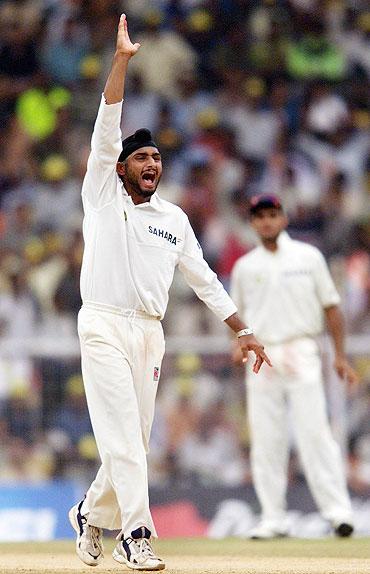 - 7-133 and 8-84 against Australia in Chennai, March 2001
India continued their comeback with another sizzling showing in the third and final Test against Australia in Chennai.
Once again, it was Harbhajan who did the trick with the ball, claiming five wickets in both the innings for a match haul of 15 wickets.
- Harbhajan joins 400-wicket club in Test cricket
Despite Mathew Hayden's double century (203) Australia were restricted to 391 in their first innings. Harbhajan took seven for 133.
India followed it up with a huge 501. Then Harbhajan repeated his heroics in the second essay, claiming eight for 84 in 41.5 overs.
Set 155 to win, India nearly fumbled in the run chase before winning by a narrow margin of two wickets, late on the final day. The victory enabled India clinch the three-Test series 2-1.
Those witness to the series believe it was one of the best ever in the longer version of the game. Harbhajan, India's 'Turbanator', stamped his authority in some style, as he claimed 32 wickets. He was deservedly named the man of the series.
"It was the turning point of my career. This series was definitely the big one for me. I knew I had to perform to my potential in this series and prove myself," he said.
When Sehwag and Bhajji destroyed Lanka
Last updated on: July 8, 2011 12:55 IST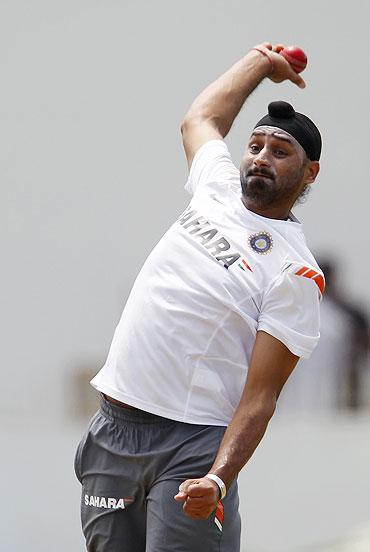 - 6-102 and 4-51 against Sri Lanka, in Galle, August 2008
Virender Sehwag's double century (201) was no doubt the major factor in India's crushing 170-run victory against Sri Lanka in Galle. But there was no discounting the role Harbhajan Singh played.
India were unable to consolidate on Sehwag's blazing double ton, losing their last six wickets for 51 runs before being dismissed for 329 in their first innings.
However, Harbhajan ensured that India kept their noses ahead with a brilliant spell that saw him take six for 102 and give India a vital lead of 37 runs.
In their second essay, the middle order again flattered to deceive as India were bundled out for 269, leaving Sri Lanka with 307 for victory.
Harbhajan again did the star turn. Seamers, Zaheer Khan and Ishant Sharma (three for 20) had reduced the hosts to 10 for three in no time before the wily Sikh rattled the middle order with his spell of four for 51. The victory enabled India level the series 1-1.
Harbhajan, Kumble end 35-year drought against Windies
Last updated on: July 8, 2011 12:55 IST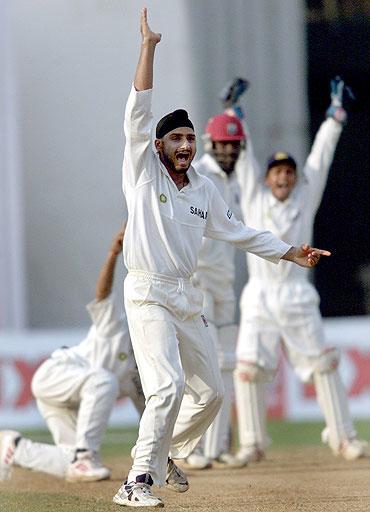 - 5-13 and 0-65 against West Indies, in Jamaica, July 2006
India ended a 35-year drought for a Test series win in the Caribbean when they beat West Indies by 49 runs in the fourth and final Test.
After India were shot out for 200 in their first innings, it seemed the West Indies were on top, but Harbhajan had other ideas. The champion off-spinner helped India bounce back in style, claiming five for 13 in 4.3 overs as the hosts were bundled out for 103.
But India's batsmen failed yet again in the second innings, as they crashed for 171 despite captain Rahul Dravid scoring his second half-century of the game.
In the second innings, it was Anil Kumble who paved the way for India's victory, taking six for 78 as the West Indies were bowled out for 219 after being set 269 for victory.
Magic at Eden
Last updated on: July 8, 2011 12:55 IST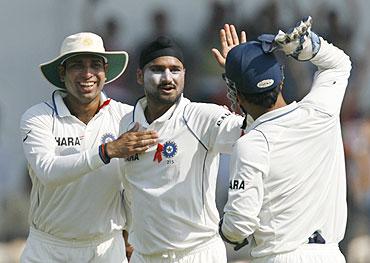 - 3-64 and 5-59 against South Africa, in Kolkata, February 2010
Harbhajan worked his magic at the historic Eden Gardens to help India clinch a thrilling victory.
This was a milestone victory for India in many ways. India crushed South Africa by an innings and 57 runs to level the two-match series 1-1, and, importantly, retained their top spot in the ICC Test rankings.
India could not get Hashim Amla's wicket as he scored a patient 127 not out but wickets tumbled at the other end.
It seemed South Africa were heading for a draw as Morne Morkel (12) batted patiently for an hour in company of Amla. The last wicket frustrated the Indian bowlers.
Harbhajan came on to bowl the penultimate over and again emerged hero as he claimed with the final wicket of Morkel, who was trapped leg before wicket.
Harbhajan finished with five for 59 and celebrated wildly just below the press box. Ahead of the Test he was slammed by a section of the media.
"Every player has his own special ground. I always enjoy bowling at the Eden Gardens because I have always done well there," he said.