Tendulkar's 10 gems in international cricket
Last updated on: April 24, 2013 07:06 IST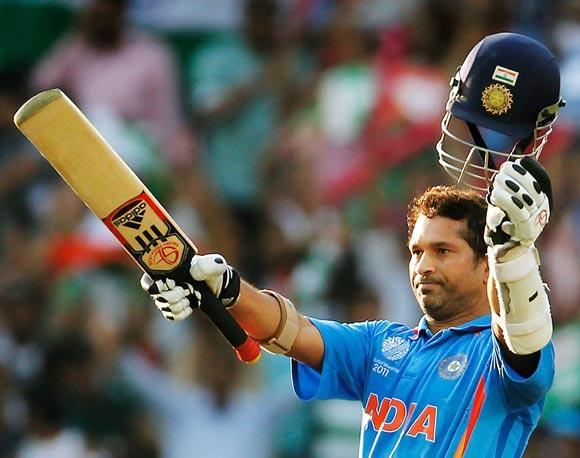 Age is only a number, as Sachin Tendulkar has proved over the years. The batting maestro who turned 40 on Wednesday still continues to be an integral part of India's Test team.
He retired from One-Day Internationals last year in order to prolong his Test career, and it remains to be seen how long he continues in the longer version.
It is rare for cricketers to continue playing into their 40s but Tendulkar is no ordinary cricketer. He made his international debut at a tender age of 16 in 1989, but 24 years later still continues to thrill audiences worldwide.
His batting may have waned in the last few years but his aura still enchants fans and scares opposition bowlers when he takes guard.
In celebration of his 40th birthday, Rediff.com presents the master batsman's ten best knocks:
In celebration of Sachin Tendulkar's 40th birthday, Harish Kotian lists his ten best knocks in international cricket.
Click NEXT for more
When Tendulkar, 16, defied pain to thwart Pakistan
Last updated on: April 24, 2013 07:06 IST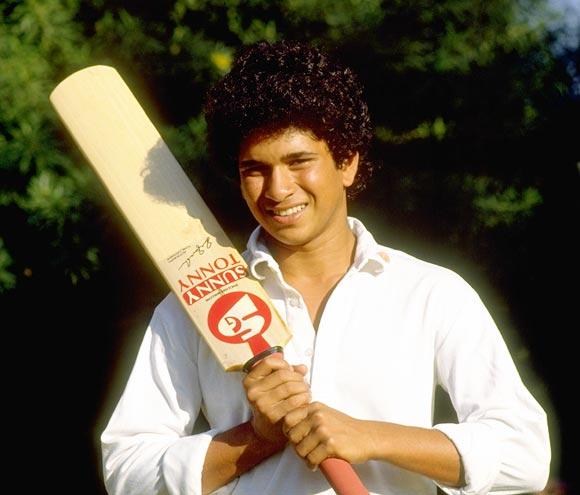 57 vs Pakistan at Sialkot, December 9-14, 1989
Tendulkar made his Test debut at the tender age of 16, in 1989-90, against a fiery pace attack of Pakistan, comprising the likes of Waqar Younis, Wasim Akram and Imran Khan.
In the fourth Test in Sialkot, he was struck on the face by an express delivery from Waqar. The ball reared up sharply and hit the youngster on his nose and he started bleeding. But Tendulkar waved the physio away and continued to bat. He smashed the next delivery for a boundary to leave the Pakistanis amazed enroute to a gutsy innings of 57 from 134 balls. In the company of Navjot Singh Sidhu (97) he helped India save the match.
When Tendulkar counter-attacked at the WACA
Last updated on: April 24, 2013 07:06 IST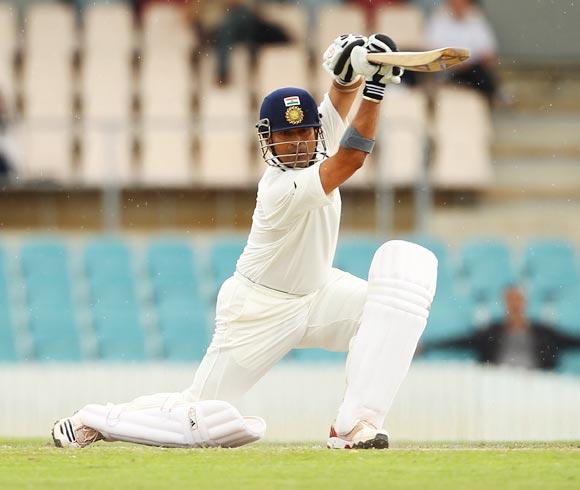 114 vs Australia at Perth, February 1-5, 1992
Tendulkar's counter-attacking innings of 114 on a fast pitch at the WACA in Perth is rated by many as one of the best centuries in Test cricket.
Tendulkar, 18, took on the fiery Australian pace attack of Craig McDermott, Merv Hughes and Paul Reiffel. The right-hander smashed 16 boundaries in his 114-ball knock in India's first innings total of 272, on a green top offering a lot of assistance to the fast bowlers.
Australia won by the match by 300 runs, but Tendulkar won a lot of admirers for his incredible innings.
When Tendulkar took Warne to the cleaners
Last updated on: April 24, 2013 07:06 IST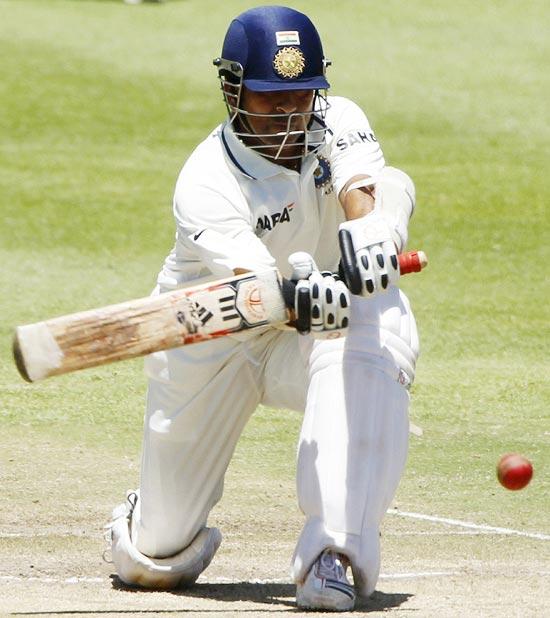 155 vs Australia at Chennai, March 6-10, 1998
It was the first of many thrilling battles between the two best players of their era. Shane Warne scalped Tendulkar cheaply in the first innings but the master blaster came back strongly in the second.
Tendulkar took Warne to the cleaners, smashing him to all parts of the Chepauk stadium during his magical knock of 155 from 191 balls, during which he hit 14 fours and four sixes.
Warne came from around the wicket to make use of the rough, but Tendulkar had other ideas. He used the slog sweep to good effect to disrupt the ace spinner's length, and when the ball was slightly short went back and pulled it with disdain, forcing the leg-spinner into a shell from which he never recovered.
Tendulkar's century paved the way for India's mammoth 179-run win in the Test and also helped the team seize the momentum.
Even desert storm failed to stop Tendulkar
Last updated on: April 24, 2013 07:06 IST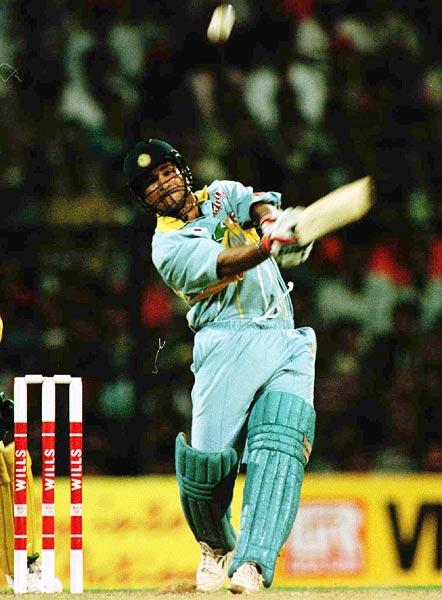 143 vs Australia at Sharjah, April 22, 1998
This is Tendulkar's best ODI innings ever, even though it came in a lost cause.
India were playing for a spot in the final of the Coca Cola Cup and faced a huge target of 285 for victory. A few overs were lost to a desert storm, making India's task more difficult of even qualifying for the final. But Tendulkar made the difference yet again, against the mighty Australians.
He smashed 143 from 131 balls to single-handedly take India to the final despite them losing that match. The right-hander was at his brutal best as the Aussie bowlers were made to run for cover and when Tendulkar was finally dismissed many were left bewildered by his batting heroics.
And a couple of days later he blazed another century on his birthday to take India to an unlikely victory in the final.
Tendulkar hit the first ever double century in ODIs
Last updated on: April 24, 2013 07:06 IST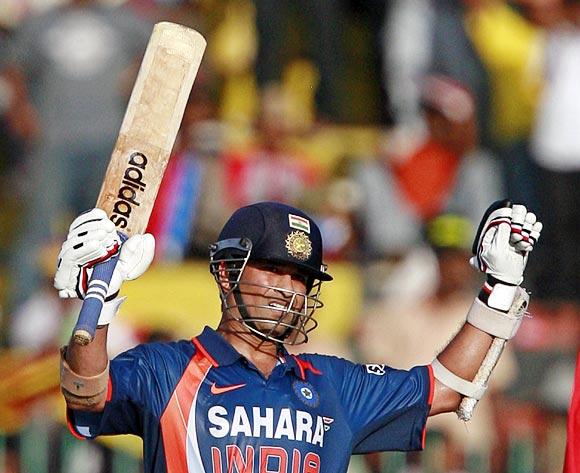 200 vs South Africa at Gwalior, February 24, 2010
Tendulkar has broken nearly every batting record in the book and he added another feather to his cap when he became the first man ever to hit a double century in One-Day Internationals.
He 36 when he achieved the unique landmark; an age when most players give up the shorter format.
His shot-making was of the highest order as he tore apart the clueless South African bowling attack on a flat wicket, and the short boundaries also helped.
Tendulkar carried his bat through the innings, hitting 200 from 147 balls, laced with as many as 25 boundaries and three sixes.
Tendulkar's magnificent century in Chennai
Last updated on: April 24, 2013 07:06 IST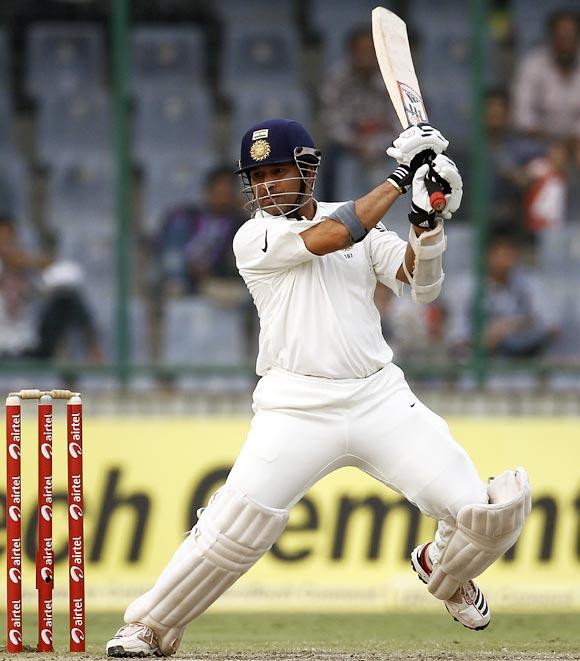 136 vs Pakistan at Chennai, January 28-31, 1998-99
Tendulkar, who was struggling with a back injury, came up against a strong Pakistan bowling, comprising of Wasim Akram, Waqar Younis and Saqlain Mushtaq. But nothing could stop the maestro at his favourite MA Chidambaram stadium in Chennai.
India were chasing 271 for victory, on a pitch getting difficult for batting, but Tendulkar still looked at ease.
Saqlain brought all his varations into play but nothing could breach Tendulkar's defence; every loose ball was punished in equal measure.
Except Nayan Mongia (52), no other Indian batsmen scored more than 10 runs in that innings.
Tendulkar's back started to give in and he holed out in the deep to Saqlain with the team on the verge of win, after having scored 131.
But Tendulkar's dismissal saw the lower order crumble and the last three wickets fell for three runs. India went down by 12 runs.
More than the back injury, it was the pain of defeat that hurt Tendulkar more that evening.
When Tendulkar destroyed Pakistan at Centurion
Last updated on: April 24, 2013 07:06 IST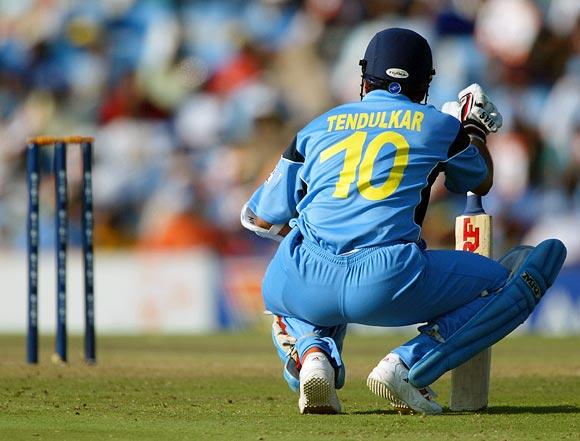 98 vs Pakistan at Centurion, 2003 World Cup, March 1, 2003
Another Tendulkar special. This one's worth treasuring for ages, not only because it came in a World Cup but also because it came against arch-rivals Pakistan.
The Mumbai blaster took the Pakistan attack to the cleaners scoring a breathtaking 98 from a mere 75 balls in one of his most destructive innings in cricket.
A leg injury hampered him in the latter part of the innings, but Tendulkar batted like a man possessed as India chased down a huge target 274 for victory in 45.4 overs.
Tendulkar's vintage 175 against Australia
Last updated on: April 24, 2013 07:06 IST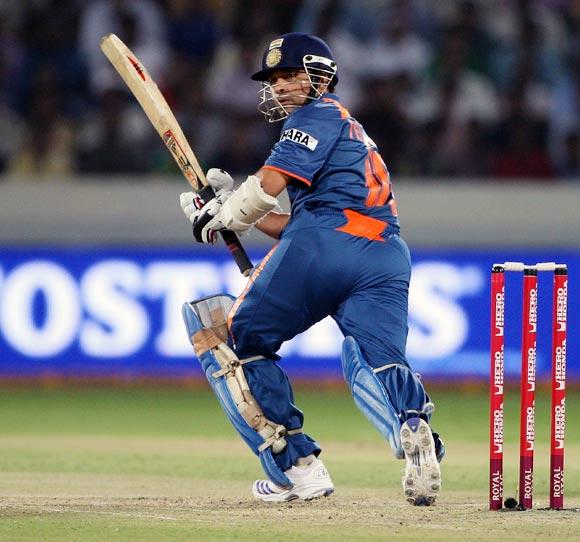 175 vs Australia at Hyderabad, November 5, 2009
India's batting in the 1990s and most part of the 2000s was largely dependent on Tendulkar. His influence with the bat diminished in the last few years though he time and again provided a reminder of his batting prowess with some magical knocks.
One such innings was the 175 he scored against Australia in Hyderabad that nearly took India to victory from the jaws of defeat.
India were set a huge 351 for victory and looked out of the equation as the middle order failed to fire but Tendulkar single-handedly took on the Australians.
When he was dismissed, India needed 19 from 17 balls, with three wickets in hand, yet somehow they lost by three runs after Praveen Kumar was run-out.
Tendulkar hit his first Test century in 1990
Last updated on: April 24, 2013 07:06 IST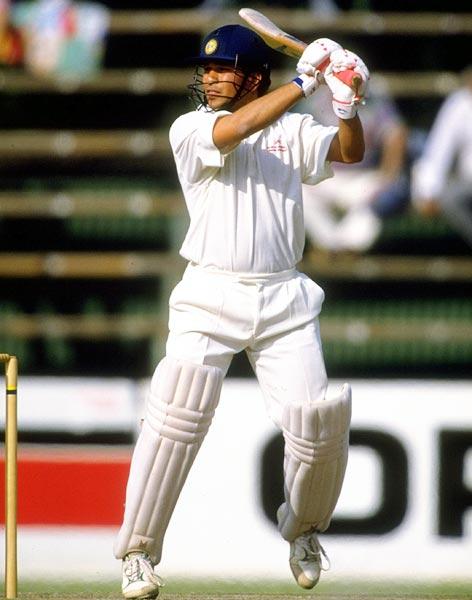 119 not out vs England at Manchester, August 9-14, 1990
Tendulkar's first Test century proved to be a key innings, helping India escape with an unlikely draw in the second Test inManchester.
Coming in at No. 6, he took the honours as he batted with maturity and determination, and in the company of Manoj Prabhakar took India to safety.
He finished unbeaten on 119 during which he hit 17 boundaries in 189 balls as India put up 343 for six after being set 408 for victory on the final day.
The 17-year-old registered a half-century in the first innings also.
Tendulkar's ton flattens SA pace attack
Last updated on: April 24, 2013 07:06 IST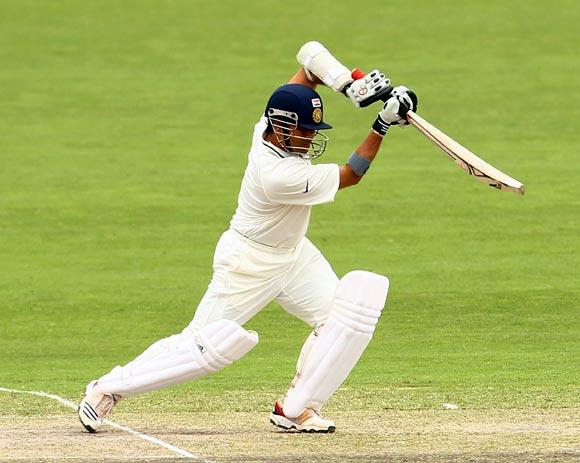 169 vs South Africa at Cape Town, January 2-6, 1997
India were thumped by a huge margin of 282 runs, but the second Test match in Cape Town was made memorable by Tendulkar's counter-attacking innings of 169.
India's captain led from the front with the bat as he launched a fierce assault on the South African pace battery of Allan Donald, Lance Klusener, Shaun Pollock and Brian McMillan.
Tendulkar hit 26 boundaries, cutting and pulling with disdain, and Mohammad Azharuddin hammered 115 from 110 balls as the duo enthralled during 122-run stand for the sixth wicket.