'T20 gives you the liberty of playing your shots'
Last updated on: June 4, 2012 10:20 IST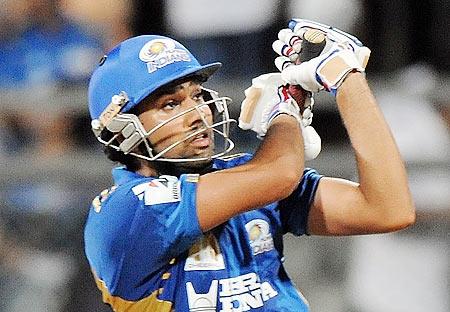 Rohit Sharma tells Bikash Mohapatra he needs to take more responsibility as a top order batsman.
Having completed the initial phase of his career, he remains a promising player, but one who is yet to realise his full potential on the big stage.
His failure to perform to his best when it matters has ensured he is still a fringe player when it comes to the national team, someone yet to cement his place in a line-up that boasts an array of stars.
The same inconsistency is evident at the domestic level as well, the Indian Premier League (IPL) being no exception.
Rohit Sharma was the best batsman for Mumbai Indians in the fifth edition of the tournament. His aggregate of 433 runs in 17 matches ensured he finished the tournament among the top-10 run scorers.
'I could have done much better'
Last updated on: June 4, 2012 10:20 IST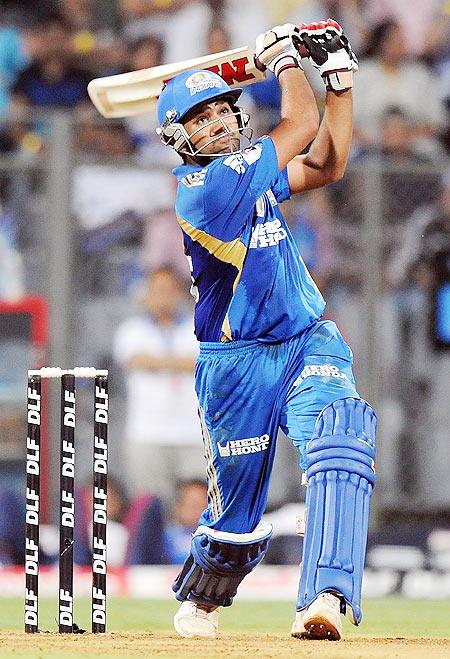 There were moments of brilliance from him no doubt -- his spectacular 109 not out against eventual champions Kolkata Knight Riders at the Eden Gardens single-handedly won the match for his team. Many labeled it as one of the best innings ever in the format.
Equally significant was his unbeaten 73 against Deccan Chargers at Visakhapatnam, where his last ball six off Daniel Christian sealed the issue for Mumbai Indians. Or, for that matter, his 60 against Chennai Super Kings at the Wankhede, or his 30-ball 50 against Kings XI Punjab in Mohali, both important contributions in winning causes.
However, for each of those memorable knocks mentioned above there were many opportunities wasted, most notably his failure to rise to the occasion in the all-important eliminator against Chennai, something that cost his team a shot at the title.
Considering the Mumbai Indians batting was erratic otherwise, it was imperative for Sharma to be consistent. The Nagpur-born player, who turned 25 during the course of the tournament, failed in that regard.
"I could have done much better," admitted Sharma, the remorse in his voice palpable.
'I don't regret that I have played some loose shots'
Last updated on: June 4, 2012 10:20 IST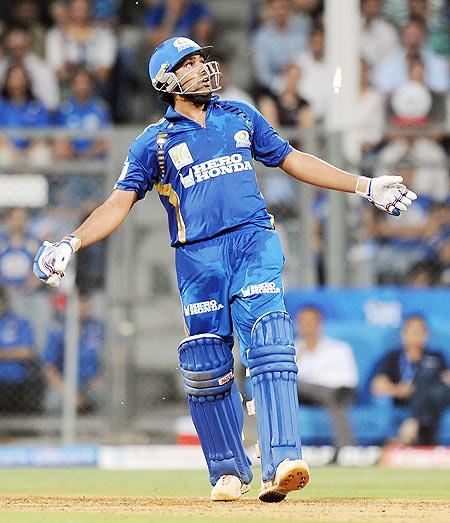 "As a top order batsman I have to take more responsibility and play," he added.
The youngster albeit was quick to back up his initial reply with a detailed explanation.
"But such things can happen," he said, still responding to the question pertaining to his performance.
"I'm not frustrated with the way things have gone for me," he continued, adding, "T20 is a format where you will get some success and fail sometimes as well.
"I've to keep my motivation going. I've to be strong."
The 25-year-old has often been accused of playing rash shots at crucial junctures, and consequently giving his wicket away after having settled down well.
"I don't regret that I have played some loose shots," justified Sharma, proceeding to elaborate on his point.
'You will see a bit of inconsistency in T20 from the players'
Last updated on: June 4, 2012 10:20 IST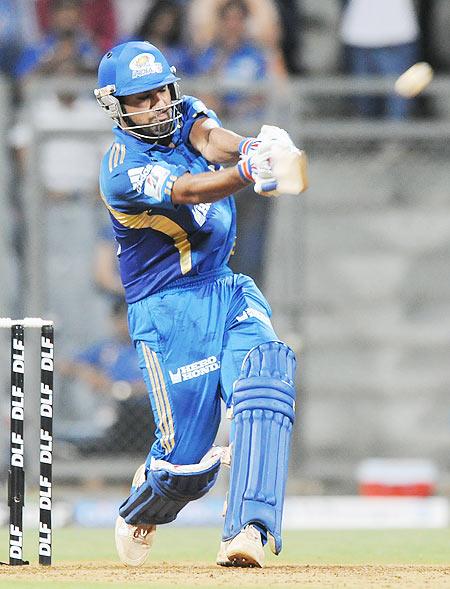 "Sometimes I got out playing shots that I'll never play in the other formats," he explained, adding, "But Twenty20 gives you the liberty of going out and playing your shots.
"If you don't play your shots in this format then where will you do so?"
While the lack of a settled opening pair was a problem that plagued Mumbai Indians throughout the tournament, their middle order was equally inconsistent, the fragile batting ensuring the opposition an advantage more often than not.
"It's true that our middle order didn't fire the way we wanted it to," admitted Sharma.
A justification to the same came immediately after.
"But, again, Twenty 20 is a format where you will see a bit of inconsistency from the players because you actually go out and play your shots," he explained.
"It's the case with most of the teams in the tournament. The middle order of many teams didn't fire," he added.
'If all of us had clicked together things would have been different'
Last updated on: June 4, 2012 10:20 IST
Mumbai Indians had to rely on some fortune, they benefitted from a few last over finishes, to stay at the top end of the table. However, they were largely inconsistent when it came to matches on their home turf, losing half of their matches and being anything but convincing in their wins.
"Obviously we would have wanted to put up a better show at home because people came to the Wankhede in huge numbers to support the team," admitted Sharma.
"What matters in the end though is how many games we won in total," he added.
The loss to Chennai in the eliminator ended Mumbai Indians' campaign rather prematurely.
However, Sharma stressed that, overall, the tournament was a success for his team.
"We had our ups and downs in the tournament," he explained, adding, "We didn't play to our potential.
"If all of us had clicked together things would have been different.
"Yet what matters is we finished well. It's a positive sign for us."