'After the first seven games, not many thought we would be here'
June 02, 2014 01:03 IST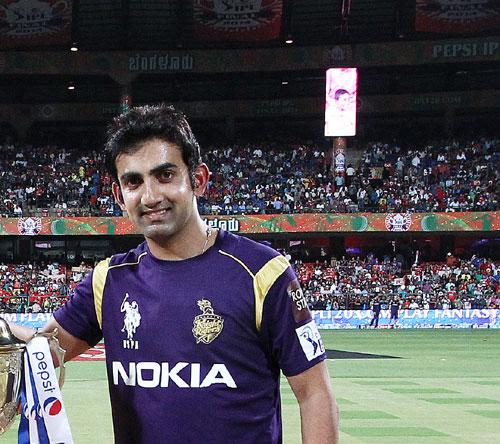 An elated Kolkata Knight Riders captain Gautam Gambhir has said that the triumph was even sweeter as not many people gave them a chance after the first seven matches in IPL this year.
"Where we were after first seven games, not many people thought we would be here," Gambhir says. "Boys absorbed a lot of pressure, a lot of credit needs to go to the team," the teamman in Gambhir came to the fore once again.
Gambhir said that they always fancied the chance to win as Chinnaswamy is a small ground to defend.
"This is a ground where it is very difficult to defend. We wanted to get it down to 5 overs, 50 or 60 to get. Manish played a fantastic innings, Yusuf chipped in, and Chawla hit that important six. Wriddhiman also played an unbelievable nnings but Manish was fearless."
- Please click NEXT for more...
'I'm very optimistic and love to play the crunch game'
June 02, 2014 01:03 IST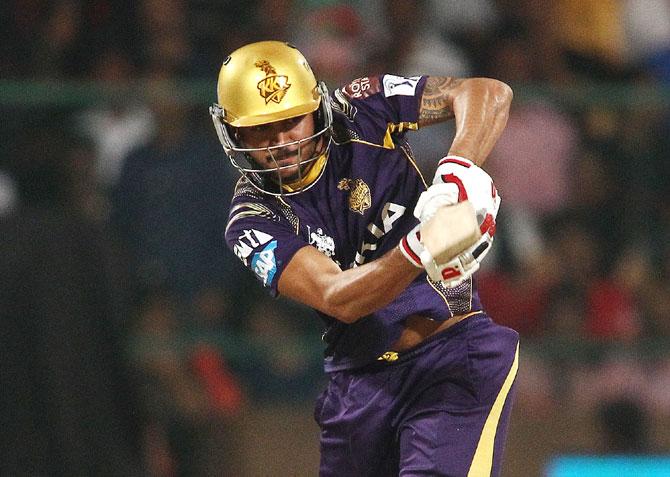 Man-of-the-match Manish Pandey said that winning IPL was like "icing on the cake" after winning Ranji Trophy, Irani Trophy and Vijay Hazare Trophy.
"We have got four achievements, Ranji Trophy, Irani, cherry on the cake was the IPL," Pandey said. The man who hit 94 off 50 balls said that he was onfident of performing in a crunch game.
"I'm very optimistic, and I love to play the crunch game. We got 10 in the first over, and that was the time I thought, if we kept doing that, we'll get 200."
'Orange Cap' winner Robin Uthappa described the feeling as "surreal".
"I'm at a loss for words. I'm happy I've contributed in a meaningful manner. If I have to pick one innings, the one against Mumbai Indians, because I played with a broken toe, and I broke through a physical barrier."
- Please click NEXT for more...
'Our guys can hold their heads high'
June 02, 2014 01:03 IST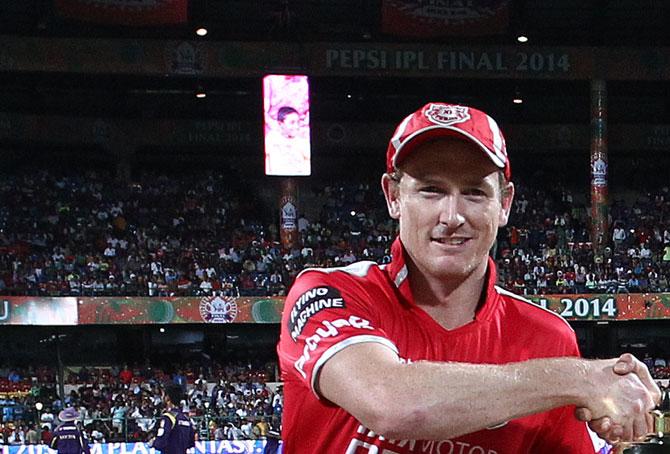 The affable KXIP skipper George Bailey was all praise for the team that played so well.
"We've got a special bunch of guys, we've had a wonderful tournament, and our guys can hold their heads high." Asked to talk about his memories of the season, he said, "I enjoyed this one, I got to play a few games."
Akshar Patel, who won the 'Emerging Player Award' said," I'm very proud that I've beaten so many domestic and international players to No 1.
"Our bowling coach Joe [Dawes] makes a lot of plans for different batsmen, and I've worked on those. I think I'm a batting allrounder, but after this performance, maybe bowling allrounder."