Dhoni not an intelligent Test captain, says Azhar
Last updated on: April 13, 2012 17:03 IST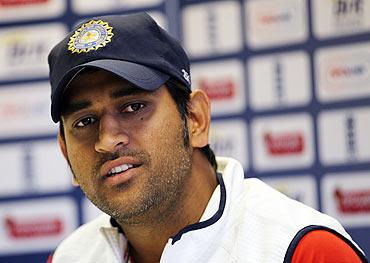 Former India captain Mohammad Azharuddin feels that current skipper Mahendra Singh Dhoni lacks "a bit of intelligence" when it comes to leading the side in Test cricket and there should be different captains for all three formats of the game.
"He (Dhoni) has always been a very good captain in ODIs and Twenty20s but in Test cricket, he lacks a bit of intelligence. May be when it comes to taking instant on-field decisions," Azhar, who is in Dharamsala to lead the Indian MPs in a friendly match against British MPs, said.
"So, I feel that he is very much suited for ODIs and T20s but not for Test matches. I honestly believe that there should be three different captains for three formats," he said.
Azhar blames England, Oz debacle on lack of preparation
Last updated on: April 13, 2012 17:03 IST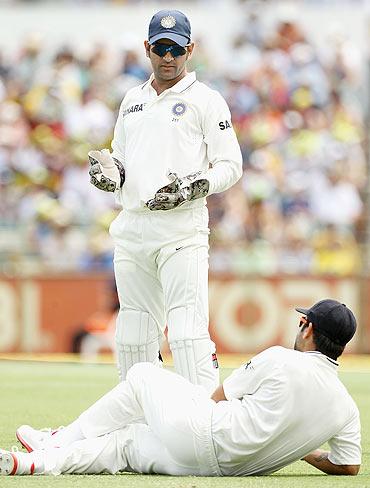 "He is a very good player. Maybe, when he doesn't have captaincy pressure on him, he might play differently. I think, it's very hard for anyone to say whether he is able to justify his place in the Test team or not, but since he is a captain, you have to respect that."
Asked about the Test series whitewashes against England and Australia respectively, he said, "Lack of confidence and lack of preparation were the key reasons. We did badly because the ball swung a lot in those conditions."
The Hyderabad-batsman of yesteryears feels that Rohit Sharma should be an ideal replacement for Rahul Dravid in the Test team.
"Rohit Sharma should play. He is a talented cricketer and should be given a chance to play in all formats. Another good player is Virat Kohli but he is already playing, which is a big bonus."
'Good cricketers perform well in every format'
Last updated on: April 13, 2012 17:03 IST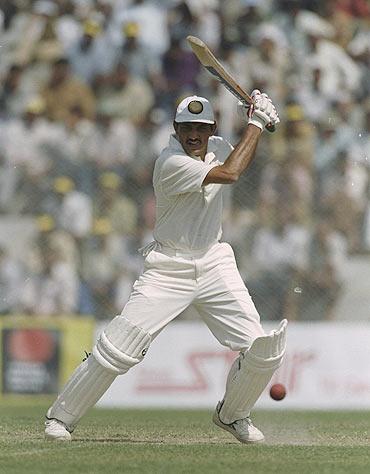 Azhar refused to blame the Indian Premier League for the youngsters developing faulty techniques and not putting enough emphasis on the longer version.
"Twenty20 and Test cricket are two different formats. It's not justified to blame the T20 or for that matter the IPL for the decline in quality of youngsters in Test cricket because players are different for T20s and Test matches.
"It should not serve as an excuse when you are not performing well. If you are a good player you should quickly adapt to different formats. Good cricketers perform well in every format."
A few months back, the veteran of 99 Tests was struck by the personal tragedy of losing his younger son Mohammed Ayazuddin in an accident.
Asked about his elder son Abbas (Asaduddin), he said, "At the moment, he is injured. He has got a tennis elbow and is recovering from that. He has got a lot of talent. He started the game a bit late but he has got a lot of talent."
© Copyright 2021 PTI. All rights reserved. Republication or redistribution of PTI content, including by framing or similar means, is expressly prohibited without the prior written consent.