Batting at No. 3 a challenge for me: Pujara
Last updated on: October 17, 2012 09:15 IST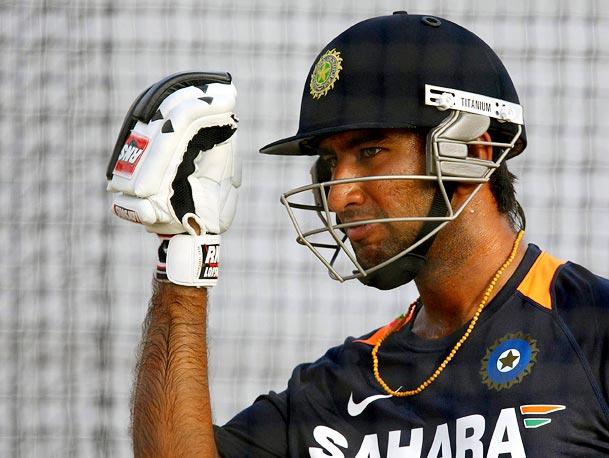 Indian fans were a worried lot when Rahul Dravid suddenly announced his retirement at the start of the year. After all, the Karnataka right-hander was one of the best batsmen of the modern era, having played a crucial role in many Indian Test victories, both at home and abroad.
But no sooner did Dravid depart, than in stepped up Cheteshwar Pujara to stake claim for the crucial No 3 position in the Indian Test team's batting order.
Coming back into the team after a long injury lay-off, he started off with a sparkling innings of 159 in the first Test against New Zealand, in Hyderabad, in August. He had signaled his intentions of making the No. 3 position his own when he scored 72 on his debut against Australia, in Bangalore, in October 2010, after Dravid was demoted to No 5.
The Indian team has a busy, and tough, few months ahead, with Test series lined-up against England and Australia. The 24-year-old started off the season on the perfect note, scoring twin centuries in the Challenger Trophy, followed by a double century for his employers Indian Oil in the Times Shield tournament against Western Railway.
Fresh from that 'double' at the Western Railway ground, in Lower Parel, Central Mumbai, the up-and-coming batsman spoke to Harish Kotian on the art of batting at number three, his preparation for the new season and the fitness regimen has helped him keep the good batting form going.
'I want to keep my good form going'
Last updated on: October 17, 2012 09:15 IST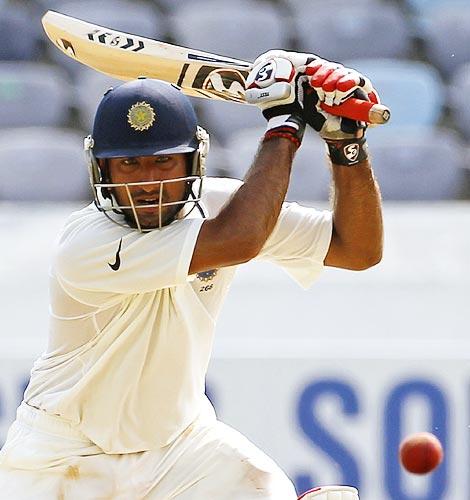 You are scoring runs by tons going into the new season, having made two centuries in the Challenger Trophy and now this double hundred in the Times Shield for Indian Oil. You must be delighted with your form, with some important Test series coming up for India. 
It is really important to keep scoring; once you get a double century it is a great, great feeling. I have scored runs in all the matches I played recently, which matters a lot. I want to keep my good form going; that will help me prepare to play against England.
You had a long injury lay-off last year because of a knee injury, and only came back to the Indian team earlier this year, in the Test series against New Zealand. Now you are playing so many matches continuously, be it international, domestic or club level. Isn't there the fear of picking up an injury ahead of a busy and important season coming up?
I am not worried. Since the last year or so I have been working hard on my fitness and training hard. I don't think there is any problem playing so many matches, because I am taking adequate rest in between too. Even during the rest period, whenever I get some spare time, I do my training. I am not thinking of any injury or anything; I am just looking forward to playing cricket.
Since I had a tough time in the past I have realised that it is important to stay fit. And whenever you start scoring runs, it is important that you maintain the form, because when you are out of form then it is difficult to get your form back. So I make sure that whenever I am scoring runs I try and keep scoring runs by playing big knocks, which keeps me going. I believe match practice is more important than net practice. Whatever match it is, I make it a point to play it and keep my good form going.
'Batting in place of Rahul Dravid is a big job'
Last updated on: October 17, 2012 09:15 IST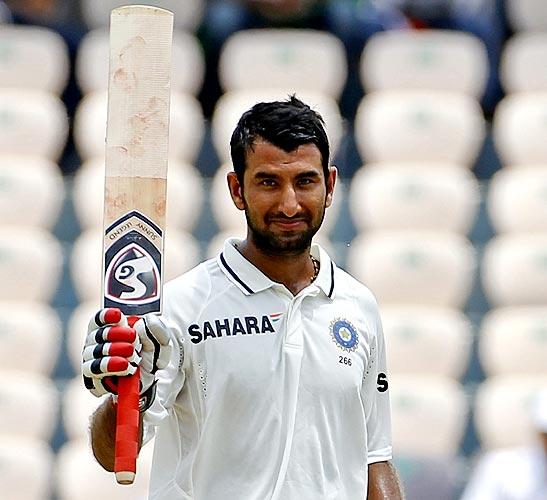 How is it replacing a legend like Rahul Dravid at number three, a position at which he was one of the best for so many years?
I always say that I cannot replace Rahul Dravid. He is a legend and he has scored more than 10,000 runs in both the formats. I just play my natural game and I don't think about anything else out in the middle. I don't want to react to any comparisons, because it I think it is not right. I know the responsibility of batting at number three and batting in place of Rahul Dravid is a big job. But I don't focus on that; I just try to do what I can.
Some of the best batsmen we have seen in Test cricket have batted at No. 3, like Dravid, Brian Lara, Jacques Kallis or Ricky Ponting. What do you think makes that batting position so important for the team?
It means a lot, because you have a big responsibility. I have batted at that position for my state team and even for my company, Indian Oil. It is a big challenge and I would like to accept that challenge and do well.
The key is, I think, is that you have to see off the new ball. That is important not only for you as a batsman but also the team. Once you see off the new ball then batting becomes lot easier. I think the formula is quite simple: just spend some time at the crease and just get the bowlers tired.
'Batting at No. 3 is a challenge for me'
Last updated on: October 17, 2012 09:15 IST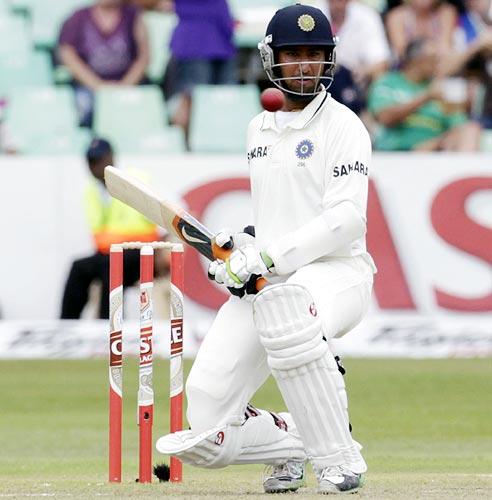 Did you ever get a chance to talk to Dravid about batting and playing the big knocks?
I have spoken to Dravid and I have got some advice from him on how to prepare and how to go about the game. I know him well and I have had many interactions with him about the game, which has surely come handy and will also help me in the future.
Do you find batting at No. 3 comfortable? Have you always batted at that position?
I always enjoy batting in the top order. It is a challenge for me and I believe challenges are very important in a cricketer's life. I always enjoy challenges, because once you overcome the challenges, like facing the new ball, then it is a good feeling.
'I will continue playing pull shots'
Last updated on: October 17, 2012 09:15 IST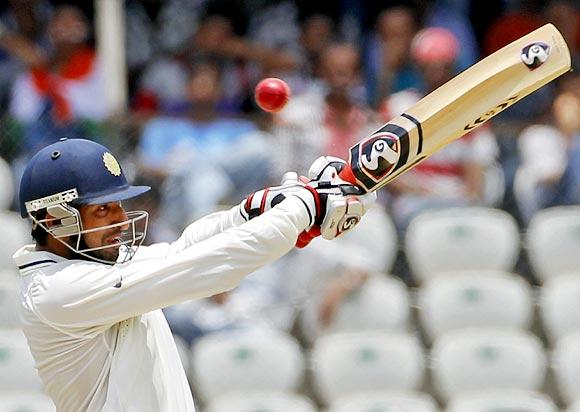 Talking of challenges, you faced a tough challenge in the Test series against New Zealand. You got out playing the hook shot in the first innings of the second Test in Bangalore, and then you were peppered with a lot of bouncers in that series, but kept pulling the ball, top-edging a few times. Were you making a conscious effort to prove a point that you are not afraid of bouncers, or was it your natural game?
I just wanted to be natural, because I play pull shots; but when I got out in Bangalore, that was a hook shot. So I will try and be careful in the future, especially while playing hook shots, but will continue playing pull shots. I am just working on it.
I am not scared of short balls for sure; it is not that I am playing pull shots because I want to show I am not scared of short balls. That shot comes naturally to me and I have been successful playing those kind of shots in England, West Indies and some other countries.
'England's pacers won't worry us'
Last updated on: October 17, 2012 09:15 IST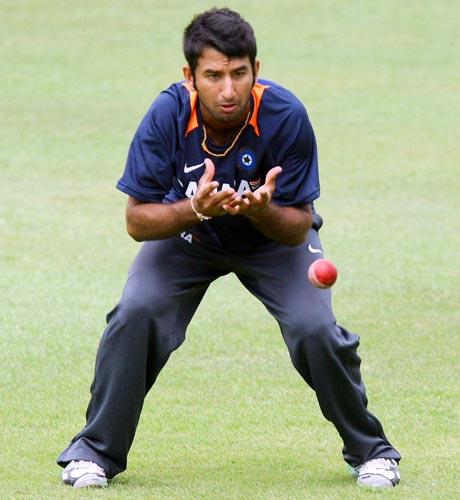 England have a good pace bowling attack, and if India lose an early wicket then you will certainly face a testing time early on. How are you planning to prepare for that important series?
I don't think their pace will be a big worry, because we are playing in Indian conditions. They will have to work hard to succeed in these conditions. I have my plans to prepare against fast bowling. I have played against the likes of Dale Steyn and Morne Morkel in South Africa, so that experience will come handy and help me.
Fans want India to extract revenge for their 4-0 whitewash last year. Do you think it will be possible to beat England 4-0 in the Test series?
I don't think you should remember the past because this is a new series. The aim is to win the series whether we win 4-0 or 3-1 or whatever, the numbers don't matter as long as we win the series. There will be nothing like it if we can beat them 4-0, but the main thing for now is to play well in the first Test. If we start off well then the rest of the things will take care of themselves.
'I am very confident that I can do well in ODIs too'
Last updated on: October 17, 2012 09:15 IST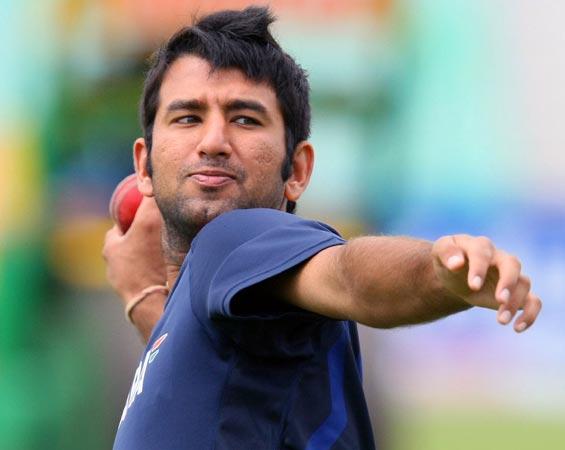 You are rated as a good batsman for Test cricket, but you are not in the reckoning when it comes to playing limited-overs cricket for India. Recently, you played some good innings in the Challenger Trophy 50-overs' tournament, scoring two centuries and a fifty in three One-Day matches. Are you also keen to break into the Indian ODI and Twenty20 side and show your versatility?
I am very confident that I can do well in ODIs too. I have done well in domestic cricket in one-dayers and scored runs at a good rate. I am confident that I will make it to the Indian ODI side one day.
I believe my time will come; I just have to wait for my opportunity. I have been working on my game to improve myself as an ODI and T20 cricketer. My scores have been telling me that I can play the limited-overs' format. I just have to wait for the right opportunity.
'My father is strict as a coach'
Last updated on: October 17, 2012 09:15 IST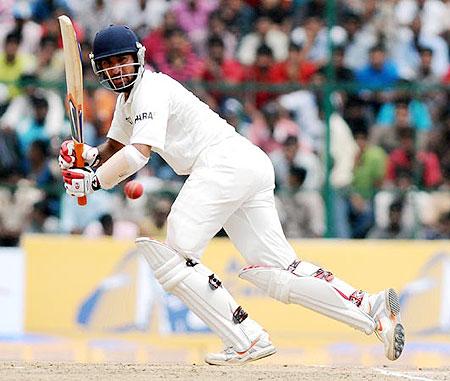 Your father also doubles up as your coach. The interesting part is that he calls you up every evening after the day's play, no matter where you are playing. How much of a role has he played in your career?
He is strict as a coach, but, at times, he understands what kind of breaks I need. He understands me mentally very well and what kind of approach I have out in the middle. He is my father, so I think he understands me very well, much better than others.
He never comprises with the practice sessions, and will never allow me to go out or have some entertainment at the cost of practice sessions.
He does not only call me for cricket, but, as a father, he also talks to me. We also have normal chats sometimes.