India aim to stay afloat, battle Oz in crucial tie
Last updated on: February 25, 2012 16:43 IST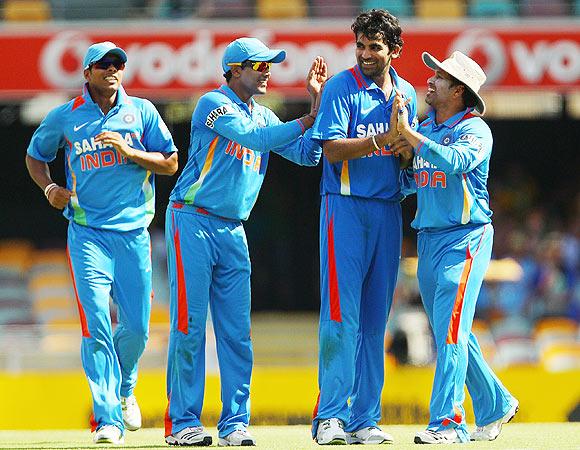 Their survival in the series at stake and reputation hit by speculation of discord in the camp, India are a team on the brink as they prepare to take on World No. 1 Australia in a crucial tri-series league match in Sydney on Sunday.
A defeat for India would leave them just a solitary match against Sri Lanka and a must-win with a bonus point situation to harbour hopes of a berth in the final.
In such a scenario the net run rate will come into play as both teams will be tied on 15 points (assuming that Sri Lanka lose their last match against Australia).A defeat for Australia would lift India on equal points with a shoot-out situation between the two sides -- win the final league match or perish.
India in tough situation
Last updated on: February 25, 2012 16:43 IST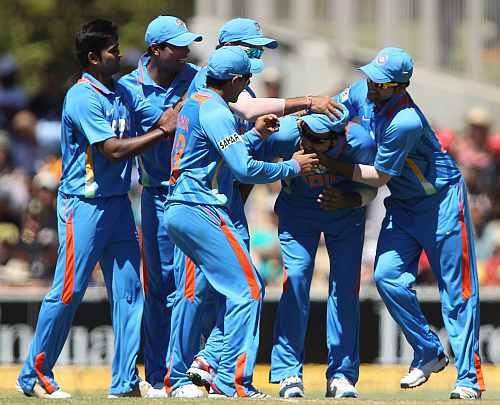 Interestingly, Sri Lanka -- top of the charts -– could also find a spot in the final slip out of their grasp if any one of Australia and India win both their remaining matches while the third team win at least one.
The final three league matches of the agonisingly close the series are between India and Australia on Sunday; India and Sri Lanka on February 28 and finally an Australia-Sri Lanka tie on March 2.
Presently, India have 10 points to Australia's 14 and Sri Lanka's 15 on the charts. Among the three, India's situation is most dire as they appear the lightest in the competition.
Injury concerns for Indian bowlers
Last updated on: February 25, 2012 16:43 IST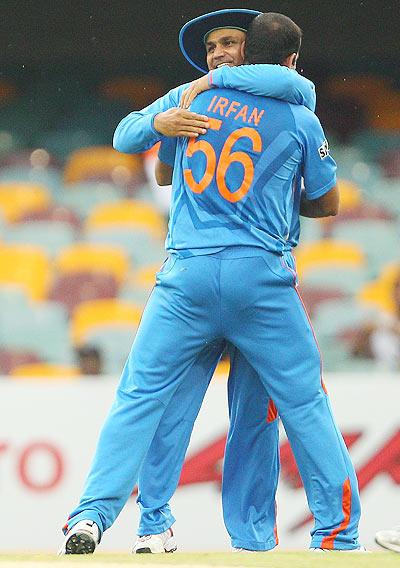 The Indians haven't been able to bat their quota of 50 overs in three of their six matches and haven't succeeded in bowling out any other either.
It's been made worse by hardly two medium-pacers being fit for the match.Zaheer Khan is not available due to a calf injury and Vinay Kumar, India's leading wicket-taker, has a hamstring problem. Praveen Kumar is fit but apparently his pace has gone down considerably.
Umesh Yadav is seen as a strike bowler but after three wickets from four matches at an average of 68.00 and an economy rate of 6 per over, it's a case of taking a rather optimistic view of his ability.His issue is not pace or movement but the lack of a consistent line and length.
Thus presently, the new ball can only be manned by Umesh and Irfan Pathan. If perforce, India seek a third medium pacer, they have no option but to go back to Praveen. Or else, leg-spinner Rahul Sharma would come into the picture.
India lacks substantial opening stand
Last updated on: February 25, 2012 16:43 IST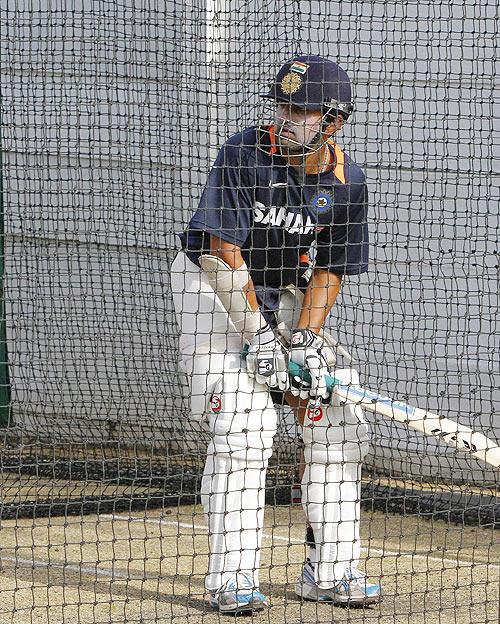 India's other main problem stems at the top where three batsmen, despite the rotational theme played between them, haven't provided a substantial opening stand.
The best opening stand for India in the series has been 52 between Gautam Gambhir and Virender Sehwag against Australia in Adelaide and it was the platform on which India's successful chase of 270 runs under lights was managed.
The figures reflect the vacuum amply as Sachin Tendulkar and Virender Sehwag have a mere 90 and 30 runs respectively from the series.
Gambhir has been a relative success with two successive scores in the 90s but has little to show otherwise in his six matches.
The virus of inconsistency extends to the middle order where Virat Kohli has played a couple of redeeming knocks but otherwise hasn't done justice to his talent or form. Rohit Sharma and Suresh Raina are failures with 79 and 134 runs against their names.
Dhoni tries to make amends
Last updated on: February 25, 2012 16:43 IST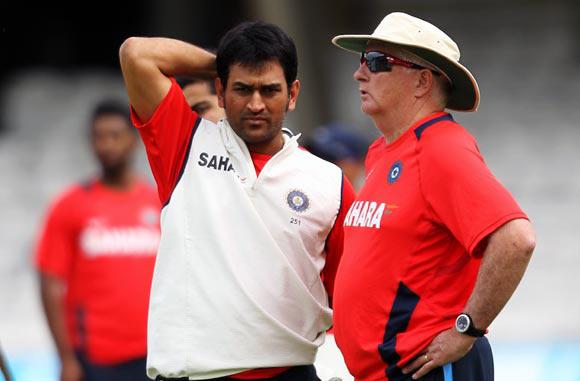 With India's batting being a mere shadow of its former self, it has been skipper Mahendra Singh Dhoni who has lived up to his reputation as a peerless finisher in modern One-day cricket.
India's best score in the six matches has been a chase of 270 runs. Twice they struggled to reach the score of 230s set by Sri Lanka.
In Brisbane last week, they could muster only 178 runs against Australia. In the light of batting non-performance, Dhoni must pull a trick or two from under his hat to bring about a turnaround.It might not be a bad idea to send someone up the order as a pinch hitter and allow the big guns to man the middle order.
Irfan is a good option to have for India since the left-hander can hit big and was impressive during the powerplay in the match against Sri Lanka earlier this week.
However, indications are that India would play all their three openers -- Tendulkar, Sehwag and Gambhir -- in Sunday's match. That would rule out any pinch hitter promoted at the top of the order.
It also more or less signals the end of tour for the talented but inconsistent Rohit Sharma.
Aussies have issues of their own
Last updated on: February 25, 2012 16:43 IST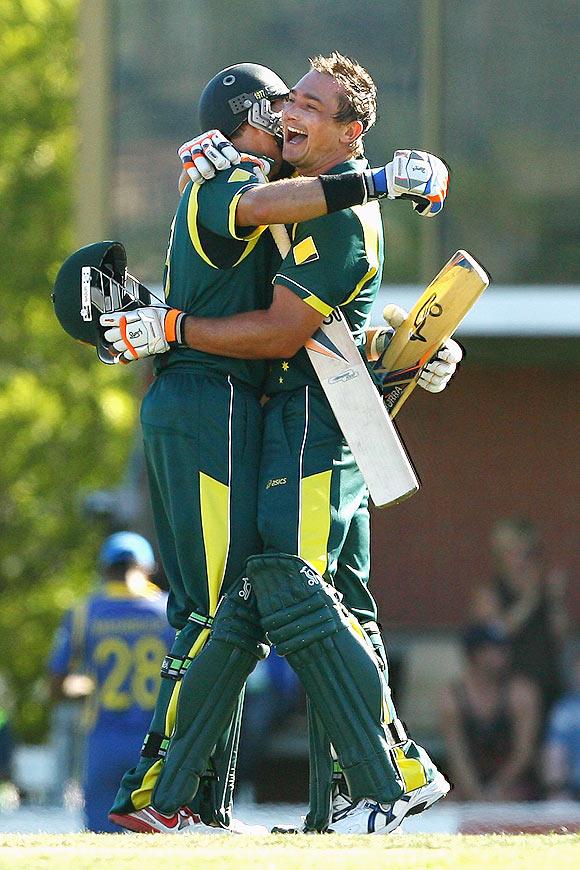 Australia, on the other hand, are battling issues of their own.
They have lost three of their six matches, the last two to Sri Lanka. Their problems are no different to India as their top order hasn't produced runs and their bowlers haven't breached the defence of rival batsmen often.Left-handed openers David Warner and Matthew Wade haven't fired together at the top.
Warner has a mere 121 runs from six matches at 20.16 average and has been a complete flop so far.Wade is a little better with 149 runs at 24.83.
Their best opening stand in the series has been of 70 in Brisbane against India and again, it helped their side to win. It's more or less though certain that Warner would make way for the now-fit Shane Watson in the playing eleven.
Aussies completely rely on their middle order
Last updated on: February 25, 2012 16:43 IST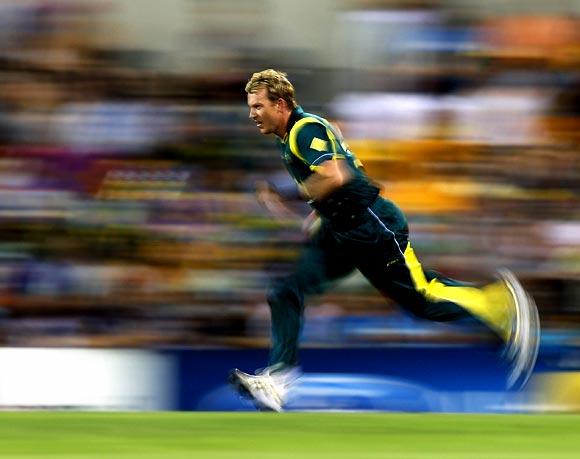 Australia's batting is completely reliant on its middle order.
Peter Forrest was a remarkable success in Ricky Ponting's place at No. 3 in the last match and skipper also Michael Clarke made a welcome return from his injury in the.
The two Hussey brothers, Michael and David, have been a tower of strength in the middle order.
Yet it's a significant point that Forrest's century in the last game was the first hundred by an Australian in last 14 matches.
Australia's main problem, ironically appear to be their bowling. Ben Hilfenhaus, Ryan Harris and Brett Lee couldn't defend 280 runs on an admittedly benign Bellerive Oval pitch last night.
Their pace attack was the reason for their success in Test series against India but in One-dayers, despite the presence of two new balls at two ends, their bowlers haven't been a threat, especially to the Lankans.
Doherty, the pick of the Australian bowlers
Last updated on: February 25, 2012 16:43 IST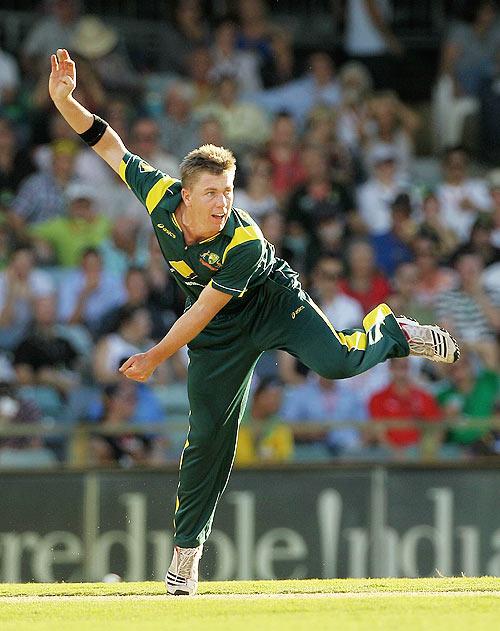 Left-arm spinner Xavier Doherty alone has held his head high with seven wickets from six matches at an average of 27.57 and an economy rate of barely four runs an over.
All this might amount to little for scattered thundershowers are forecast for Sunday.
By all accounts, it would be a night of reckoning for the two teams. Lankans, on their part, will be more than mildly interested.
Teams (from):India: Mahendra Singh Dhoni (C), Sachin Tendulkar, Virender Sehwag, Gautam Gambhir, Virat Kohli, Suresh Raina, Ravindra Jadeja, Irfan Pathan, Umesh Yadav, Rahul Sharma, Ravichandran Ashwin and Praveen Kumar.
Australia: Michael Clarke (C), Shane Watson, Matthew Wade, Peter Forrest, David Hussey, Mike Hussey, Dan Christian, Clint McKay, Brett Lee, Ryan Harris, Ben Hilfenhaus and Xavier Doherty.
The match will begin at 8.50 a.m (IST)
© Copyright 2021 PTI. All rights reserved. Republication or redistribution of PTI content, including by framing or similar means, is expressly prohibited without the prior written consent.