India's policy of going with only four frontline bowlers hurting them
Last updated on: February 23, 2012 10:53 IST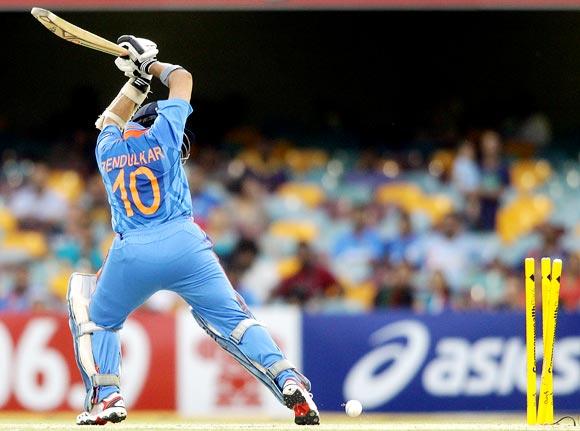 Not enough runs and not enough wickets is India's misery summed up in what has been disaster Down Under so far and Mahendra Singh Dhoni's men need a huge lift in both areas if the campaign in the ongoing One-Day International CB tri-series is to go any further.
India have not lasted their quota of 50 overs in three of the six matches which figuratively should be four games since it had just one wicket standing when the skipper clinched that last-ball tie against Sri Lanka at Adelaide Oval nine days ago.
- Like Ponting, should Sachin quit ODIs? Have your say
In contrast, their bowlers have never sent the opposition packing in any of the six games. Australia, on the other hand, have got their opposition cleaned up in all but one of their five matches.
Even Sri Lanka have bowled out the opposition in three of their five matches. Clearly India's policy of going with only four frontline bowlers and the lack of a medium-pace all-rounder has hurt them badly.
Run-making now more difficult with two new balls at both ends
Last updated on: February 23, 2012 10:53 IST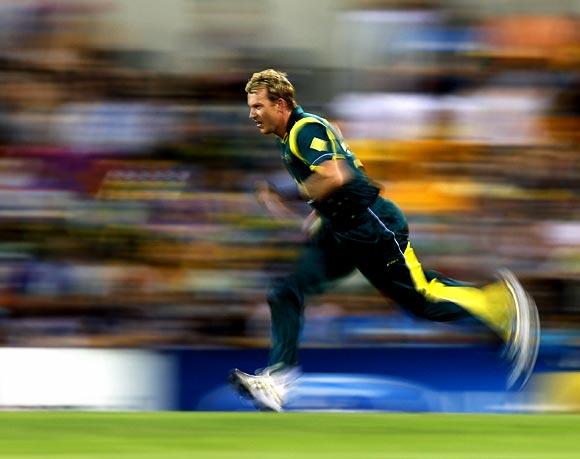 The collective success of Australian and Lankan bowlers underline the fact that run-making is now more difficult with two new balls, one each at both ends. It's also a testimony that the wickets Down Under are more allied to their cause than to the batsmen.
The figures bear it out amply since no score of 300 has yet been managed and no batsman has yet reached the three-figure mark.
- Sehwag, Tendulkar too 'slow' for ODIs?
This in a competition which has four batsmen with over 10,000 one-day runs between them -- Sachin Tendulkar, Kumar Sangakkara, Mahela Jayawardene and Ricky Ponting.
And openers as explosive as Virender Sehwag, Tillakaratne Dilshan and David Warner. With at least 15 of the first 20 overs being the Powerplay overs, it's astonishing that no opening pair has yet put on a century stand. Indeed, it's mind-boggling with such a galaxy of gladiators around, not to forget a few most exciting young talents in world cricket, there's been only one century stand -- Mike Hussey and Peter Forrest putting on exactly 100 runs against India in Brisbane last Sunday.
Sehwag has hit only five fours in the competition so far
Last updated on: February 23, 2012 10:53 IST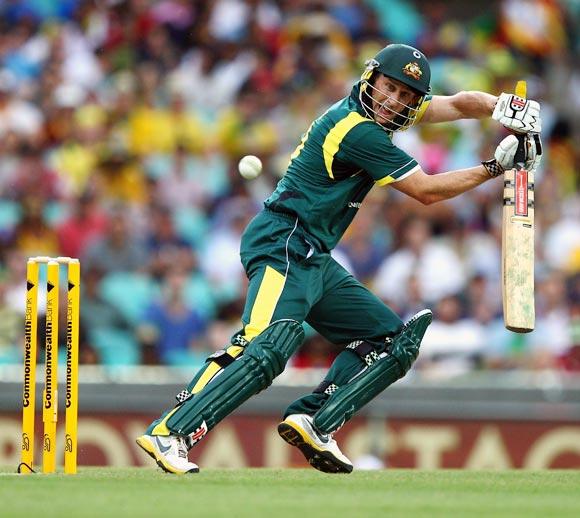 No wonder, fours and sixes are at a premium. Someone like Virender Sehwag, who struck 25 fours in one innings -- the record 219 he made against West Indies last year -- has smashed only five fours in the competition so far.
Between all those big-hitting Indian names, no more than nine sixes have been hit. By way of records, Dilshan (20) has hit the most fours. The most sixes are by David Hussey (5).
Interestingly, of the five batsmen who have scored in excess of 200 runs, two are Indian -- Gautam Gambhir (222) and Virat Kohli (219). Sri Lanka too has two batsmen -- Dinesh Chandimal (226) and Tillakaratne Dilshan (200) in this rarefied zone.
Only one Australian, David Hussey, figures in this list though his tally of 244 runs is highest in the competition. The younger Hussey is also the only one to have hit three half-centuries in the competition.
Lesser partnerships of substance by the Indians
Last updated on: February 23, 2012 10:53 IST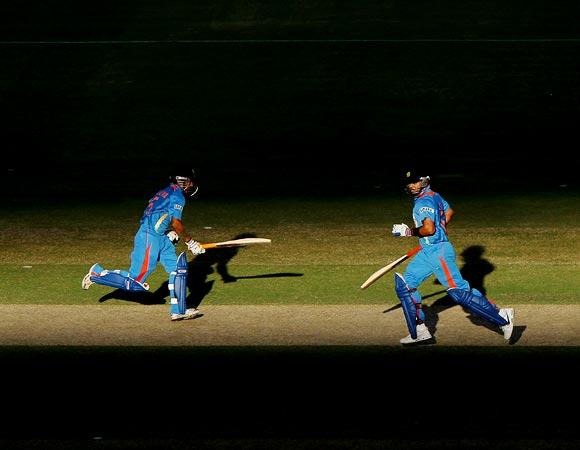 That Australia is still at the top of the heap suggests two things -- one their batsmen are having more substantial stands. Two, their bowlers are getting wickets are more regular intervals and at a better economy rate than their rivals.
The hosts have still made their presence felt because they have more batsmen who have hit half-centuries.
- Kohli, Yadav bright spots on dismal Aus tour
In all, an Australian batsman has made 50 or more on eight occasions. The Sri Lankans have done so eight times and the Indians on six occasions.
Interestingly, India's 50s are equally split between Gautam Gambhir, Mahendra Singh Dhoni and Virat Kohli. No other Indian has managed to reach the half-century mark.
It suggests there are lesser partnerships of substance by the Indians.
Australia's bowling better than others
Last updated on: February 23, 2012 10:53 IST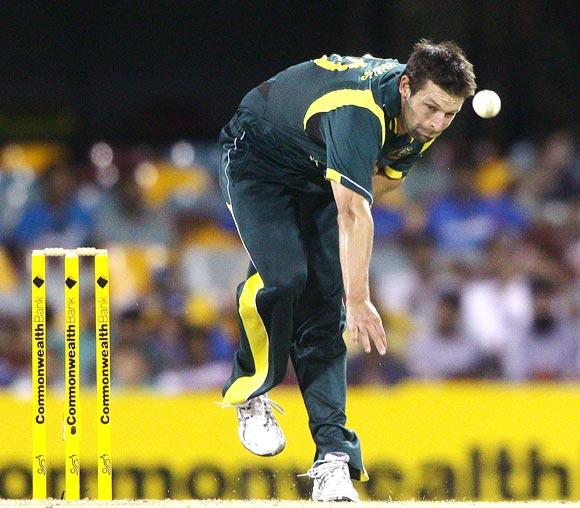 Australia's bowling is understandably better than others. Australia has five entries in the list of the top 12 wicket-takers. Sri Lanka has four while India's share is on three spot.
Three of Australia's bowlers -- Ben HIlfenhaus, Clint McKay and Xavier Doherty -- have bowled at an economy rate of less than five runs per over.
Their strike-rate, every 12th, 21st and 38th delivery is also impressive. The only five-wicket haul in the competition has been the handiwork of Ben Hilfenhaus (5 for 33) against India at Gabba last Sunday.
Ravichandran Ashwin and Vinay Kumar have been India's best bowlers with seven and nine wickets respectively. Yet, there are mitigating factors.
Ashwin has picked all his wickets against Sri Lanka alone. Vinay has given over five runs per over in six matches played.
All-rounders have been a source of strength for SL
Last updated on: February 23, 2012 10:53 IST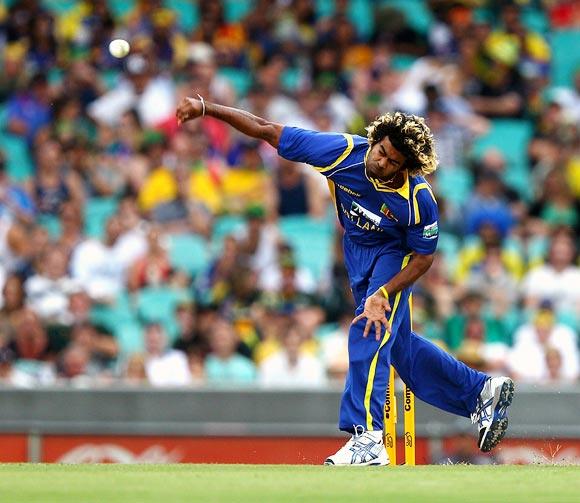 Sri Lanka are excellent in this department. While new ball bowlers Lasith Malinga (8 wickets) and Nuwan Kulasekara (6) have usually fetched wickets in their first spells, the two all-rounders, Thisara Perera (9) and Angelo Mathews (5) have been a source of strength as third or fourth medium-pacers.
Farveez Maharoof have left an immediate impressions in his two matches, taking three wickets at an economy rate of 3.89.
It's thus a clear call for India's bowlers and batsmen to raise their stocks. There ought to be bigger knocks, bigger stands and more firepower in the bowling arsenal.
Good fielding is a laudable goal but the priority, for the moment, is to have enough runs and enough wickets.
© Copyright 2021 PTI. All rights reserved. Republication or redistribution of PTI content, including by framing or similar means, is expressly prohibited without the prior written consent.