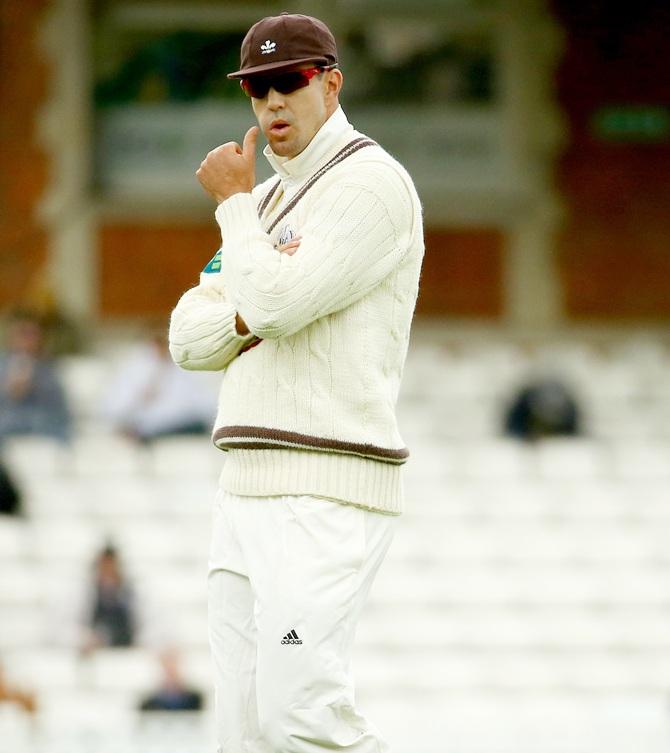 Kevin Pietersen of Surrey in action. Photograph: Richard Heathcote/Getty Images
Kevin Pietersen will not be recalled by England despite scoring an unbeaten 326 for Surrey, British media reported on Monday.
The controversial right-hander made the first triple century of his career to offer a timely reminder of his talents to new England cricket director Andrew Strauss.
But after meeting with Strauss in the evening Pietersen was told he will not be recalled to the England side.
Pietersen, sacked by England last year, batted for over seven hours against Leicestershire at The Oval.
"I'm desperate to play for England again. That's what I want to do. It's not just numbers, but how important the timing is," the South-African born batsman told Sky Sports.
"The pressure I was under this morning ... that's one of the best innings I've ever played.
"I knew that I basically needed to answer and question with runs and goodness: 326 is a pretty good argument."
It was Pietersen's 50th first-class ton and his first county championship hundred for nearly two years. He has faced 373 balls, hitting 34 fours and 14 sixes.
Pietersen was sacked by England in February 2014 following the team's 5-0 Ashes defeat in Australia after being accused of being a divisive character in the squad.
Pietersen met with former England captain Strauss, who has had his own problems with the controversial right-hander, and ECB chief executive Tom Harrison on Monday evening.