Does the leg-spinner deserve another chance after his lacklustre showing in the first Test?
Should Gambhir make way for K L Rahul?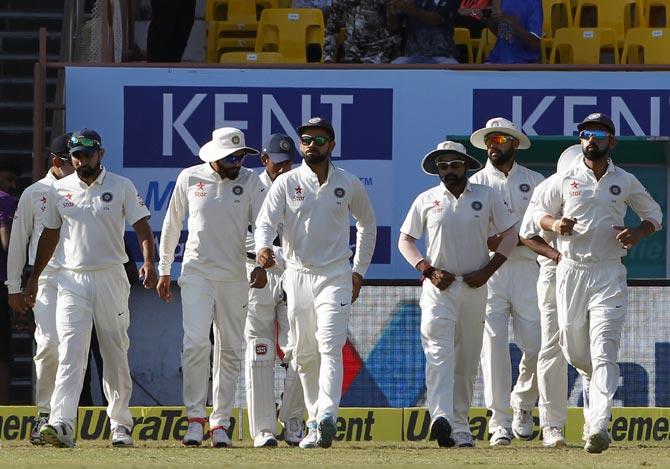 IMAGE: Team India take the field during the first Test in Rajkot. Photograph: BCCI
England took the honours in the opening Test at Rajkot even though the game ended in a draw.
At one stage, India looked in danger of going down tamely as it kept losing wickets at regular intervals after being set 310 for victory but Captain Virat Kohli stood firm to keep the England bowlers at bay.

None of the Indians spinners made n impression in both innings and the Indians dropped as many as five catches.

What will worry Kohli and Coach Anil Kumble ahead of the second Test, which begins in Visakhapatnam on Thursday, is that England outperformed the Indians with both bat and ball.

And no wonder, they sent a SOS to the selectors to get back K L Rahul, who made a comeback from injury with a century and a 50 for Karnataka in a Ranji Trophy game against Rajasthan.
Does his comeback mean that veteran Gautam Gambhir is benched following his twin failures in Rajkot, in which his technical flaws were clearly exposed by the English pace bowlers?

England leg-spinner Adil Rashid showed how to bowl on a slow wicket as he took 7 wickets in the game and at one stage threatened to take his team to victory.
On the other hand, World No 1 bowler Ravichandran Ashwin toook just 3 wickets, bowling 69.3 overs in the two innings.

Leg-spinner Amit Mishra failed to generate the same amount of turn and bounce from the Rajkot wicket as did English leggie Rashid and took just 3 wickets in the game.
The English spin trio -- Rashid, Zafar Ansari and Moeen Ali -- had a much better strike with 13 wickets in 126.3 overs in the Rajkot Test compared to Ashwin, Ravindra Jadeja and Mishra, who took just 9 wickets in 151 overs.

With the Vizag wicket traditionally aiding spinners, will India go in with three spinners?
Or will the Indians include a batsman after the top and middle order's poor showing in the second innings of the Rajkot Test?

Who do you think should feature in India's playing 11 for the Vizag Test?

Do you think India should include Karun Nair?

Or should all-rounder Hardik Pandya be added to give the team more balance?

Does leg-spinner Mishra deserve another chance?
Should Gambhir make way for Rahul?

Here is your chance to help Kohli and Kumble pick the Indian team for the second Test.

Please click the boxes below to select your India team for the Vizag Test: