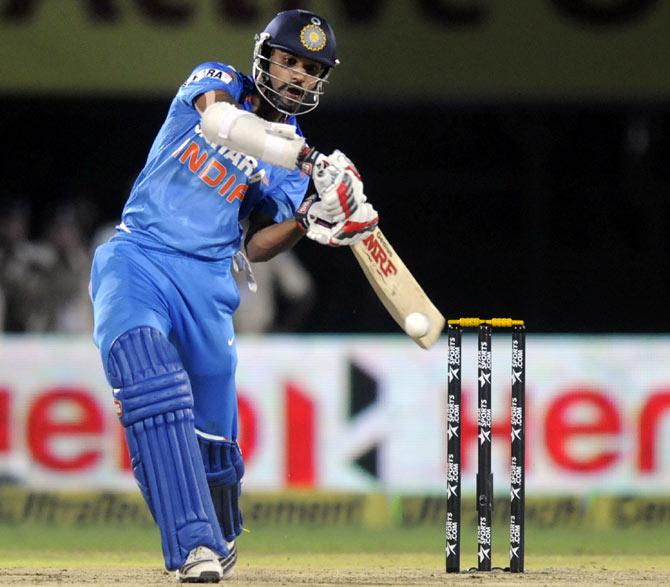 Shikhar Dhawan hits out during an ODI. Photograph: BCCI
India's opening batsman Shikhar Dhawan says his ability to deal with failures has helped him immensely in his five-year-old international career.

"Now I am seen as a successful cricketer but the fact is that I have had more failure than success. You are bound to undergo hardships and it has been no different for me. I have played about 60 odd games (One-Day Internationals) and scored only eight hundreds. A lot of the guys worry about their form, for me it is just about being persistent and patient," Dhawan said in New Delhi on Tuesday.

With back-to-back cricket since the Australia tour last year, the Indian team have had a busy last few months.

Following the conclusion of the Indian Premier League, the Indian players travel to Bangladesh next month for a short series.

Dhawan has been a regular member of the team in all formats ever since he made a sensational Test debut in 2013, scoring a sublime 187 against Australia at Mohali.

He has also experienced some dry patches since returning to the Indian team two years ago but he has overcome those testing times, the most recent being his impressive showing in the World Cup Down Under after struggling in the preceding Test and ODI series against Australia.

"You have to have the persistence power, something that has helped me out over the years to deal with failures," stressed Dhawan.

Asked about his thoughts on the upcoming series against Bangladesh, the 29-year-old from Delhi said he is not looking too much ahead of himself and will take it series by series.

"I just want to keep focussing tour by tour, prepare well. Fitness is also important as we play round the year. It is not that easy. You have to work on your fitness, maintain it. I try to do it whenever I have an off day," said Dhawan, who has represented India in eight Tests and 61 ODIS.

He revealed that he takes inspiration from Yuvraj Singh and Cheteshwar Pujara, both of whom have contrasting batting styles.

"When Yuvi Paaji (Yuvraj) hits the ball, he hits it really sweet, like no other. I was inspired by that. I realised I had to play like him to have success in international cricket. Consistency wise, I learnt a lot from Pujara.

"The bowlers get tired in trying to dismiss him but he doesn't throw his wicket away. The bowlers end up scratching their heads eventually. So there is lots to be learnt from your team mates," he said.

Dhawan picked his World Cup hundred against South Africa as a special one and recalled his Test debut as the most memorable match of his career.

"The hundred against South Africa was memorable as it was against a very good team. It was very satisfying.

"Then the Mohali Test has to be the most memorable match of my career. It was a dream come true for me. You can't like bat that regularly," added Dhawan.
© Copyright 2023 PTI. All rights reserved. Republication or redistribution of PTI content, including by framing or similar means, is expressly prohibited without the prior written consent.