'I don't come with any baggage'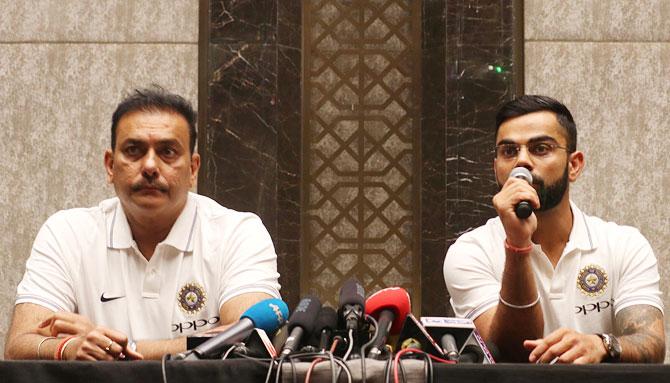 IMAGE: Ravi Shastri with Virat Kohli addresses the media. Photograph: Hitesh Harisinghani/Rediff.com
Newly-appointed India head coach Ravi Shastri feels he has 'matured immensely' in the last two weeks, a period that saw dramatic developments leading upto his appointment to the high-profile job.
Addressing his first press conference since getting the position, the former Team Director spoke about the challenges ahead, the first of which is a tour of Sri Lanka comprising three Tests, five ODIs and a Twenty20 starting July 26.
Shastri, reflected on India's last tour of Sri Lanka, where the team bounced back to win the Test series 2-1.
"I have matured since we last went to Sri Lanka. I feel have matured a lot in the last two weeks," said Shastri at the pre-departure press conference for the series.
Shastri was chosen for the high-profile position ahead of big names like Virender Sehwag and Tom Moody. He returns to the role a year after losing out to Anil Kumble, who quit citing 'untenable' differences with captain Virat Kohli.
The former India all-rounder insisted that he has moved on from the past.
"I don't come with any baggage. The team has done exceedingly well in the last three years, they are the people who deserve credit. The Ravi Shastris and Anil Kumbles will come and go. If India are the number one Test team today, it is because of the effort of the players.
"People will come and go. The fabric of Indian cricket will remain."
Shastri had his way when Bharat Arun was re-appointed the bowling coach on Wednesday.
Asked about Arun's contribution during his previous stint with the team, Shastri strongly defended his colleague's return.
"There is track record there. Fifteen years of his life has been coaching. He has been with 'A' teams, U-19 teams, junior World Cup teams. He knows the boys better than I do.
"In the 2015 World Cup, our bowlers took 77 out of 80 wickets. If he was a big name, you would have put him on the top of the tree. I don't need to elaborate too much on what he is good at. It is there for everyone to see."
Shastri also spoke about the importance of communication between the captain and the support staff.
"I will answer this in two parts, as a player and former captain. When you play the game, you want your your mind clear and that happens with good communication with the support staff.
"As captain, my job was to put every player in this frame of mind. That was my job and that's his job," he added.