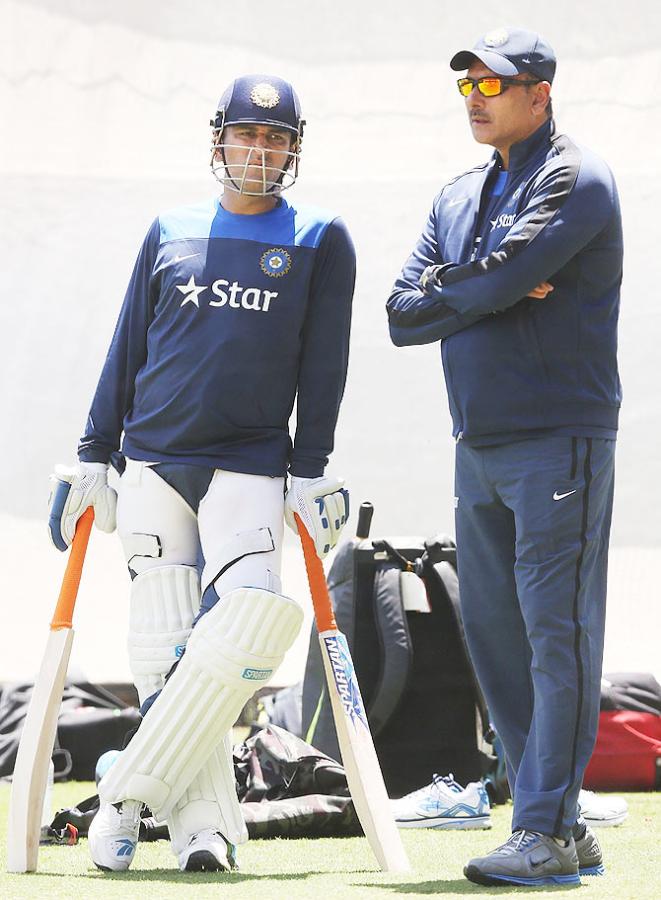 Mahendra Singh Dhoni chats with Ravi Shastri. Photograph: Michael Dodge/Getty Images
Former India all-rounder Ravi Shastri will be the interim coach of India's cricket team for the tour of Bangladesh.
The team will play one Test and three One-day Internationals on the tour, which kicks-off with the Test, in Fatullah, from June 10 to 14.
"The BCCI president, Jagmohan Dalmiya, has named Ravi Shastri as interim coach of the Indian team. This is for the Bangladesh tour and future decisions will be taken after this," BCCI secretary Anurag Thakur said on Tuesday morning.
Tendulkar, Ganguly, Laxman inducted in BCCI's advisory panel
A subsequent statement from Thakur later in the day read: "The BCCI wishes to inform that Mr. Ravi Shastri, former India captain, has been appointed as Director of the Indian cricket team for the tour of Bangladesh, starting on 10 June 2015.
"Mr. Sanjay Bangar, Assistant Coach (Batting), Mr. B. Arun, Assistant Coach (Bowling) and Mr. R. Sridhar, Assistant Coach (Fielding), will assist Mr. Shastri during the tour. Mr. Biswarup Dey will be the Administrative Manager. Mr. Rishikesh Upadhayaya has been appointed as Logistics Manager for the tour."
The 53-year-old Shastri has donned many hats with the Indian team. He travelled with the squad to Bangladesh in 2007 as cricket manager after Greg Chappell resigned as coach following the World Cup debacle that year.
Recently, he played the role of Team India Director during the tour of Australia and ICC cricket World Cup 2015.
His latest appointment is a stop-gap arrangement for the short tour, as the BCCI decides on a full-time coach to replace Duncan Fletcher, whose contract ended after the World Cup.
Shastri represented India in 80 Tests and 150 ODIs and was part of the side that won the 1983 World Cup.
On Monday, Indian cricket stalwarts Sachin Tendulkar, Sourav Ganguly and VVS Laxman were named in the BCCI's newly-constituted advisory committee.
The BCCI said the three legends' guidance will be sought in preparing the national team for gruelling overseas assignments besides strengthening the domestic structure.
The panel is due to meet on June 5 in Kolkata and its inputs will be sought while picking the new head coach, whose name could be out ahead of the July tour of Zimbabwe.