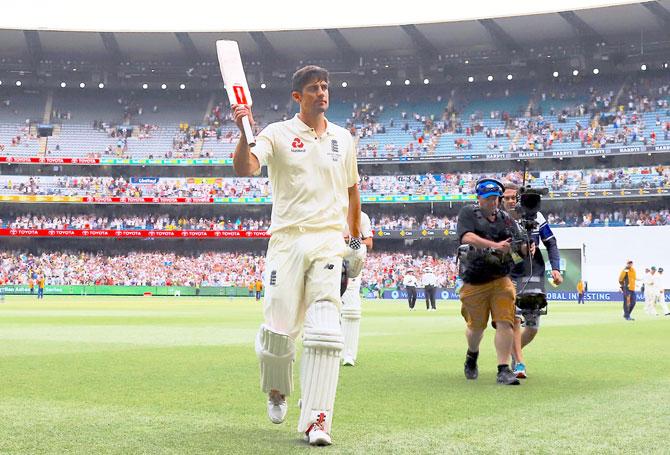 IMAGE: England's Alastair Cook walks off the ground at the end of the third day of the fourth Ashes Test match at the MCG in Melbourne on Tnursday. Photograph: David Gray/Reuters
After a miserable period with the bat, a relieved Alastair Cook savoured the emotional release of a big double-century during the fourth Test on Thursday but rued that his form returned too late to help England retain the Ashes.
The veteran opening batsman's unbeaten 244 drove England to 491 for nine at stumps on day three at the Melbourne Cricket Ground, a first innings lead of 164 that all but extinguished Australia's hopes of whitewashing the five-match series.
"After all the emotion came out yesterday to get a real big one for the team was really important," the 33-year-old Cook told reporters after striding off the MCG to a standing ovation.
"I've doubted myself for 12 years and I'll probably continue to doubt myself but obviously the longer it goes the harder it becomes.
"But I suppose that's why I can be quite proud... Going to the well again and delivering a performance like that was pleasing.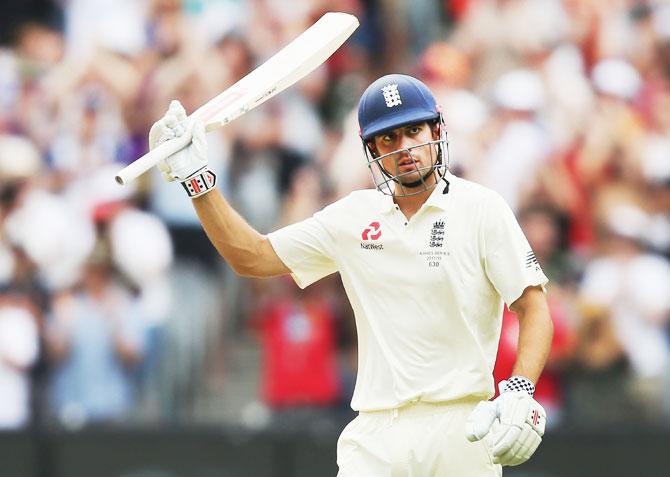 IMAGE: Cook surpassed Shivnarine Chanderpaul and Brian Lara to become the 6th highest run-getter in Test cricket. Photograph: Michael Dodge/Getty Images
"It's just a shame it's three-four weeks too late, I'll have to live with that for a long time but it's nice to score a few."
Through 10 hours of hard graft and 409 deliveries, the former England skipper mowed down Viv Richards's 208 to set the highest score by a touring batsman at the MCG.
He moved past another two West Indies greats to be sixth on the all-time Test runs list, eclipsing Shivnarine Chanderpaul (11,867) and then Brian Lara (11,953) with a sumptuous off-drive for four from the penultimate ball of the day.
"I can't really explain that. I just feel sorry for Brian Lara," Cook, who now has 11,956 Test runs, said, raising a laugh from reporters.
"It's a special moment to see your name up there."
Tail-ender Stuart Broad played a gallant support role, clobbering 56 in a 100-run ninth-wicket partnership after tea, having worn a tempestuous short-pitched assault from Australia's frustrated quicks.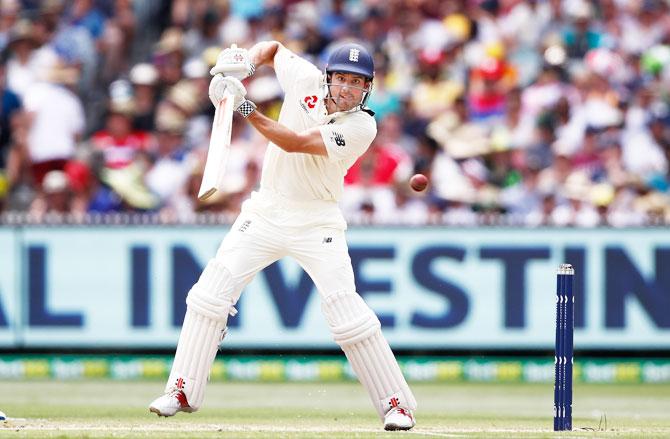 IMAGE: Alastair Cook continued from where he left of on Wednesday. Photograph: Scott Barbour/Getty Images
For Cook, who managed only 83 runs from the previous three Tests, it was nice to soak up the songs of England's travelling 'Barmy Army' of supporters, rather than worry about questions concerning his technique.
"Obviously with my batting over a period of time, there are quite a few moving parts to it. When they're not quite in synch it can be quite frustrating," he said.
"Basically the one way of delivering is time in the middle.
"I played quite nicely yesterday, I got to 40 and I kind of felt like the old movements were back.
"They probably weren't that different to where they were in the other games... If I could put my finger on exactly what it is, it could save me a lot of strife."