'We're very happy the way his career is shaping up. He is one of the most consistent batsmen for India. That's why we want to see his other aspects.'
Manu Shankar/Rediff.com reports on Monday's media briefing following the selection of India's squad for the tour of Zimbabwe.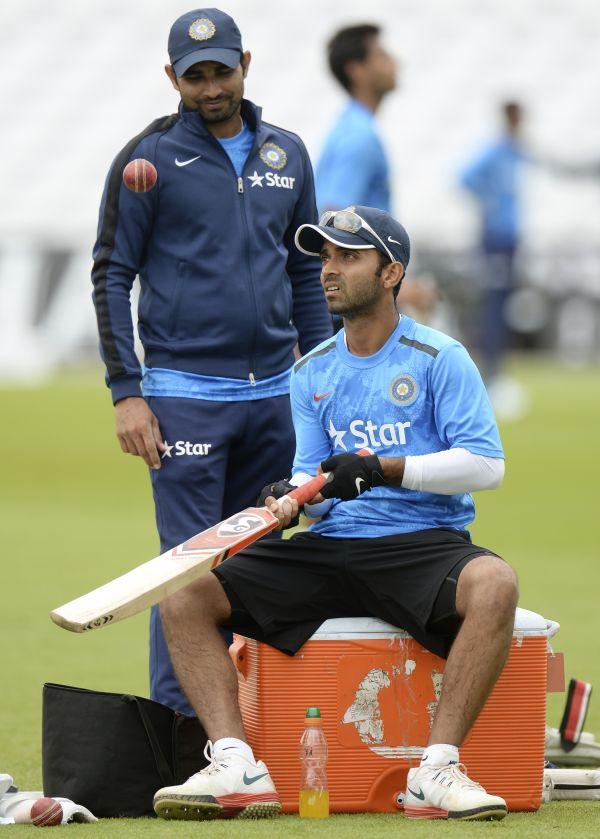 Ajinkya Rahane during a practice session. Photograph: Philip Brown/Reuters
He may have been dropped from the team after the first ODI against Bangladesh earlier this month, but India's cricket selectors sprang a surprise on Monday by naming Ajinkya Rahane as skipper for the upcoming tour of Zimbabwe, which will have three One-Day Internationals and two Twenty20s, starting July 10.
Explaining the reason behind selecting Rahane to lead the side, chairman of selectors Sandeep Patil said, "We're very happy the way his career is shaping up. He is one of the most consistent batsmen for India. That's why we want to see his other aspects. We have given him this opportunity and we'll definitely back him."
- Also read:
- Rahane to lead India for Zimbabwe ODIs, T20s; Dhoni, Kohli rested
- Thakur plays down Modi's 'fixing' claims against CSK players
Asked how Rahane could be named skipper when he hasn't yet cemented his place in the ODI squad, Patil said the selectors believe in the Mumbaikar's abilities.
"If five of us (selectors) have decided to give the responsibility to Rahane, it means we are confident of his ability and we want him to do well and we would like to judge him also at the same time."
He insisted that the team was selected keeping in mind next year's Twenty20 World Cup, which India will host.
"Like so many of you are of the opinion that the Indian team did not do well in Bangladesh, we felt the same. We have to move forward and, considering the domestic cricket to be played, we have picked this side also looking at the 2016 Twenty 20 World Cup.
"As I've said before, the five selectors represent each and every player who plays under the banner of BCCI. And those who perform consistently, and even if players don't perform but in our mind if the player has the talent, we consider him for selection.
"We had picked the best possible team that played at the World Cup, and keeping the future series in mind -- whether it is Sri Lanka or South Africa home series, Twenty20 World Cup or the Australia series -- we have decided to rest a few players who need urgent rest."
Harbhajan Singh. Photograph: Hamish Blair/Getty Images
The team comprises three specialist spinners in Harbhajan Singh, Axar Patel and Karn Sharma, while the pace department, spearheaded by Bhuvneshwar Kumar, has Mohit Sharma, Sandeep Sharma, Dhawal and Stuart Binny.
Talking about the inclusion of Harbhajan Singh, who was overlooked for the three-ODI series which India lost 1-2 on the just-concluded Bangladesh tour, Patil said, "We cannot say (whether it's) on long-term basis, but looking at Harbhajan's performance in the last series, considering the T20 tournament, we feel that he deserves a chance on this tour.
"The selectors' job is to pick the best possible combination. The rest is left to the team management. Once we select the team, it is left to the captain to make up the playing eleven."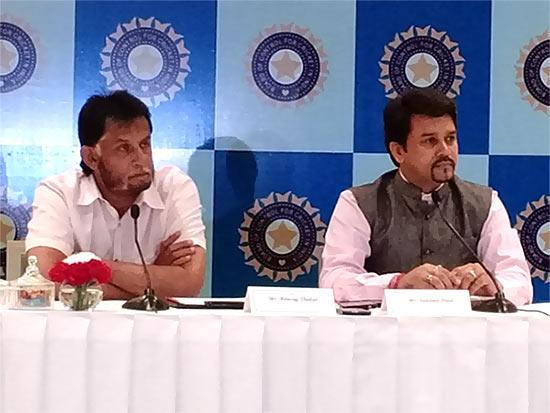 BCCI secretary Anurag Thakur (right) with chairman of selectors Sandeep Patil. Photograph: Manu Shankar/Rediff.com
On reports that players were confused 'with certain decisions' during the Bangladesh tour, Patil clarified, "I don't think there is any confusion; we haven't heard anything. My two colleagues, Vikram Rathore and Roger Binny, were on that tour and they were in constant touch with the team management, director and the captain and they haven't reported anything to BCCI or to me."
Quizzed about the appointment of Team India's new coach, who will replace Duncan Fletcher, BCCI secretary Anurag Thakur said the Advisory Committee is looking into that area.
"It will meet again in July to discuss all those issues."