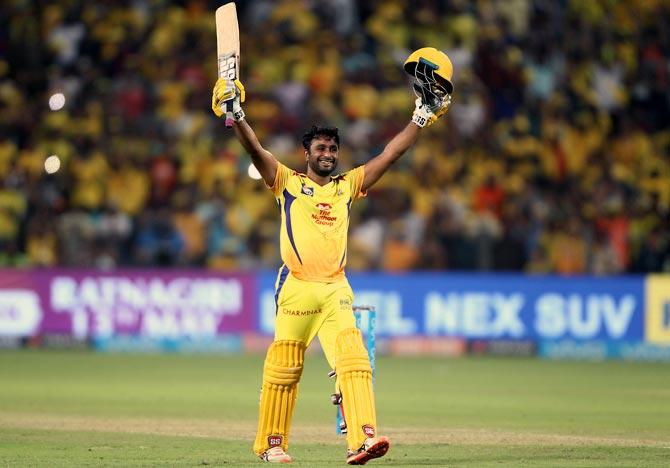 The Indian selection committee has its task cut out when it zeroes in on the replacement for Ambati Rayudu's in India's ODI squad for the three-match series against England after the veteran right-hander failed the YoYo Test.

Meanwhile, Rohit Sharma, who had taken permission from the BCCI to skip the YoYo test on June 15, will appear for the same at the National Cricket Academy in Bengaluru.
"Rohit had taken permission from the BCCI for his personal engagements (he is in Russia as a brand ambassador of a watch company). There's no rule that all tests have to be conducted on the same day. He will be appearing for the YoYo Test tomorrow," GM (cricket Operations) Saba Karim said on Saturday.

Rayudu's YoYo Test failure has come as a shock for many, especially after his successful campaign for Chennai Super Kings in the 11th edition of the IPL, scoring 602 runs. Rayudu scored a dismal 14 in the test while qualifying mark is 16.1.

It has been reliably learnt that team management and the selectors are 'still not on the same page' with regards to Rayudu's possible replacement. At least five options are available to the selectors who are likely to take two-three days to make the announcement.

With Mahendra Singh Dhoni and Dinesh Karthik already in the squad, it will be interesting if a third wicket-keeper in Rishabh Pant gets a look in after a splendid showing in the IPL.

"There is a section in BCCI which feels that Ajinkya Rahane's limited overs case has not been handled well by the selectors and the current team management (captain Virat Kohli and coach Ravi Shastri)," a senior BCCI official said.

If 100 percent fit, Kedar Jadhav is the unanimous choice but in case he can't make it, then doors might just open for veteran Suresh Raina or rookie Krunal Pandya.

Raina, with an experience of over 200 ODI matches, possibly is the choice of the team management while selectors might just look at Krunal Pandya or Manish Pandey as an option.

Former India opener and cricket analyst Aakash Chopra feels that Raina won't be a bad choice.

"If the team management is looking at a short term goal – that is the World Cup in England next year, Raina won't be a bad choice. Also if Hardik Pandya is your fifth bowler, then one among the top six would need to roll his arm over. I am also excited about Rishabh but then you already have MS and DK in the side," Chopra opined.