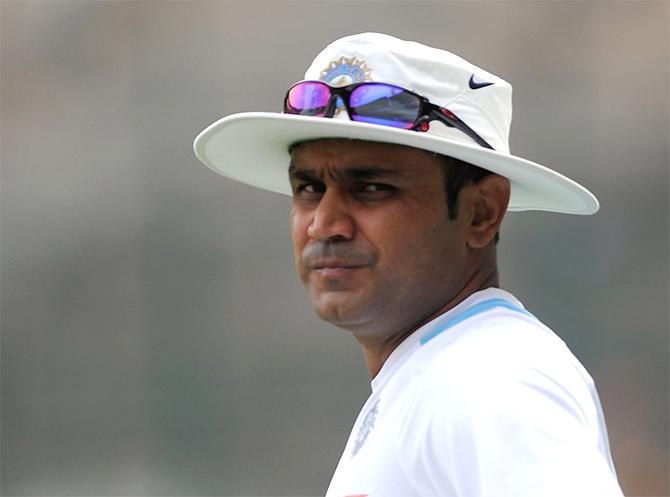 Virender Sehwag of India. Photograph: Pal Pillai/Getty Images
Admitting Indian maestro Sachin Tendulkar and West Indian great Brian Lara are two of the best he has bowled to, Australian legend Glenn McGrath has said that Virender Sehwag was not in the same league.
Though he praised Sehwag for his audacious stroke-play, McGrath said the Delhi batsman lacked something.
"Sehwag is an exciting player, people like to come to watch him. If he bats for a while he's going to score runs, is it not. I tried to use that aggression against him.
"He's a quality player, quick in scoring, but I don't think he's in the same category as Lara and Tendulkar," said the former Australia pace spearhead.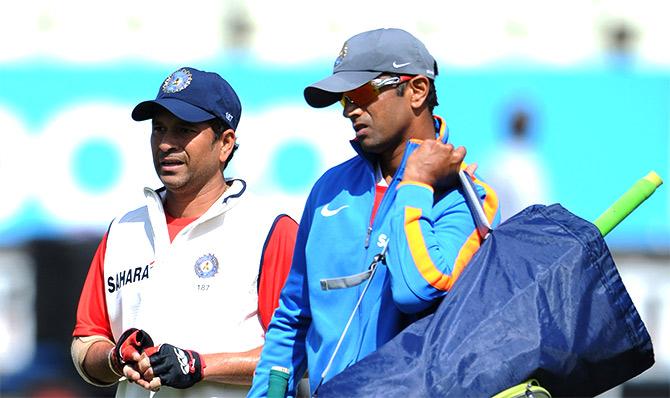 Sachin Tendulkar and Rahul Dravid of India during a nets session. Photograph: Gareth Copley/Getty Images
McGrath, however, added Rahul Dravid's name to the list by saying the Bengaluru stalwart, at times does not get the dues he deserves.
"Day in and day out you have to say they (Tendulkar and Lara) were two of the best players that I have bowled against. They are two of the greatest players of all time, it's hard to separate them. The fact that Sachin played for 24 years is just incredible, he was so mentally strong and technically correct.
"Another guy that deserves a lot more credit than probably what he does get is Rahul Dravid. He's a quality player.
"If you had to have someone batting for your life in those three you want him to go in there. He's definitely up there," McGrath gushed.
Former Australian Test cricketer Glenn McGrath. Photograph: Brendon Thorne/Getty Images
McGrath, 45 was of the opinion that his former captain Ricky Ponting was his pick for playing the short ball.
"Ricky is definitely up there (too), the way he played the short ball. I don't think anyone played that as well as Ricky did.
"He was in my team, so I did not bowl to him too often, barring occasionally when he played for Tasmania and I played for New South Wales."