Swashbuckling opener Virender Sehwag on Thursday said he is not yet close to his peak fitness and want to spend one more week at the National Cricket Academy in Bangalore for rehabilitation.
"I am still not close to peak fitness and am training at NCA, Bangalore. I will spend one more week there. I am looking forward to the England tour," the 32-year old batsman said.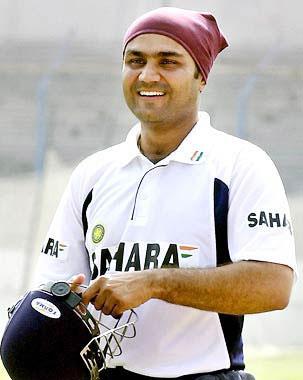 Sehwag has been included as an additional 17th member of the Indian Test squad to England but will miss the opening match of the best-of-four rubber commencing on July 21 at Lord's, a historic 100th clash between the two countries and also the 2,000th in Test match history.
The second Test is scheduled from July 29 at Trent Bridge, Nottingham, and Sehwag, who missed the current tour of the West Indies, is expected to be fully fit before this tie.
The Delhi dasher said that like everyone else in the triumphant Indian World Cup squad, April 2 would forever be a cherished day for him following the Mahendra Singh Dhoni-led team's victory in the final against Sri Lanka that day.
"April 2nd is a memorable moment of my cricketing career. The whole nation remembers it. I shared this moment with Sachin Tendulkar (his idol)," said Sehwag.
Asked whether he would like to teach youngsters how to play the game, Sehwag said he would be willing to teach them the mental aspect. "I can't teach them the way I play, but I can always teach to improve (their) mental strength," he said.
Sehwag said he is a big fan of the Decision Review System and Hawk-Eye technology.
Asked about the failure of the young opening pair of Murali Vijay and Abhinav Mukund in the ongoing Test series in the West Indies, Sehwag said, "Whenever senior players are missing, its ideal for youngsters to avail of these opportunities."
But he pointed out that Mukund was a very talented player who has more centuries than half-centuries in domestic cricket. "There are also other talented young batsmen like Virat Kohli and Rohit Sharma," he added.