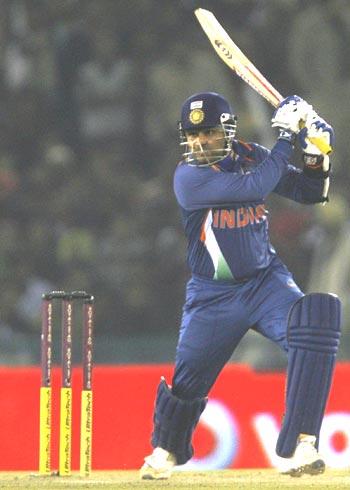 Highly impressed with Virender Sehwag's pyrotechnics, former England cricketer Derek Pringle has rated the dashing Indian opener as the greatest batsman of the decade.
"Dashing openers have always been with us, and Chris Gayle may yet take violence against the new ball a step further, but nobody yet has managed to do it with the audacity and frequency of Sehwag," Pringle said.
"To many, the choice will appear controversial. Shane Warne, Muttiah Muralitharan, Jacques Kallis, Sachin Tendulkar, have all excelled over the past 10 years. They all announced their brilliance in the 90s, so were discounted," he added.
The Delhi batsman, who has over 6,248 Test runs to his credit from 72 matches, has cracked two triple hundreds and four double centuries so far.
According to Pringle, Sehwag scores over other candidates Ricky Ponting and Kevin Pietersen over the way he had redefined the role he plays.
"Statisticians and the government policy-makers trust figures, wise men, facts, but I'm going to apply another measure: that of redefining the role they play, something Virender Sehwag has done for opening the batting in Test matches," Pringle wrote in his column for The Telegraph.
"While Ricky Ponting and Kevin Pietersen, the other candidates for best player of the decade, have not really changed perceptions as the Delhi-born Sehwag has," Pringle wrote.
"Sehwag's figures are impressive even before you consider the thrilling manner of their compilation. Two triple and four double hundreds in a 72-Test career is a weighty achievement for one who bats as if needing to catch the last plane out of Kabul," Pringle said.
Since his international debut in 1999 against Pakistan in Mohali, Sehwag has kept enthralling the spectators with his attacking brand of cricket and Pringle feels the risk factor involved in his shot selection has made him class apart.
"As most of his innings proceed at a run-a-ball, or better, there is a high-risk element to his shot-making. And yet there is also an appetite for runs at odds with the thrill-seeker in him that chases boundaries," the Englishman said.
"When he first appeared, bowlers consoled themselves with the fact that while humiliation was always likely, it would probably be brief. They cannot bank on that now as age and experience have sharpened his judgment to the point that a hundred no longer sates him, or the crowd, as it once did," he wrote.