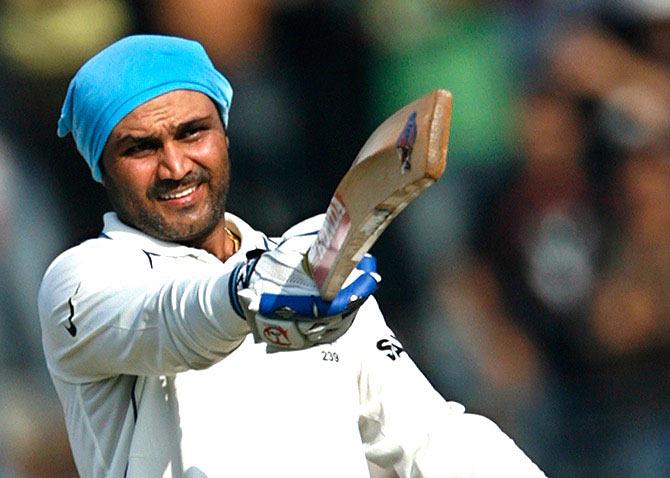 IMAGE: Former India opener Virender Sehwag. Photograph: Punit Paranjpe/Reuters.
Former Indian cricketer Virender Sehwag has appealed to the jats to end their violent agitation for reservation, saying that people of the community are saviours and not destroyers.
"I appeal to all my brothers to give up violence and present their demands in a constitutional manner. We are saviours, not destroyers," Sehwag, who is himself a Jat, tweeted.
"We have made the country proud whether in the army or in sports, our zeal should be used to do good for the country," he added.
Concerned about the violence that has engulfed his home state Haryana owing to the jat agitation for reservation, star Indian boxer Vijender Singh has also appealed for peace.
Vijender, who is gearing up to fight his fourth professional bout on March 12 in Liverpool, posted a video message on his Twitter handle, pleading for calm.
"I appeal to my jat brothers to maintain peace and brotherhood in Haryana. It is absolutely essential for us, our families, our state and our country," Vijender said in a brief message.
The 30-year-old belongs to the Kaluwas village in Bhiwani, which has also been severely affected by the violence during the agitation.
Jats are demanding reservation and despite various leaders, including the Haryana Chief Minister M L Khattar, appealing to them to maintain peace, there was no let up in the protests which have disrupted normal life in Rohtak, Jind, Jhajjar, Sonipat and Hisar.
Earlier, Mahendra Singh Dhoni had also voiced his opinion on the freedom of expression debate by hailing the Indian army. India's limited overs skipper said that the nation is in a position to debate on freedom of expression because of the men in uniform.
Similarly, Shikhar Dhawan has supported Union Government's move to hoist national flag on the campuses of all 46 Central Universities in order to instill nationalism and pride in students.