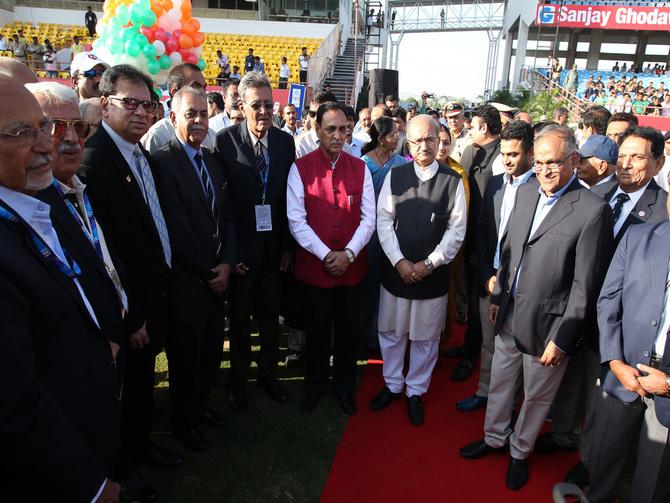 IMAGE: Saurashtra cricket legends with Gujarat Chief Minister Vijay Rupani (seen here in red) and Saurashtra Cricket Association doyen Niranjan Shah, third from right. Photograph: BCCI
It took 84 years for Test cricket to come to the land of Ranjitsinhji, the man after whom India's premier domestic cricket tournament, the Ranji Trophy is named.
As Rajkot made its debut as a Test match venue, Saurashtra Cricket Association administrators made all efforts to make the event memorable.
On Wednesday, November 9, ahead of the start of the first Test between India and England, cricketing stalwarts from the region were felicitated.
Gujarat Chief Minister Vijay Rupani presented mementos to the legendary Indian all-rounder Salim Durrani; Karsan Ghavri, India's breakthrough bowler in the 1970s; Yajurvindra Singh, who with Greg Chappell holds the record for most catches in a Test; Dilip Doshi, the magical left-arm spinner who would have played more Tests had Bishen Singh Bedi not been in the Indian team; and the skillful all-rounder Dhiraj Parsana.
Cheteshwar Pujara, Ravindra Jadeja and Jaydev Unadkat were also feted for their achievements.
Rediff.com salutes these four stalwarts of Indian cricket.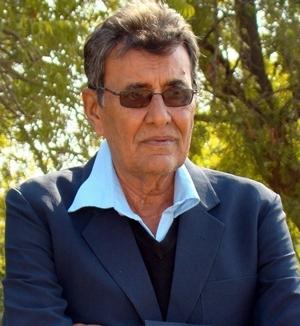 Salim Durrani: An all-rounder who bowled left-arm spin, played 29 Tests for India and was famous for his six-hitting prowess.
Durrani was the hero of India's series victory against England in 1961-1962. He took 8 and 10 wickets in memorable wins in Kolkata and Chennai respectively.
A decade later, in 1971, he was key in India's historic victory against the West Indies at Port of Spain, taking the prized wickets of Clive Lloyd and Gary Sobers.
In his 50 Test innings, he scored one century, 104 against the West Indies in 1962, and would have easily made many more had he not been mercurial.
Salimbhai played for Gujarat, Rajasthan and Saurashtra in the Ranji Trophy.
Fans adored him for the languid ease with which he hit sixes on public demand.
When Durrani was dropped from the Kanpur Test in 1973, fans demanded that he be reinstated in the side.
Karsan Ghavri played 39 Tests and 19 ODIs from 1974 to 1981. He was a member of India's 1975 and 1979 World Cup teams.
A handy allrounder, Ghavri was a left-arm fast-medium pace bowler who could also produce quickish but accurate left-arm finger spin -- ala the great Sobers -- depending on the pitch and match situation.
A lower-order batsman, Ghavri scored a couple of Test half centuries including a career best 86 against Australia in Bombay.
His most successful series came against the West Indies in 1978 when he took 27 wickets.
Dilip Doshi: One of only four Test bowlers who played their first Test after turning 30 and went on to take more than 100 wickets -- the other three being Clarrie Grimmett, Saeed Ajmal and Ryan Harris.
Dilipbhai played just 33 Tests and 15 ODIs from 1979 to 1983 and would have featured in more international games had his career not coincided with that of the legendary B S Bedi (Another great left-arm spinner to meet the same fate was Bombay's Padmakar Shivalkar. Sadly, Paddy didn't play a single Test despite his mesmerising ability to bamboozle batsmen.)
Doshi took 114 Test and 22 ODI wickets to his name. Incredible for a player who played international cricket for just four year.
Yajurvindra Singh played only four Tests, yet co-holds two Test records: 5 catches in an innings, and 7 in a match.