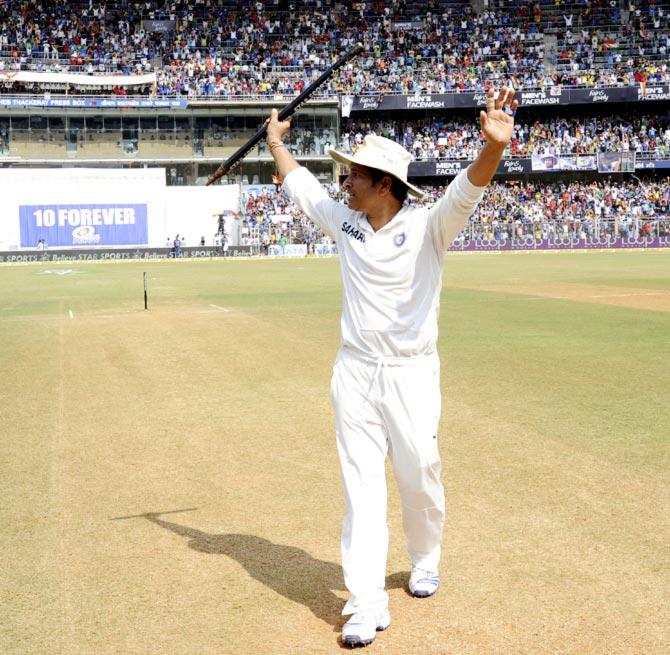 Sachin Tendulkar acknowledges the applause from the crowd after his final Test at the Wankhede stadium in Mumbai in November 2013. Photograph: BCCI
'It's tough to find words to describe what the crowd is doing, as he walks down the stairs and onto the field… We all knew this moment would be the loudest, most raucous of all -- besides being worthy of capturing on virtual film -- and yet even so I don't think I could have anticipated the wall of sheer noise that rises out of the stadium.'
If you want to relive Sachin Tendulkar's last innings at the Wankhede stadium, writer-journalist Dilip D'Souza's Final Test: Exit Sachin Tendulkar, is a must-read.
The new book captures all the excitement and emotion during the two-and-a-half days of the match against the West Indies in November 2013.
Besides minute details of the match, both on and off the field, the writer also teases out larger issues that plague the game, in India as well as overseas.

He builds on close and detailed observation of those two-and-a-half days, capturing all the hysteria it spawned, the love and adulation that showered from the rafters at the Wankhede and the choking emotion.

Tendulkar scored 74 in the only innings he batted in the match -- which India won by an innings and 126 runs -- to end a record-breaking career of 200 Tests, in which he scored 15,921 runs, including 51 centuries.

Here's an excerpt from the book, in which D'Souza discusses cricket from the old to the new, detailing the moments when Tendulkar took to the pitch one final time.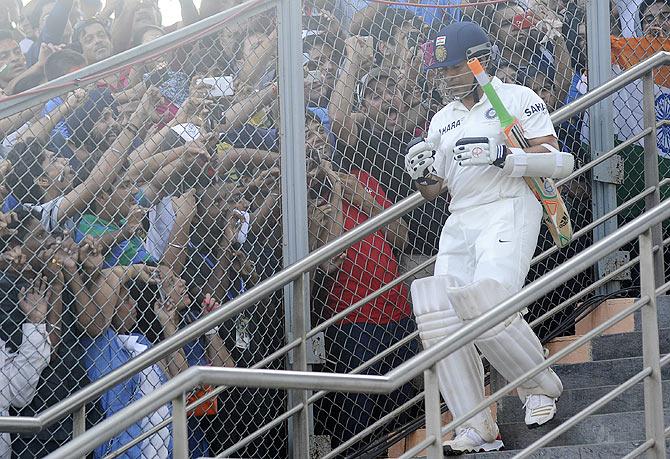 Sachin Tendulkar walks out to bat in his final Test match at the Wankhede. Photograph: BCCI
No surprise, the stadium is buzzing with anticipation and excitement as the clock ticks towards 9.30 am. It's a Saturday, he is batting: what more could a Tendulkar fan in Mumbai hope for? Yet, and oddly, the seats we used yesterday, a few rows in front of our designated dangerous-to-the-torso seats, are still empty. A quick look around tells us there are plenty more such all around, which is baffling. Are people just late getting here?
Someone I know is taking notes while watching this morning and she puts down this phrase as the umpires walk out at 9.25: 'You can feel the febrile restlessness.' A minute or two later, Tendulkar and Pujara appear, walking down the stairs and jogging into the field. Tendulkar, as he usually does, takes a quick look up at the sky to get his eyes used to the brightness. The crowd is on its feet, shouting and whistling, chanting and applauding, vuvuzelas braying all over. Tendulkar is again almost visibly in a bubble, determinedly oblivious to the noise.
Batsmen walking out, wearing pads and guards and helmets as they do, always look ready for battle. Somehow Tendulkar gives the air this morning of being even more intent than usual on his job. All right, so does Pujara. There's been some talk wafting here and there, about 'only 115 runs'. That's how many Tendulkar needs to make it to 16,000 Test runs, and clearly at least some people want him to get that many today. You wonder what for, though. The man has passed so many milestones that new ones seem almost manufactured, certainly meaningless.
Certainly one was manufactured for him - his 100 'international hundreds'. Nobody had ever before clubbed together limited-over and Test hundreds, because these are different games. (First-class hundreds yes: Hobbs and Bradman, among others, have a hundred of those). But sometime in 2011, some cricket statistician noticed that if you did club Tendulkar's hundreds that way, he was approaching a century of centuries (#97, #98, and #99 were clocked up early that year). Could he make it to 100?
This mark that was dreamed up solely for Tendulkar then became a millstone around not just his, but a nation's neck. Reporters and fans asked him about it at every opportunity, and fingers crossed by themselves every time he got into the 60s and 70s. When he did finally score that 100th century -- in a one-day match lost to Bangladesh in March 2012 -- he was visibly relieved. Perhaps we were too. It turned out to be his last 'international hundred'.
But today: Is 15,885 Test runs, where he is right now, any different, or any less of an accomplishment, than 16,000?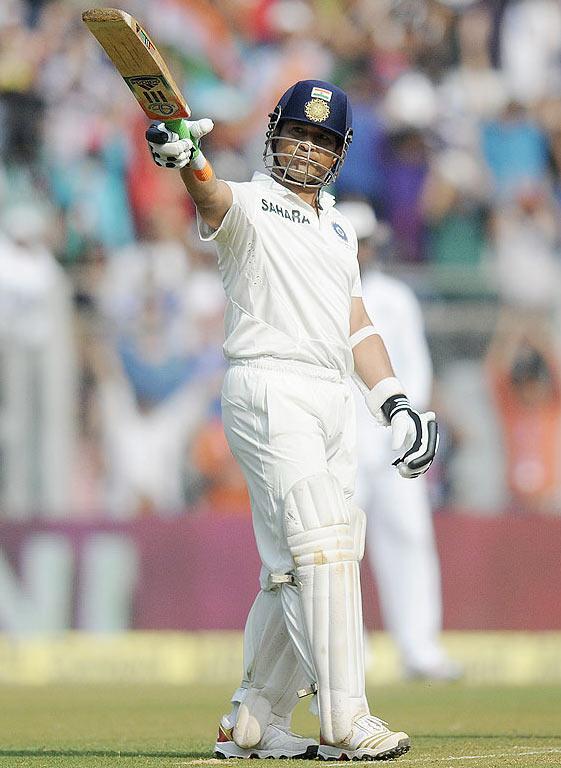 Sachin Tendulkar celebrates after scoring his half century. Photograph: BCCI
Besides, there's this other milestone we could be urging him to reach but we aren't: he needs just four wickets to reach 50 for his Test career. For my money, if he took those four sometime in this match, it would be a greater feat than scoring the 115 runs.
Pujara faces Best's early morning fizzers first. The first is a full toss that he blocks carefully. Now full tosses, especially ones not dispatched for a maximum, like this one was not, invariably remind me of a long-ago match in school in which a full toss figured prominently. We needed only a few runs to win with just a few balls left and a buddy batting. The ball slipped from the bowler's hand and looped -- decades later, I remember that loop well -- towards our friend. We on the sidelines were already starting to celebrate. Until, to our horror, he offered the ball an elaborately straight bat, dropping it at his feet. We lost. We spent the rest of the evening screaming 'full toss' at him, and 'you could have hit it for six!' (That was all we knew about full tosses, that they were begging to be hit). We reduced him to tears. I'm not sure he's ever forgiven us. Or we him.
So yes, for whatever reason, Pujara doesn't hit that full toss for six. Instead, he plays it much as I remember my friend playing his full toss that evening. Pujara looks unhurried, but almost circumspect, as he works his way through Best's first three balls. The already much-anticipated single comes off the fourth, as he pushes the ball to the leg side. The crowd…but you know what the crowd does. And when Tendulkar takes a single off the last ball, standing tippy-toes to hit it to leg in another signature Tendulkar move, the crowd does it some more, because they know he will be on strike to the next bowler. And somewhere, someone is probably thinking: 'Only 114 more!' That number is whittled down to 106 within four balls from Shillingford. First, it's that backfoot punch that whistles away for four. It's just the kind of authoritative, decisive stroke that would have, we oldtimer radio-listeners know, elicited a 'char run! sundar shot!' ('Four runs! Beautiful shot!') from Suresh Suraiya, doyen of Hindi commentary on All India Radio through the 1970s. Next ball, Tendulkar sweeps almost directly behind him for another four. Suddenly he's at 47, one scoring stroke away from a half-century. He plays at and misses a ball from Best soon after, which induces Best to appeal and the crowd to boo. 'Tino sucks!' rings out again, and that induces Best to, once more, fold his hands and blow kisses at us in the crowd.
That blue Jetta must have made the trek to the Wankhede this morning, after all. Mrs Tendulkar (senior) appears on screen. Soon after, so does Mrs Tendulkar (junior). She looks mildly concerned after an uncharacteristically risky shot her husband tries off Best, trying to knock the ball behind and over the wicketkeeper's head. He misses. With that, it's been seven balls through three overs that he's scored just one run. It won't be eight balls, though. Best whirls in to bowl right after that odd shot, then watches the ball flash back past him even before he's out of his delivery stride. That straight drive for four is the scoring stroke that whisks Tendulkar past 50 and delights an already delighted, if also insatiable, crowd. He raises his bat to acknowledge the cacophony. He has got to his 50 with two singles and three fours this morning, while Pujara has done his best to simply get off strike, adding five runs to his total. India is now just six runs behind the West Indies.
Not long afterward, India overtakes the West Indies' 182. With Pujara and Tendulkar chugging along as they are, who knows what score India will pile up? The fours come at about one an over, Pujara takes his singles to give Tendulkar the strike, the fans applaud every one of those singles with gusto, Best hears the boos again as he slings a bouncer at India's favourite son.
One of Cricinfo's chirpy fans, a Harish, writes: 'Marry your boyfriend in case he replies to your messages or picks up your call.' (While Tendulkar is batting, that is). Others confess to being torn between wanting to see Tendulkar on strike and thus batting, and wanting him off strike, so he won't get out. One more of those dilemmas only an occasion like this can throw up.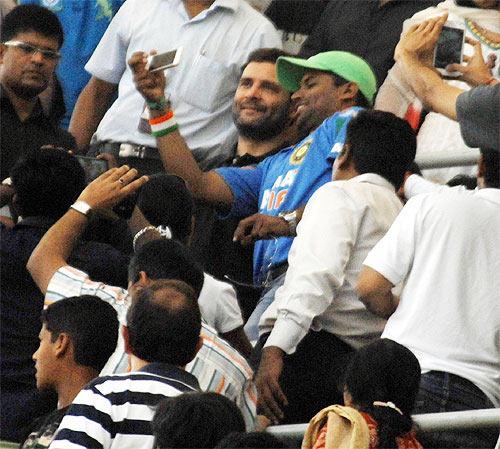 Congress vice-president Rahul Gandhi takes selfies at the Wankhede during Sachin Tendulkar's final Test match. Photograph: BCCI
The cameraman who's evidently assigned to locate celebrities in the audience finds Rahul Gandhi, sitting with Chief Minister Prithviraj Chavan; then, in quick succession, Hrithik Roshan, Kiran Rao, and Aamir Khan. The person who earlier mentioned the crowd's 'febrile restlessness' now notes: 'Pujara is quite stylish.' As if on cue, Pujara too reaches his 50, with a gentle push past the fielder at point. The Wankhede takes a break from its Tendulkar obsession to chant his name: 'Pu-jara! Pu-ja-ra!'
Best and Shillingford hand over bowling duties to Gabriel and Deonarine, neither of whom seem equipped to even slow the runmaking, let alone get one of these two men out running one of those Pujara singles, one of the two batsmen yells 'One!' and it's loud enough, amazingly enough, to be heard in the stands.
And I remember childhood games of cricket, played with a tennis ball in a bush-lined hostel quadrangle, featuring a college buddy named Praveen Rastogi. It was such a small space and there were so many fielders and bushes that you'd be hard-pressed to complete a single off any given shot. Yet Rastogi couldn't be bothered with such constraints. A jumpy livewire at the crease, he'd start running every time he hit the ball, regardless of where it was headed, screaming in a high falsetto even before he had completed the first run: 'Teesra bhi! Teesra bhi!' ('Three runs! Three runs!'). It unsettled his running partner no end, but Rastogi knew what he was doing. Because it also unsettled the fielders enough that he often got that third run. I have no idea what's happened to Rastogi, but what I'd give to hear an Indian Test player shout, above the crowd noise, 'Teesra bhi! Teesra bhi!'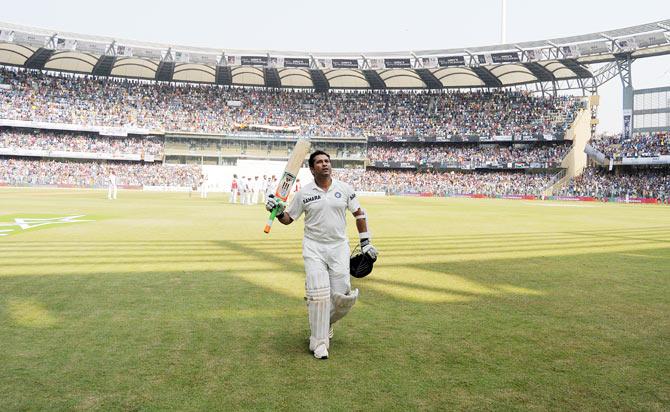 Sachin Tendulkar acknowledges the crowd as he walks back after his dismissal during his final Test at the Wankhede Stadium. Photograph: BCCI
The first hour of play puts 59 runs on the board. Nearly a run-a-minute, which used to be a measure of quick scoring but is rarely heard now. The West Indies have bowled 13 overs, which means Pujara and Tendulkar have been scoring at about four-and-a-half runs an over. Positive cricket, taking the game firmly out of the hands of the West Indians. At the drinks interval, you can almost sense them looking hopelessly at each other. How do you stop this juggernaut?
Five balls later, Deonarine has an answer. The first four balls have produced five easy runs, but he gets his fifth to bounce just that bit more than the batsman expected. The batsman's attempted cut, therefore, strokes under the ball, but brushing it enough to send a catch, face-high to Sammy at first slip. He takes it and falls over backward, but holds on and grins widely as he gets up.
The batsman is out for 74. The batsman is Tendulkar.
Is he really out? Is this really the end of a quarter-century-long era? It almost certainly is, because nobody realistically expects India to bat again. It's amazing how swiftly the deafening noise in the Wankhede turns to silence so complete that you'd swear you can hear Tendulkar's footsteps as he begins the walk back to the pavilion.
For years, his wicket has brought this kind of hush to Indian crowds; but this time it is deeper, broader, profounder. Those previous times, you knew he'd be back with his bat. This time, you know he won't be.
Here we are at the very moment this Test was planned around, in a very real sense: Tendulkar's final act as a batsman.
Take a moment to let that sink in, as the Wankhede audience collectively does, right then. Perhaps a Vibhas Patil's thought on the big screen says it all: 'My grandfather remembers the
Berlin Wall coming down. I'll remember being at Wankhede for Sachin's 200th.'
Though yes, there are those who are already feverishly calculating the what-ifs: what if India loses all its remaining wickets in the next couple of hours, and what if the West Indies bats well enough to set a meaty target for India, and what if India loses Vijay and Dhawan long before they get anywhere close to the target -- well, then we'll see another Tendulkar innings. But to call all this wishful thinking is to accord it too much respect.
Realistically, this is his last walk back to the pavilion. And so the Wankhede rises to cheer the man, sad to see him leave but deafening in their adoration once more. At the gate, he turns to wave to his fans, his bat marking a regal sweep around the ground. Then he turns and walks up those same stairs. He's gone.
Excerpted from Final Test: Exit Sachin Tendulkar by Dilip D'Souza, Rs 299, with the permission of publishers Random House India.