There is no doubt that Sachin Tendulkar is the greatest cricketer to grace the game. He confirmed it in the ongoing World Cup. His splendid batting continues to delight and bring joy to millions of fans across the world.
His crucial innings of 85 in the semi-final against Pakistan in Mohali eased the team into the final and gave India a chance of winning the Cup at home when they take on Sri Lanka in the final in Mumbai on Saturday.
Off the field too, the master batsman is a champion in his own right. Few are aware about how much he is doing for young cancer-stricken children across the country. He is instrumental in raising a corpus fund of 1.35 crore in the crusade against cancer in children, which has helped more than 40 children so far.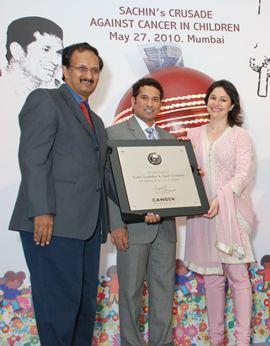 Many of these children are from the low income group in remote areas of the country and cannot afford the expensive treatment. But Tendulkar's timely intervention has ensured them a new lease of life.
"It is such human touch and such concern and compassion which sets apart Sachin Tendulkar from anyone else. Tendulkar and his wife Anjali helped raise the amount for the children, quietly and without fanfare," says Dr P Jagannath, chairman of the Oncology department at Lilavati hospital in Mumbai, and one of the best cancer surgeons in the country.
Tendulkar and Dr Jagannath are working together on a campaign – 'Crusade against cancer in Children' – a charity close to the ace batsman's heart.
While Tendulkar is actively involved in funding the charity, Dr Jagannath believes if his fans also join in supporting the cause it would help a great deal in treating cancer-afflicted kids. There are millions of Tendulkar fans across the world and even if a sizeable number of them join their favourite batsmen in this campaign it would go a long way in helping children around the country, he says.
One hasn't to do anything special or contribute a hefty sum to join the crusade against cancer. You just need to log on to the website www.indiacancer.org and make a nominal contribution of Rs 100.
Speaking about Tendulkar's humility, Dr Jagannath recalled a recent incident.
"I recently received a call from Sachin saying that one of his friends was to be operated by me. 'Take care of him,' was Sachin's request.
"It is unusual for?Sachin to request any help. I expected it to be a VVIP patient, but, to my surprise, I found out that it was a young sport journalist. The journalist did not even approach Sachin directly, but when Sachin came to know about his condition, he immediately called us and made sure that he got proper treatment. The journalist is now fine, but he gratefully remembers the personal call made by Sachin, and his recovery has been extremely rapid."