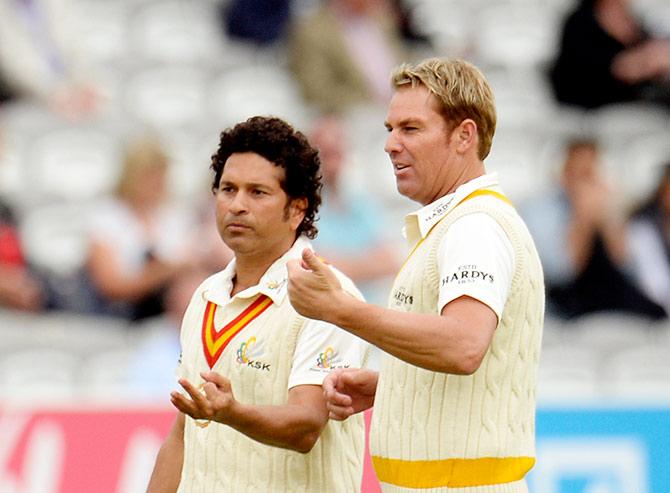 IMAGE: Sachin Tendulkar (left) stands with Shane Warne. Photograph: Philip Brown/Reuters
In an effort to popularize cricket in the US, several icons including master blaster Sachin Tendulkar and spin wizard Shane Warne will play T20 matches in the US in November.
More than two dozen of the world's most famous cricket players will play matches at three big-league baseball stadiums at Citi Field on November 7, Minute Maid Park in Houston on November 11, and Los Angeles's Dodger Stadium on November 14, The Wall Street Journal reported.
"We want to leave an impression behind. That's what we are here for—to entertain people, to leave great memories behind and get them excited about some quality cricket," Tendulkar was quoted as saying by the daily. Among others players include Pakistan's Wasim Akram, West Indies' Brian Lara, South Africa's Jacques Kallis, England's Michael Vaughan and Sri Lanka's Mahela Jayawardene.
Brian Bedol, a sports television executive and investor in the event, called the "Cricket All-Star Series," likened it to Pele's arrival in the US in the 1970s, or "if you had LeBron (James) and Michael Jordan doing a tour of Europe for the first time.
"They're past their prime but for the old timers it'll be fun to watch them," Kumar Balakrishnan, an officer in the Staten Island Cricket Club was quoted as saying. The event has been organised by Leverage Agency, the sports and entertainment firm.
"You're not sitting there for a day or two. It's going to be a fast-paced event with a lot of runs," said Ben Sturner its CEO. Three baseball stadiums are being converted into a cricket stadium for the purpose. With the help of a pitch specialist from New Zealand, the elements of the pitch are being crafted in Indianapolis and will be trucked to the stadiums, the report said. Warne said all these games would be highly competitive.
"To make history in America playing these cricket games—myself and Sachin walking out and tossing the coin in New York at Citi Field will be a pretty epic moment," he said. For the 42-year-old iconic batsman, it will also be a "challenge" to play in stadiums which are originally meant for baseball.
"It's not the first time that I will be playing matches in baseball stadiums. Way back in 1990 and 1994, I had played a couple of matches at Skyzone stadium in Canada. Since these are not proper international cricket Stadiums (NY's Citi Field, Minute Maid Park in Houston and LA Dodgers' Stadium), one needs to adjust to the angles.
"But then since the spectators sit very near to the boundary line, you get a feeling that you can engage with the crowd which is also important," Tendulkar signed off.