Twitter world goes bonkers over Sachin messages
November 16, 2013 15:22 IST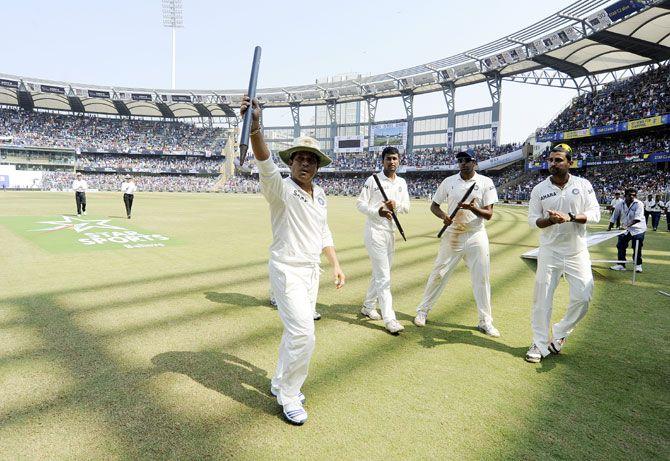 Tributes poured in for Indian batting icon Sachin Tendulkar as he bid an emotional goodbye to cricket after playing 200 Test matches.
The good wishes for the Master Blaster came not just from cricketers, but celebrities from all walks of life who took to twitter to pay their tribute to Tendulkar.
Following is a compilation of the messages posted by some prominent cricketers and other sportspersons on Tendulkar's retirement:
Tennis ace Roger Federer had this to say: "What a remarkable career @sachin_rt. Wish you the very best moving forward #ThankYouSachin."
England off-spinner Graeme Swann, who is preparing for the Ashes series Down Under said, "I'm not sure if you heard but Sachin Tendulkar retired today! What a great little player and lovely bloke #ThankYouSachin"
West Indies opener Chris Gayle, who ended up on the losing side said he was delighted to be a part of history. "Was absolutely a pleasure being a part of history Sachin Tendulkar 200 Test Match. #legends #Lara…"
Sanjay Manjrekar: It was a long speech but then it was a long career. Every minute was worth it. Emotional words from Sachin to finish an emotional series
Twitter world goes bonkers over Sachin messages
November 16, 2013 15:22 IST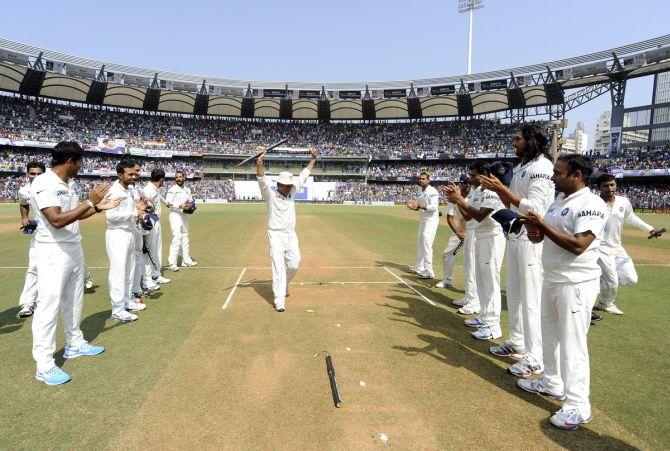 Former Australian speedster, Brett Lee, with whom Tendulkar shared many battles congratulated Tendulkar on his phenomenal. "Congrats to the legend @sachin_rt well done mate on everything you have achieved. A phenomenal career."
India's tennis star Sania Mirza said: "So emotional...the whole country is..we will miss u #RESPECT #SACHIN #LEGEND"
Former England opener Michael Vaughan was impressed by the speech that Tendulkar gave after the match: "What a Speech... #ThankYouSachin #God"
South African opener Alviro Petersen felt:"A legend of the game says goodbye... #SachinTendulkar . An honour to have played against him."
Matthew Hayden: "The end has arrived for Sachin with fitting scenes in Mumbai #goodbye and #goodluck."
Indian off-spinner Harbhajan Singh had this thing to say about the champion batsman: "Let's salute the master.cricket won't be the same without u.for me u r cricket.thank u paji for everything."
Virender Sehwag: "Been an emotional time for me since the announcement #SRT. Can't articulate what he means to me, it's so personal! @BCCI."
Irfan Pathan: "Most emotional retirement of world cricket but Sachin Tendulkar isn't retiring from our heart,#ThankYouSachin."