'Virat has never come and told any BCCI official that he doesn't want to work with Kumble.'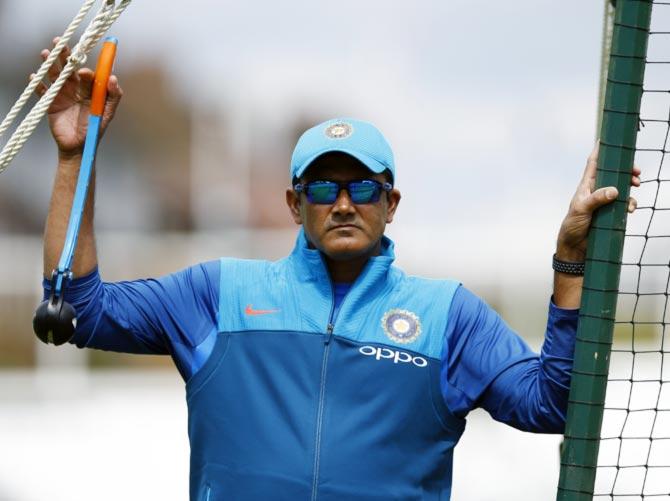 IMAGE: India coach Anil Kumble. Photograph: Peter Cziborra/Reuters
The Board of Control for Cricket in India seems to be all set to retain chief coach Anil Kumble as acting president C K Khanna on Thursday wrote a letter to secretary Amitabh Chaudhary urging him to defer the recruitment process till the end of the West Indies tour.

However a final call can only be taken after the Supreme Court-appointed Committee of Administrators (COA) give a final nod.

"I have written a letter to the secretary asking him to defer the recruitment process till June 26 when BCCI's SGM will be held. At this point in time, it will not be prudent to carry on with the process when India is playing a tournament," Khanna said in London, on Thursday.

"Whether it is Anil Kumble retained or anyone else roped in, whoever gets the job will be given a contract till 2019 World Cup," he added.

In fact, Indian Premier League chairman and influential BCCI official Rajeev Shukla is also against this hurried process of appointing the new coach.

"The acting president spoke to senior members and we are all of the opinion that the matter be placed before the SGM in Mumbai on June 26. Till such time, any recruitment process should be kept on hold. Majority of the members are of the same opinion," Shukla said.

Even the Cricket Advisory Committee (CAC) comprising Sachin Tendulkar, Sourav Ganguly and V V S Laxman who are supposed to have an internal meeting later on Thursday want Kumble to continue.

It is learnt that trio of Ganguly, Laxman and Tendulkar, who had roped in Kumble in place of Ravi Shastri are not too keen on replacing the legendary leg-spinner.

Save one office-bearer, who is believed to be close to former Board of Control for Cricket in India president Narayanswami Srinivasan and is a staunch Kumble critic, the others are against setting a precedent where virtually the Indian captain decides on who will be the coach of the side.

The scheduled meeting of CAC will take place later on Thursday with BCCI CEO Rahul Johri expected to co-ordinate the meeting. It is learnt that CAC members will decide whether there is any need to conduct interviews or straightaway renew Kumble's contract.

"Whether it is Anil Kumble retained or anyone else roped in, whoever gets the job will be given a contract till 2019 World Cup," acting BCCI president CK Khanna said.

The news of skipper Virat Kohli's alleged difference with Kumble has been making rounds for some time now. The BCCI invited applications for coach's post and even a section of officials, who are anti-Kumble convinced Virender Sehwag to apply for the post.

"On one hand, team has had great performances under Kumble. If the team reaches semi-final or say final, the BCCI would cut a sorry figure if they are forced to replace Kumble.

"On the other hand, cricket teams are essentially run by captains. One needs to respect a captain's viewpoint also. It's a Catch-22 situation for CAC members," a BCCI official present in London said.

The magnitude of problem according to BCCI insiders has been blown out of proportion.

"Virat has never come and told any BCCI official that he doesn't want to work with Kumble. And moreover if Kumble and Virat don't get along, what is the guarantee that Viru (Sehwag) and Virat will be on the same page. Everyone in Indian cricketing circuit knows that Sehwag is also a no- nonsense person," the source said.

In fact, many in BCCI believe that Sehwag has the least chance to make it especially after his two-line CV that has not gone down well with some quarters.

Tom Moody with his cool demeanour still has a better chance than Sehwag, if the CAC decides on going ahead with interviews.