If BCCI Vice-President Rajeev Shukla has to be believed then Sachin Tendulkar is in Parliament because of Congress President Sonia Gandhi.
Shukla said that Sonia Gandhi had recommended Sachin Tendulkar's name for nomination to Rajya Sabha. He also hinted that the government may consider conferring the prestigious 'Bharat Ratna' on the iconic cricketer after his retirement.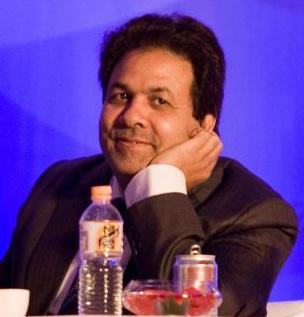 Tendulkar became India's first active sportsperson to become a member of Parliament in June 2012.
Shukla said the names of veterans such as Sunil Gavaskar and Ravi Shastri were actually doing the rounds for nomination to the Upper House but Sonia Gandhi was keen to have Tendulkar in Parliament.
"It was not my idea to have Sachin in Rajya Sabha. I was thinking that veterans such as Ravi Shastri or Sunil Gavaskar would be recommended but Mrs Sonia Gandhi asked me to talk to Sachin. I said, 'he's still playing' but she insisted that at least I discuss it with him.
"Then I spoke to him when he was playing in Dhaka and he said, he will discuss it with his family. Then he called me back and said his family was not averse to this (idea), and how to go about it. So this is how he became Rajya Sabha member," Shukla said at an event 'Salam Sachin', organised by India Today Group in honour of the legendary batsman.
A clamour has grown in favour of Tendukar getting the Bharat Ratna award, India's highest civilian honour.
Shukla said the government can actually consider that since Tendulkar is hanging his boots.
"This demand is there for last 2-3 years. But it cannot be done when someone is playing, there maybe some controversy. Now that he is retiring, we will try that he gets it. Hopefully, the committee (that decides) and the government will consider," Shukla said.
Image: Rajeev Shukla