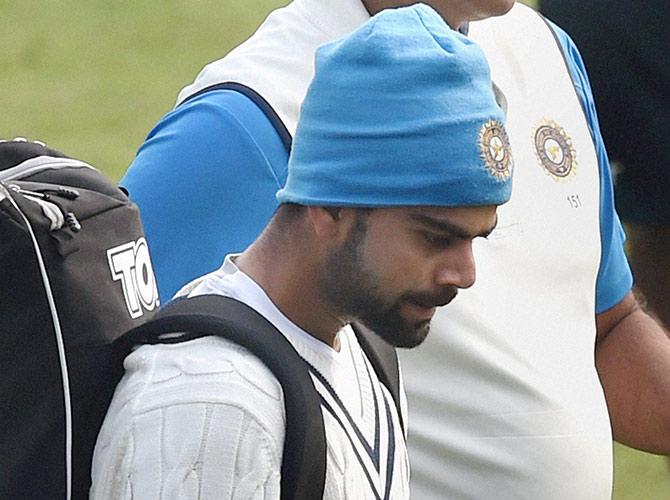 IMAGE: Skipper Virat Kohli during a practice session ahead of the fourth Test against South Africa in New Delhi. Photograph: PTI
India captain Virat Kohli said that his team would be "ruthless" in the final Test making it clear that the team has not reached a phase where they can experiment with the playing eleven.
Now that the series is sealed, Kohli was asked if he is mulling a few changes in the playing eleven and he said it will be on conditions and not for the sake of experimentation.
"Changes depend on conditions not on winning or losing. Our mindset is to be ruthless and try to go 3-0 up. Our changes will depend on the conditions and not that we need to give someone a chance for the heck of it.
"Right now, we are in such a phase where the team we cannot experiment. When solidarity comes, we will think about it," Kohli was straightforward in his reply.
'It is important as to what I am feeling in my head'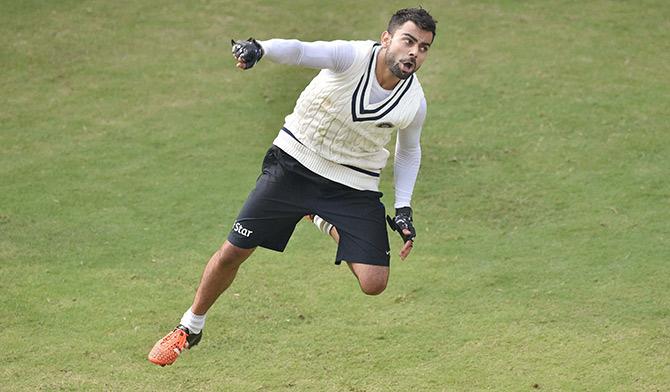 IMAGE: Indian captain Virat Kohli during a practice session. Photograph: PTI
The skipper did admit that he has made some errors while playing moving deliveries outside the off-stump.
Was it more of a good delivery or a mistake, Kohli said: "No it was a mistake. Not sitting here to make excuses. We get out playing flick shots, but we don't stop playing that. We get out playing cover drives and we certainly don't stop playing it. I certainly believe in that kind of mindset when I go out there to bat.
"England (where he was getting dismissed to away going deliveries) was a phase where mentally I was not into it. That can happen to anyone. Right now, I am feeling very well about my game. It's about churning out those few little areas you need to concentrate on.
"If I was not playing well, I would not be able to survive 15 balls, I am getting to 60-70 balls. Matter of concentrating a bit harder. As I said, lot of people have things to say and opinions to make, it is important as to what I am feeling in my head," Kohli explained.
'Let's appreciate what the team has done and move forward'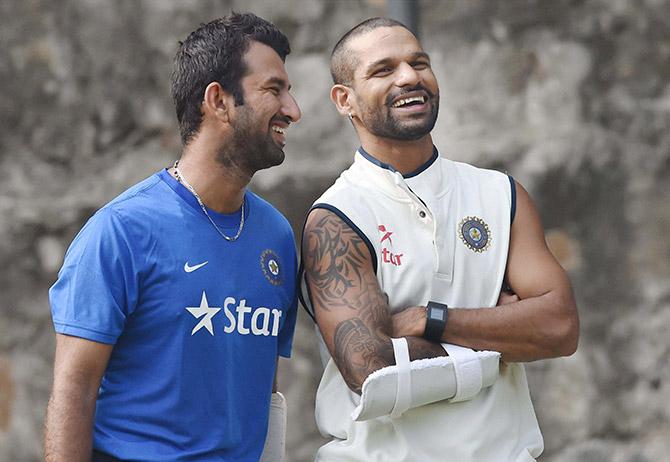 IMAGE: Shikhar Dhawan and Cheteshwar Pujara during a practice session in New Delhi. Photograph: PTI
Kohli also did not like the failure of the batting unit being highlighted so much.
"We are prepared to face any sort of challenge. I don't know why we are not talking about the fact that we are 2-0 up in the series. Instead we are sitting here and criticising. We are international cricketers and we are not hiding away from it.
"But if we are repeatedly asked those questions at press conferences, I don't find any reason to answer those. Let's appreciate what the team has done and move forward in the same direction," he was not amused while answering that query.
But he did agree that batting unit did not apply themselves.
"I can talk about the batting unit. We did not apply ourselves. The partnership from 75 should have been stretched to 140, then we get to 200 and then eventually to 350. It's just happened in 2 Tests (Mohali and Nagpur). After Galle we bounced back well, people need to make sure that they bat four sessions at least. This is our drawback which we want to correct."
'As a team, we are not looking to be at a certain stage'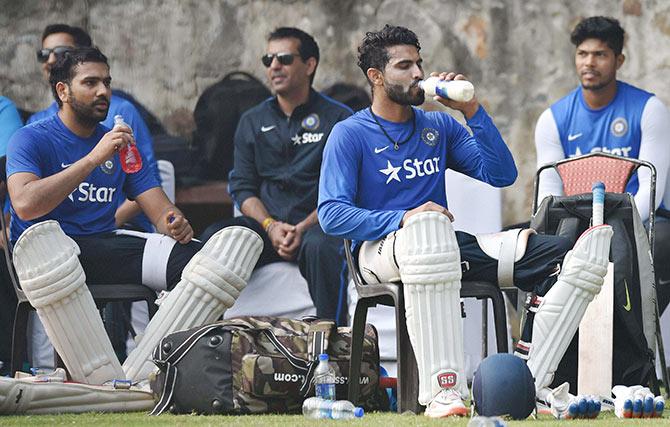 IMAGE: Rohit Sharma, Ravindra Jadeja and Umesh Yadav during a practice session in New Delhi. Photograph: PTI
Kohli agreed that the team is getting into a phase where they want to get ready for the bigger challenges ahead.
"As a team, we are not looking to be at a certain stage. Create a work culture where people give their 110 percent, that's the habit we want to create. We want everyone to be mentally ready for it. Challenge is to be mentally ready for it. We are preparing for every condition. Everyone is honest and putting in effort day in and day out. We are all building our careers together and that can be a wonderful phase for Indian cricket."
When asked for a frank opinion whether he felt that the quality of Test cricket was really good, Kohli was in agreement.
"It was good Test cricket. We saw the crowds in Nagpur and Bangalore. Mohali was also decent, people want to see results. People want to see exciting cricket, we have enjoyed that as a unit.
"Apart from that, we haven't thought about it being a big series. I remember being asked this question in Sri Lanka about not winning a series for 23 years but we never thought about it as it puts extra pressure on you.
"We ended up doing something that was not achieved in 23 years. Here we have beaten a side that hasn't lost in 9 years. So we can pat ourselves on historic back to back series wins."