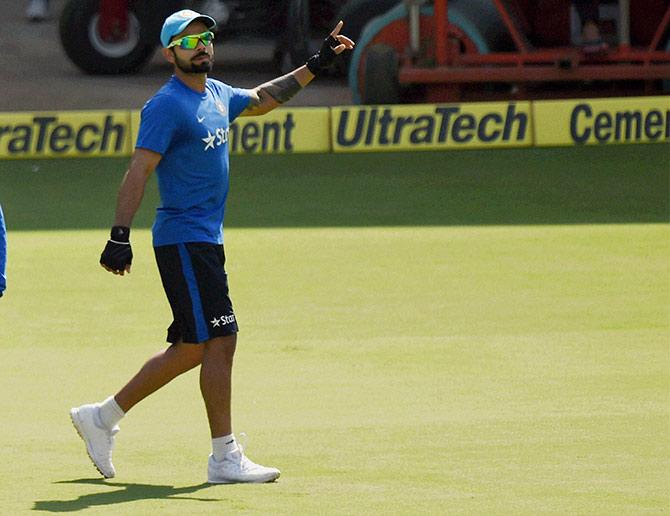 IMAGE: India's Test captain Virat Kohli during a training session. Photograph: PTIs
KL Rahul has praised Virat Kohli for his easy-going nature.
Having enjoyed two long partnerships with his Test skipper during the series in Sri Lanka - in SSC and P Sara Oval, the young opener has fond memories.
"That's how Virat is. He likes to guide me, keep me on my toes and encourage me to express myself. He makes sure I don't feel the pressure, keeps cracking an odd joke here and there to calm my nerves down. He keeps reminding me to believe in my abilities, be calm and wait for the loose ball.
"We ensure that we rotate the strike well and keep things moving. Both the times when Virat joined me at the crease, we had lost two wickets early and it was important for the team to get a partnership there and stay positive at the same time. That is the one thing Virat keeps telling me -– think positive, play positive," he said.
'This series will be interesting because we know the conditions better'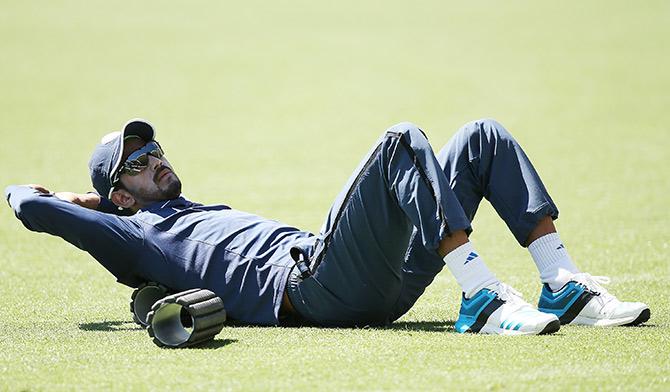 IMAGE: KL Rahul of India stretches during a training session. Photograph: Morne de Klerk/Getty Images
After having locked horns with Australia and then Sri Lanka, and scored centuries against both, Rahul is eager to showcase his skills in front of his home crowd against a top side.
"The first century did give me a lot of confidence; I started believing in myself as a cricketer. It was very important as a young player to feel wanted in the team and that I belong to international cricket. I got one in Sri Lanka and that added to the confidence. I came back from that series and worked on my batting.
"This series will be interesting because we know the conditions better here. But again, playing in front of the home crowd will add to the challenge," he said. Having had an irregular graph in his five Tests so far, Rahul, who has an average of 25.60, agreed that he needs to be more consistent.
"Yes, playing international cricket, I realise that I need to be a bit more consistent. A few things go wrong here and there as an opening batsman – you do get a lot of good balls at the start of the innings."