- 'Generally, Indian conditions do tend to deteriorate, so the toss is quite important.'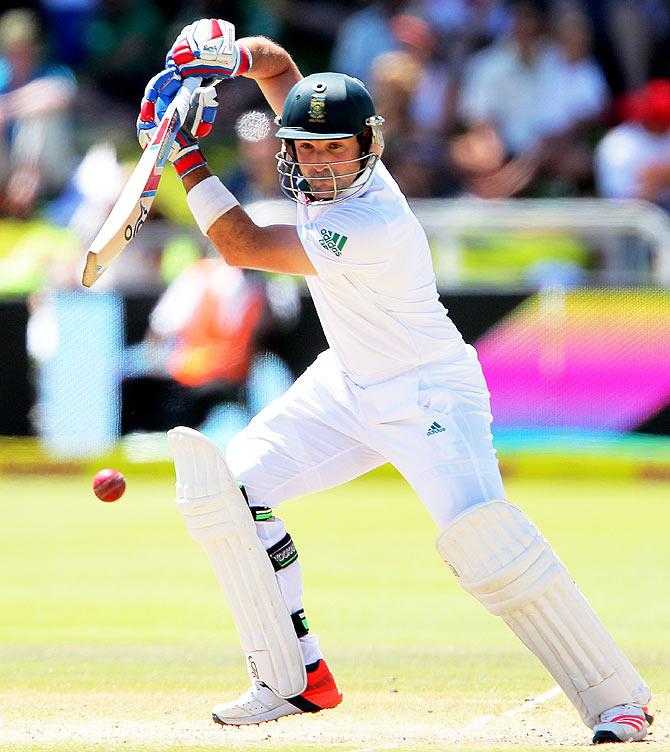 South Africa's Dean Elgar. Photograph: Carl Fourie/Gallo Images/Getty Images
South Africa opener Dean Elgar reckons that the toss will play an important role in tougher Indian conditions during the four-Test series and said they will look to put the Indian new ball bowlers under pressure early on when the first Test begins in Mohali, on Thursday.
"Generally, if you look at the sub-continent, conditions do tend to get a little tougher (later on). I am not sure what the wicket looks like, to be honest with you, I have not had a look. Generally, Indian conditions do tend to deteriorate, so the toss is quite important," Elgar said.
- India versus South Africa: How the numbers add up
Talking about his role as an opening batsman, Elgar said, "It is quite an important role, especially in your first innings. Being an opener you sort of set the platform for the middle order batters.
"But I don't see it as a big pressure, to be honest. Fortunately, I have had decent amount of success being in Sri Lanka and Bangladesh now recently. I am quite comfortable playing in the sub-continent. I don't see it as big a challenge or a different mindset."
Commenting on his chemistry with his opening partner Stiaan van Zyl, Elgar said: "Though we may not have opened the batting a lot. We have played a lot of 'A' side together, we enjoy good relations even off the field and complement each other well."
Asked about his tour to Sri Lanka, the left-handed batsman said, "It was an awesome challenge, it was my first tour being the new opener after Graeme (Smith), so it was a good challenge in that aspect. The wickets deteriorated quite quickly in Sri Lanka. It was a very good experience for myself in those conditions."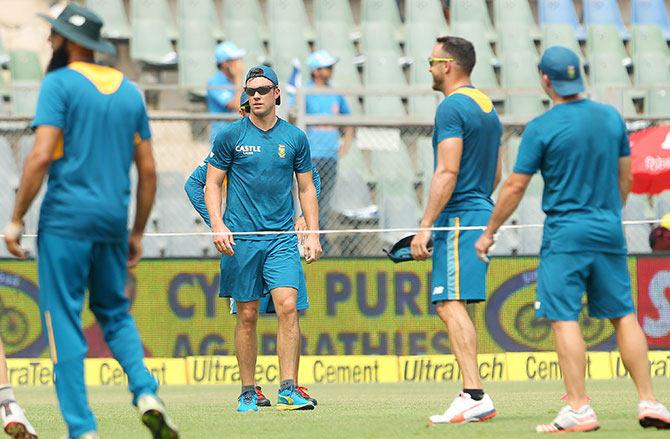 IMAGE: South African captain AB de Villiers during a practice session. Photograph: BCCI
About the presence of batting consultant Michael Hussey, he said, "Having him around is great, he has a vast experience, he has done quite well in the sub-continent during his playing days.
"His calming words sometime can help you and sometime his one small technical advice can help you develop as a player. He has an awesome influence on me and other players."
Talking about India's new ball bowlers, Elgar said, "It's going to be a great contest between bat and ball. In India, it is generally seen the first day, first hour, first session, there seems to be something in the wicket, the ball does seam and swing around. It's also a great opportunity to put Indian bowlers under pressure. Hopefully, I and my opening partner are able to put them under pressure."
On the team's preparations, he said, "First three days leading up to the Test match are very important days for us. We got to try and cover lot of aspects playing in the sub-continent.
"Sometimes, it is the possibility of facing spinners with the new ball, which is totally foreign for us back home, but it is something we got to adapt to various conditions that we are posed with, mentally you got to prepare as well and make familiar with the conditions."
With most of the South Africans, including Faf du Plessis, heaping praise on India's top spinner R Ashwin, Elgar too joined the chorus.
"No doubt, he is a very good bowler. I think he is possibly India's spearhead when it comes to the bowling attack, which is great challenge, something I really look forward to," Elgar said.
The 28-year-old said they were preparing to meet Ashwin's challenge, though he did admit that "facing the guy in the middle and preparing in the nets are two different things, but you have got to prepare with the resources that you have."