'I can't put a particular time when, but he is certainly in the mix of things'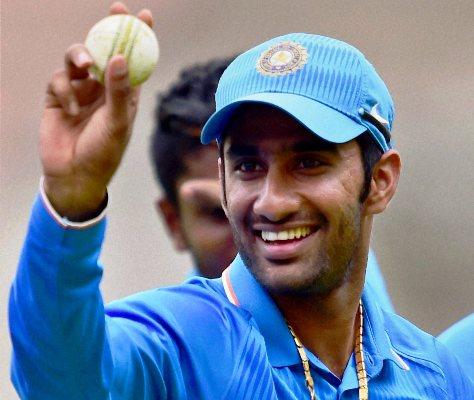 IMAGE: Gurkeerat Singh Mann has the ability to contribute with bat and ball. Photograph: PTI
Gurkeerat Singh Mann was a surprise addition to India's squad for the second Test against South Africa, beginning in Bangalore on Saturday, but captain Virat Kohli says the Punjab all-rounder could be in the reckoning for an unlikely Test debut.
-Why Ishant's return is a big boost for Team India...
Mann was added to the squad on Thursday, swelling its strength to 17, despite no injury concerns on any players. It left many wondering why he was included as there are batsmen in the reserves, in Rohit Sharma and K L Rahul.
Kohli claimed that the 25-year-old's ability to contribute with both bat and ball was a key factor in him getting the nod for the Bangalore Test.
"He could fit in, in our scheme of things. I can't put a particular time when but he is certainly in the mix of things because he has the ability with the bat and, as you mentioned, at that No. 6 or No. 7 position he can be very, very dangerous.
"He is an instinctive player and can take the game away from the opposition; he is that kind of a player. He is bowling as well. He is primarily a batsman, who is bowling really as well; he is working very hard on his bowling," he said.
Mann is a consistent performer for Punjab in domestic cricket. He was the team's highest scorer in the Ranji Trophy last season, with 671 runs at an average of 56, and impressed while playing for Kings XI Punjab in the Indian Premier League.
He maintained his good run this season, scoring a double century in the Ranji Trophy season opener against Railways and followed it up with nine wickets in the next match against Andhra.
He was included in India's squad for the ODI series against South Africa last month but did not get a single game, but in a few weeks' time he has taken another giant step in his career by earning a call up to the Test side.
Kohli said the youngster merits inclusion in the Test squad and could prove to be a handy cricketer when playing in the sub-continent.
"He has earned being called up into the team because these kind of cricketers who can bring balance to the whole combination are very, very important in any squad, and especially because we are playing so many Test matches in India, in the next year-and-a-half it will be very important to have guys like Gurkeerat, who can provide that balance for us, like Stuart (Binny) did very well for us in Sri Lanka.
"I think their contribution with the bat and then coming in and bowling and getting us those couple of wickets is very crucial. He has earned his call up and he certainly does fit in the scheme of things. Don't be surprised if you see him playing very soon," he said.