IMAGE: India's captain Mahendra Singh Dhoni walks off the ground after winning the second One-day International cricket match against South Africa in Indore on Wednesday. Photograph: Danish Siddiqui/Reuters
A relieved Mahendra Singh Dhoni took a dig at his critics, after inspiring India to a series-levelling win over South Africa in the second One-Dayer in Indore on Wednesday.
- Captain Dhoni inspires India to victory in Indore ODI
Facing the heat after a string of defeats and for his own poor form with the bat, Dhoni scored a match-winning 86-ball 92 to guide India to a 22-run victory and level the ODI series 1-1.
"It is not an easy game that we play, a lot of people wait with open swords and want you to make mistakes and have fun with it," Dhoni said after India bowled out South Africa for 225 in 43.4 overs, in a chase of 248.
"It was a good game for us. There were a few soft dismissals and we didn't score something which was par on this wicket. We didn't start well with our bowling but our spinners did well and gave us the breakthrough and later the pacers also came into action and gave us those wickets which were needed at that point of time. So, overall I would not say it was a complete game because definitely we can play much better with our skills but it is good to win games," he added.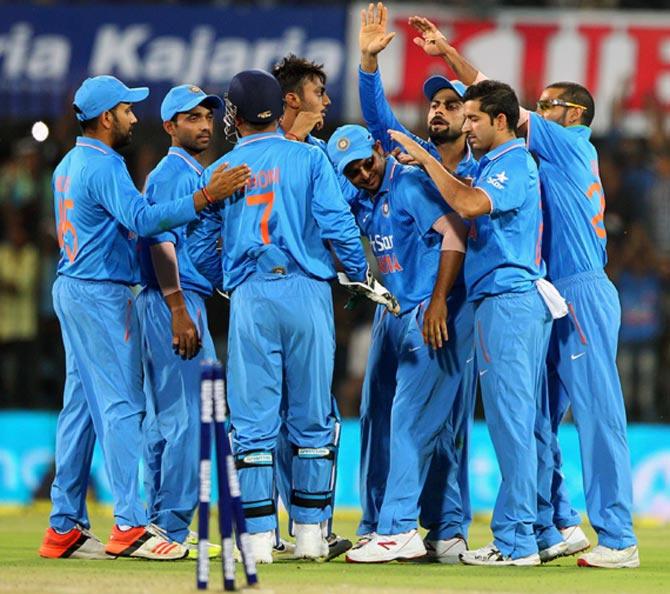 IMAGE: The Indian team celebrates the wicket of Hashim Amla. Photograph: BCCI
Dhoni made it clear he was not completely happy with the performance of his team but said it was good to win after a series of losses.
"It is not every time you lose in home conditions. Yes, we didn't play to our full capacity, we are not even 80 per cent of what we can, and so overall it was a good team performance. As a batting unit we may not have scored something which we could have defended but the bowlers showed that we are able to defend that."
Asked if he was tensed when South Africa's No. 9 batsman K Rabada was batting, Dhoni said: "It is always difficult when lower order batters are batting. We knew we needed two good deliveries and a bit of luck too. We had to play to our self strategy. I won't say that the game was in our hand but we had a chance if we could bowl at the right areas and I feel the bowlers did that."
IMAGE: India's captain Mahendra Singh Dhoni hits a shot enroute his match-winning innings of 92 runs. Photograph: Danish Siddiqui/Reuters
Talking about his performance, Dhoni said: "You always want to play well for your country but not always things goes your way.
"In the last 2-3 years, it's the top order major work for us to score loads of runs. That means the middle and lower order batsmen get to bat after 35 overs. We do crib about the fact that we are not good enough to go for big shot straight away. That is something we have to improve. Someone has to do it. It is fact but sometimes you have to do the dirty job. It has been a good 2-3 years with few ups and downs. But overall as a team we have done well."
Talking about the spinners, Dhoni said: "The pace was important for this wicket and also the length, especially for Axar. Bhajji has the experience. They stuck to their strengths and didn't try anything different. There was not much for them in the wicket but I feel the spinners did a good job tonight."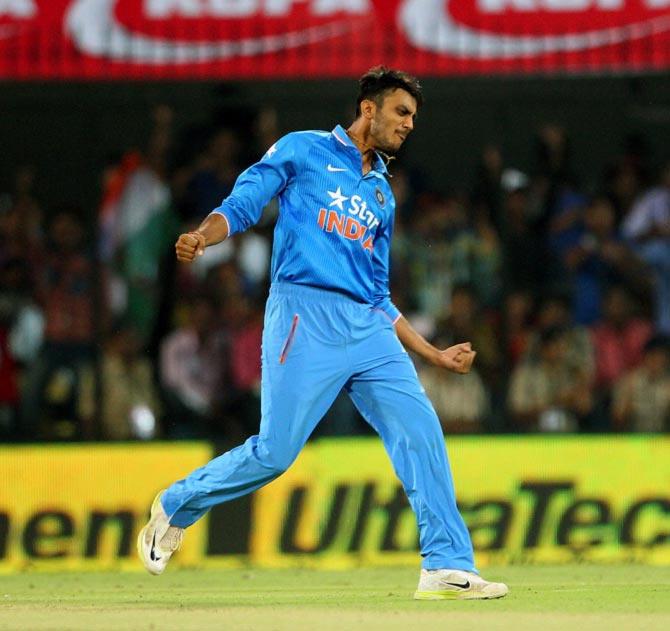 IMAGE: Axar Patel celebrates a wicket. Photograph: BCCI
Harbhajan Singh, who finished with match figures of 2 for 51, said: "Dhoni was fantastic with his captaincy. The wicket was nice to bat on and the ball was turning only when you bowled it slower. I was trying to ball slower.
"Here and there a few sixes went but we kept the pressure on and Axar bowed very well at the other end, he took two crucial wickets."
Asked if he felt there were enough runs on board, Harbhajan said: "We felt we were 30 runs short and Dhoni spoke in the huddle that if we can keep the energy up and save 25-odd runs and we could do it and I think it was a perfect game for Team India."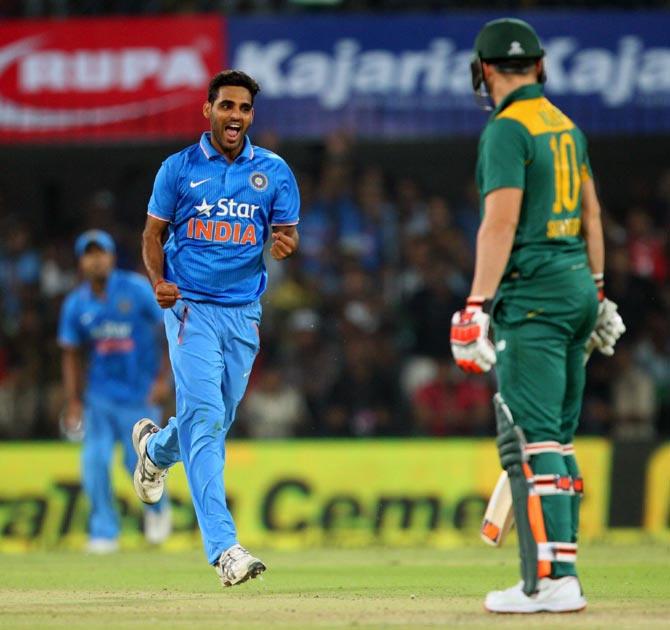 IMAGE: Bhuvneshwar Kumar celebrates the wicket of David Miller. Photograph: BCCI
South Africa's captain AB de Villiers blamed the batsmen for the defeat.
"The target was manageable but a poor batting performance from us," he said.
"We had a good start, the top three did well but we couldn't extend it after the opening partnership. We have the experience but unfortunately we got out in soft ways tonight. But a lot of credit goes to MS and his team, they didn't give up till the end and MS played really well.
"In chases like this you always have to stay positive no matter what total you are chasing. I tried to change my game plan and unfortunately got out in the way. We couldn't execute well.
"It was a very good performance from our bowlers, but unfortunately we could not pull it through when MS and the tail-ender were batting. We would have loved to chase something like 200," he added.
Asked about his fitness, de Villiers said: I just pulled my lower back a bit. Nothing too serious, didn't pull up any muscle. I should be fit for the next match as we have a few days in between."
© Copyright 2021 PTI. All rights reserved. Republication or redistribution of PTI content, including by framing or similar means, is expressly prohibited without the prior written consent.